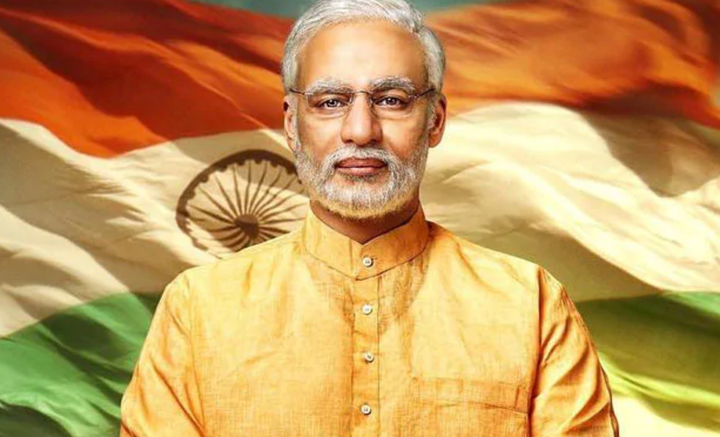 There's something very frightening about Omung Kumar's biopic on Narendra Modi, who is now set to rule India for five more years—it doesn't unspool like a fictional film or a documentary but more like a feature-length advertisement of a cult leader who can do no wrong, who doesn't harbour bitterness towards anybody and has no flaws. And what's more? Woh bachpan se aise hi the.
In his "unofficial" biopic, Modi, played by Vivek Oberoi, is filled with such absolute goodness that he feeds his tired mother while eating his meal and digs a well by himself for an impovershed village. Just in case that makes him sound stodgy, fear not: there's a more human side also—he stitches his shirt button as Waheeda Rehman serenades Dev Anand with Aaj Phir Jeene Ki Tamana Hai.
Soon enough, this gentle adarsh balak will dabble in youthful radicalism by abandoning his family to go on an exotic nature trail where a saadhu will show him the path to Parliament after two full years of soul searching together.
From the opening credits, which are shown in tricoloured hues, to a mind-boggling climax where Modi valiantly evades an assassination attempt, the purpose of this biopic is clear ― it wants to whitewash the biggest blot on Modi's image—2002's anti-Muslim riots in Gujarat. In the film, Modi the chief minister is shown running from pillar to post to contain the riots, with the blame resting solely on the governments of neighbouring states, which didn't send additional police forces as Modi haplessly made calls.
In a 2004 verdict quashing the acquittal of all the accused in the Best Bakery case, the Supreme Court had said, "The modern day 'Neros' were looking elsewhere when Best Bakery and innocent women and children were burning." Sanjiv Bhatt, a senior police officer in the Gujarat Intelligence Bureau at the time of the 2002 riots, had submitted a sworn testimony in the Supreme Court, alleging that in a meeting on the night before the riots, Modi told the cops that the Muslim community 'needed to be taught a lesson' following the Sabarmati Express burning which led to the death of 59 Hindu pilgrims.
And in the film, Modi is shown donating blood at what appears to be a refugee camp immediately after the riots. But a senior journalist who has written a book on the riots has said that Modi took five days to visit riot-affected areas in Ahmedabad and a month to meet Muslim victims in a refugee camp
The movie also suggests that the riots, which went on for at least three days, were contained within 24 hours, just one of the facts that've been conveniently "edited" to rehabilitate Modi's image.
While moviemakers should have some cinematic liberty, a biopic, especially on such an important person as a country's prime minister, owes its audience the moral responsibility to stick to the closest version of the truth, not spread lies to whitewash the image of a tainted leader.
After a point, it's exhausting and fury-inducing to sit through this hagiography which glorifies a politician to worryingly problematic levels. A little before the fictional Modi becomes prime minister, he is shown to be giving a live interview to a TV journalist, the delicious irony of which will strike anyone who remembers that the real-life Prime Minister hasn't addressed a single press conference during his first term. Even the TV interviews he has given so far have raised accusations of being scripted—the interview in the movie is also scripted but, surprise, by the Congress, which has the pliant journalist on their payroll.
And speaking about the opposition, the director and team unsurprisingly show Manmohan Singh, Sonia and Rahul Gandhi as caricatures. They basically look like they moved from the sets of The Accidental Prime Minister to Prime Minister Narendra Modi.
The film is poorly edited, with Modi's stunning rise chronicled in a way reminiscent of bad Powerpoint presentations and the performances, especially Oberoi's, is laughably bad. He neither looks like Modi, sounds like him or even tries to emulate any of his mannerisms.
From infiltrating the Parliament to shame Indira Gandhi's dictatorial ways (a feat attributed to Subramanian Swamy in real life) to unfurling the national flag at Lal Chowk (Murli Manohar Joshi did this, and Modi was reportedly one of the workers who accompanied him) to dialogues such as "Hinduism ke kaaran yeh desh secular hai", even the BJP couldn't have produced a film that treats their leader with so much reverence.
The most disturbing aspect of the film is that for those who didn't actually witness the news cycle during and immediately after Gujarat, this film may become the definitive source on Modi—where fiction will be perceived as fact, where a politician accused of giving a free hand to rioters will be seen as a secular, inclusive leader whom even the Muslims of Gujarat respect and revere (in one scene, a journalist is shooed off by a bunch of Muslim men when he asks them if they feel safe under Modi's leadership.)
But the most telling scene in the film (which feels way too long) is right before the interval. Riots have begun, and people are killing and being killed.
As Modi watches his state burn, he says, "Mera Gujarat jal raha hai."
Even in the fictional universe of Omung Kumar's film, it's hard to detect a hint of sadness on Modi's face.