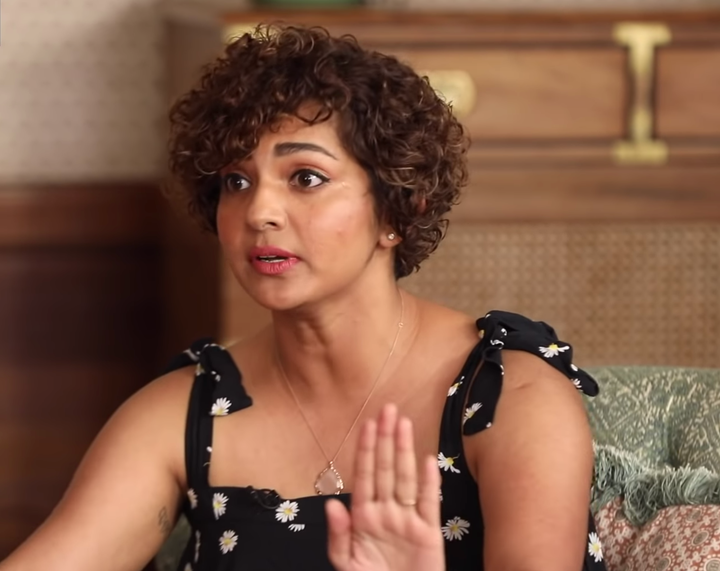 Do actors have a moral responsibility in choosing the roles they portray?
Actor and all-round star Parvathy Thiruvothu minced no words while discussing this topic at a roundtable discussion on Film Companion as she picked apart exactly what was wrong with films such as Kabir Singh and Arjun Reddy and the misogynistic characters they glorified.
Parvathy spoke about how these films and characters can impact viewers, drawing from her own experience of feeling for years that such passive-aggressive and abusive behaviour was acceptable in her own personal life.
She also elaborated on how such behaviour gets normalised.
"When a man is being misogynistic and abusive and you show that in a way that incites applause in the audience, then that's glorification. At the same time, (if) you make the audience think (about) whether he's done the right thing or not, then you're collaborating with the audience. There there is cinema, there is a dialogue. But the other one is almost spoonfeeding you that this is okay.

I remember sitting through such a film in theatre as a teenager and squirming, but at the same time, everyone else is clapping. I was very confused. 'Is it normal? Is it okay?' And then it reflected in my personal life too."
The discussion on Arjun Reddy—the massively successful film and its Hindi remake polarised viewers, its Tamil remake released just last week—began because of Bajpayee's praise for the film despite the many criticisms of its politics.
"But it engaged you as a film and that's what matters to the audience," he said.
Parvathy compared Arjun Reddy and Kabir Singh to Joker and explained why she thought they were different.
"Arjun Reddy and Kabir Singh had the visual grammar of glorification, Joker did not. At no point did I look at the character Joaquin (Phoenix) played (and think) 'Arre yaar, I totally agree with you. You must kill everyone'."
"We can watch a tragedy and leave it there, without feeling inspired to follow it. Whereas if you're telling there is no passion in a relationship without slapping each other and I see the comments on YouTube where people are resonating and engaging with that, there is also, you can see, engaging with that in a massive, mob-like manner. Where you're inciting violence, that's kind of murky," she added.
Joker's critics would disagree with Parvathy, given the climate of white supremacy and gun violence in the US, as well as interviews with the actor and director which didn't think through how their film's message would be received by its (many) male viewers.
But her remarks especially hit the mark in a room filled with stars from Bollywood, an industry that does not look kindly at all on outspoken people.
His very emo contribution to this debate was, "I think the world is fucked. By making a better film, can I save it? I just see it going downhill."
Ok, I'm being facetious. That was not his entire statement, but it might as well have been.
On social responsibility, Devarakonda said, "It's too much of a responsibility to take. Because just a film doesn't decide your behaviour. It's your family, schooling, parenting — multiple things will lead a person to behave a particular way. It can't be 'I saw it in a film, chalo I'll do it.'"
"I can't make films for everybody's personal lives. The director is making what he truly believes in and I bought it completely and I thought it was very balanced and I did it," he added.
There was a clear divide in the room as Bajpayee backed Devarakonda, while Padukone and Khurrana stepped into emphasise the influence of cinema.
Khurrana said fame automatically made actors opinion leaders and influential.
Padukone added, "In our country, cinema has the power to influence... Whether we like it or not, cinema and cricket are the two most influential things. You've got to do that responsibly or not, that's a choice each one has to make individually."
These discussions can often devolve into platitudes and generalised statements that end with no one quite taking a stand. So it was refreshing to see two Bollywood stars attempting to back Parvathy's strong words without withering away.
Anupama Chopra, who was moderating the discussion, unfortunately wrapped up this topic with, "This is an eternal debate. It's a very personal take."
Parvathy's comments won't come as a surprise to anyone who has followed her career trajectory. She is a great actor who thinks seriously about her characters. She has categorically stated she will not do films that propagate patriarchy or misogyny. She unabashedly calls herself a feminist and has publicly taken on directors and actors for glorifying misogyny in face of massive online abuse.
She has stood in solidarity with a fellow actor, who was assaulted. and joined ranks with other women in the Malayalam film industry to form the Women in Cinema Collective. The WCC recently named its film society after PK Rosy, Malayalam cinema's first woman actor who was ostracised for being from a marginalised caste.
You can watch the exchange below, starting at the 18.14 mark —