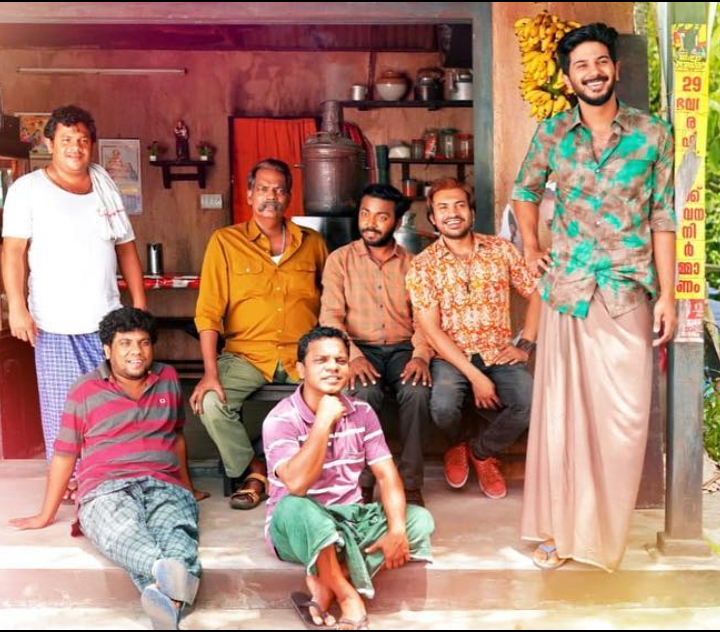 From their last two films, it's evident that Vishnu Unnikrishnan and Bibin George follow a certain template of comedy in their writing. Not only is it rooted to the terrain in which the story is set, they also try and bring variations to what is popularly called situational comedy. A lot of it is plotted around memes and trolls, there are cartoonish laugh-out-loud jokes, sequences that play out almost like brief comedy skits and a bit of satirical humour.
And there is a social message included somewhere, sometimes out of the blue. So Amar Akbar Anthony, an irreverent comedy most of the time, soon morphs into a horrifying murder and the hunt for a paedophile. In Kattapanayile Hrithik Roshan, there was the triumph-of-the-underdog narrative. But despite everything, what worked in both films was the humour. True, the Siddique-Lal influence was evident, but the writing was smart enough to get genuine laughs. While the same formula works to some extent in Oru Yamandan Premakadha, this time the makers seem to have attempted a love story as well, and that's where the writing falters.
Oru Yamandan Premakadha is about a young man named Lallu (Dulquer Salmaan in his first Malayalam movie in more than a year) born into a rich family, who is an obsessive nostalgic. His room is covered with souvenirs from his childhood, including a picture of yesteryear Doordarshan star Madhu Mohan and an old battery-operated toy boat. He abhors the English language and would rather say "Omana Kutti" than OK (yeah, you heard that right), hates hotel food and prefers to dig into a clay pot filled with leftover fish curry and rice. Lallu is a house painter and we are shown his backstory, that of a bright young boy who stops studying after witnessing one of his classmates killing himself as he couldn't pay the school fees. He is also on the lookout for the girl of his dreams—the one who brings a "spark" in his heart.
Lallu is also the local village darling and the film charts his big and small exploits in the company of his three equally foolhardy friends—Vicky Peedika (Soubin Shahir, who looks lost ), Tenny (Vishnu Unnikrishnan) and Paanchikutan (Salim Kumar).
The film begins in the usual way—Lallu's birth to montages of his childhood until he makes a hilarious heroic entry in a stadium bearing a paint bucket. The comedy works best during the initial portions and it's mostly because of the veteran comedians on duty.
Paanchikutan, who runs a painting business, is introduced as an alcoholic, but strangely, that trait barely plays a role in the rest of the narrative. Instead, he is seen fooling around with Lallu and friends. Tenny is blind and by far gets the most hilarious character sketch—he along with his visually impaired father sing on the streets for a living, and they are terrible at it. In the middle of a karaoke song competition, there is a hysterical bit where his father sits in the middle of the pyre aping Mohanlal in Bharatham (the character laughs at himself most of the time, and doesn't seem offensive, considering the film's general irreverent tone).
"Unfortunately, the story relies on the usual cinematic clichés to move forward, and not only are these lazy, there is also an uneasy preachy tone to it."
Some of the characters are a riot—a tea shop owner (a terrific Hareesh Kanaran) whose poor counting skills means he often gives free meals to his customers. There are also two men who sit all day under a tree and talks about the importance of lethargy.
Unfortunately, the story relies on the usual cinematic clichés to move forward, and not only are these lazy, there is also an uneasy preachy tone to it. So Lallu's younger, ambitious brother who has a corporate job realises one day (in an unintentionally funny sequence) that his brother probably made a smarter choice as "education isn't great at all". When Paanchikutan catches his daughter romancing, it's accompanied by some bland words of parental advice. The two female leads, Lallu's love interests, are as unoriginal as they come. While one stalks him with stars in her eyes, the other is the girl of his dreams. What could have turned into an intense love story just seems confused. And the latter woman's story is that old cliché—only bread winner with a heart of gold, depressed father (Suraj Venjaramoodu repeating his Action Hero Biju act) and mother (Lena).
Lallu's intense love for her (he first sees a photo of her and instantly falls in love) seems unconvincing. Considering that the narrative at one point decides to fall back on his quest to find the woman, Lallu's love story begins and ends hurriedly.
And the weakest point of the film is the antagonist (Bibin George) with his bizarre rage against the world and some theory around him being teased about his mother as a child. The film is also at least half an hour long at a running time of three hours.
This is Dulquer's first full-length comedy film and he gets the performance and the Kochi slang bang on. If only the makers had focused on a coherent story.