Art and thought have long been adversaries of convention. When practiced with intention, both can call into question the moral legitimacy of social and economic norms kept (largely) in place to preserve the comfort of a few. So often is business and the drive for profit responsible for perpetuating these norms--and engendering cultural homogenization--that the notion of "corporate responsibility" is easily and justifiably scoffed at. However, rare cases occur when a business--typically helmed by an exceptional individual--demonstrates an earnest commitment to social justice or the promotion of free thought. Anand Mahindra, and his 18B dollar multinational group Mahindra & Mahindra do both.
I first became interested in Mr. Mahindra upon watching him address the United Nations during the April 2016 signing of the Paris Climate Agreement. Mr. Mahindra was slated to speak just before Leonardo DiCaprio, and I expected him to make the requisite corporate responsibility pledge before Leo came out to drive home the historic nature and urgent necessity of the Agreement. Instead, Mr. Mahindra invoked the Indian myth of Samudra manthan, spoke of inner-consciousness, and the importance of ensuring "a more sustainable world that the human race will finally DESERVE to inhabit." I was not accustomed to hearing a businessman speak this way. His address was candid and eloquent, and evinced a spiritual depth rarely, if ever, found in the corporate world. I was heartened.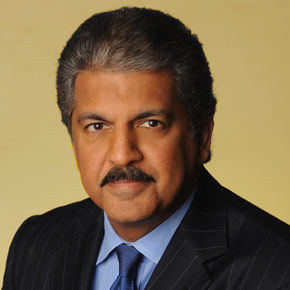 Some time later I attended a conversation about race and racism featuring Homi Bhabha and Claudia Rankine at Eastern Michigan University. Intrigued by Bhabha's ideas on post-colonial India, I looked him up, only to discover that he served as the director of Harvard's Mahindra Humanities Center--a facility established in large part due to a 10-million-dollar gift made by Mr. Mahindra (a graduate of Harvard's Business School). Again, I found myself surprised by Mahindra, namely his commitment to a humanitarian agenda I long thought antithetical to bottom-line business.
Upon researching Mr. Mahindra further, one finds him to be a long-time advocate for education, equal opportunity, and creative expression. He is a founder of both Project Nanhi Kali--an NGO supporting and ensuring the education of young women in India; and Naandi Danone--the largest provider of safe drinking water to rural areas of India. His company, staying true to their Chairman's UN remarks, recently invested more than 350 million dollars in green energy. Mr. Mahindra's company has also, somewhat surprisingly, been at the core of funding the urban farming movement in Detroit, MI (where they have a U.S. branch).
All of the above to say that when I saw the Mahindra name attached to a Blues Weekend happening in Chicago this Friday and Saturday I was far less suspicious than I otherwise would have been. The Mahindra Blues Weekend will take place at Buddy Guy's Legends nightclub and feature performances by prominent bluesmen Mr. Sipp and Jamiah Rogers (Oct. 7th) and Jimmy Johnson and Jimmy Burns (Oct. 8th). The two-evening festival is the American extension of the Mahindra Blues Festival which has taken place annually in Mumbai since 2011. The Mumbai festival, which remains Asia's largest blues gathering, was spearheaded five years ago by, you guessed it, Anand Mahindra. Mahindra developed his love for the blues through listening to legends like Muddy Waters and Chuck Berry, and has, in turn, brought living blues greats like Buddy Guy, Jonny Lang, Shemekia Copeland, and John Lee Hooker Jr. to the Mahindra stage in Mumbai. It may strike some as strange: the blues finding fanfare in India, but Mahindra says it's a fitting home: "The blues is a song of struggle, and you can see the pain of the people here (Mumbai), the deprivation is visible in this metropolis. But they're happy, optimistic people nonetheless."
Mahindra's worldly approach to the blues and business will be on full display in the States this weekend. If you're near Chicago, love the blues, and want to give homage to a man (and company) committed to supporting the arts, get to Buddy Guy's Legends nightclub this Friday and Saturday.
What: Mahindra Blues Weekend Chicago
Where: Buddy Guy's Legends (700 S Wabash Ave.)
When: Oct. 7th (9pm) Oct. 8th (9:30pm)
Who: Mr. Sipp & Jamiah Rogers (Oct. 7) Jimmy Johnson & Jimmy Burns (Oct. 8)
Tickets can be found here.