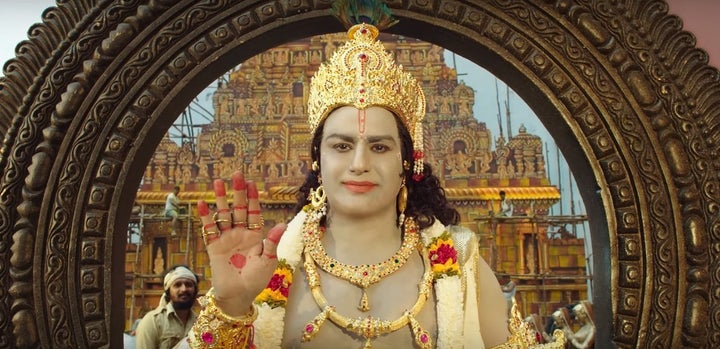 Indian cinema seems to have hit the sweet spot with biopics. Many filmmakers have dived into real-life stories for inspiration and been rewarded at the box office for their efforts. After Nag Ashwin's Mahanati (2018), which chronicled the life of Savitri, the next big biopic to come from the Telugu film industry is NTR.
Somewhere in the middle of NTR: Kathanayakudu, Nandamuri Taraka Rama Rao (played by Balakrishna), who is now a star of the masses, praises his newborn son at the latter's naming ceremony. Even before Rama Rao utters his name, we know that he's talking about Nandamuri Balakrishna. I don't remember having watched such a meta film before—the son of a superstar plays his father in a biopic and, in the garb of acting, plays to the gallery. This stretch would have become a farce if Puri Jagannadh or Boyapati Srinu had handled it. But under director Krish's watch, it comes across as a clean family joke. It also reminded me that this was only the second time this century that Balakrishna's histrionics have not made me guffaw—the other film was Gautamiputra Satakarni (directed by Krish again).
"I don't remember having watched such a meta film before—the son of a superstar plays his father in a biopic"
NTR's opening scenes are set at the Adyar Cancer Institute, where the worried faces of Rama Rao's children and wife Basavatarakam (Vidya Balan) fill the screen. Then the movie goes back to the 1940s, following a linear narrative thereafter.
We see the usual struggles of up-and-coming actors—irregular income, forgotten promises by producers and directors, and the helping nature of Rama Rao (he gives away his last few meal coupons to his friends and doesn't complain about going to bed with an empty stomach). And, of course, some scenes and songs from NTR's blockbusters are recreated. Aren't they a must in this genre?
By the time NTR entered the industry, another stalwart of Telugu cinema, Akkineni Nageswara Rao, had already made a splash with some hits. ANR (played by Nageswara Rao's grandson Sumanth), from what I've seen in interviews, was an uber-cool man, and Sumanth has tapped into that. Whenever he furrowed his brows, I could only see Nageswara Rao.
The cameo appearances run into double digits and almost every actor gets their moment in the sunshine. Just listening to the names from the black-and-white era—Relangi, L. V. Prasad, Alluri Chakrapani, Nagi Reddy, Tatineni Prakash Rao and others—is enough to take you back to the golden age of Telugu cinema.
Director Krish returns as KV Reddy (he played the same role in Mahanati as well), and this time, he has a hard time convincing the producers of Mayabazar that Rama Rao would be apt for Lord Krishna's role. In Mahanati, Reddy had hailed Savitri as a superstar for shedding tears from one eye without using glycerine. And in NTR, he tells Mayabazar's producers to get another actor as well as director if they couldn't see Rama Rao in the role of Krishna. Where did Reddy get his confidence from? Could the next biopic be on him?
Though I enjoyed Balakrishna's performance, his make-up in the initial portions of the movie doesn't hide his age well. That's why the first hour seems weak compared with the latter segments. The scene where Rama Rao's daughters question him for shaking a leg with Sridevi, who is younger than them, is the only time Rama Rao's home life is in focus. Otherwise, they are just extras in the background. Vidya Balan mostly emotes with her expressive eyes. If we had seen part of the film from her point of view, maybe we would have understood her sacrifices and inner battles better.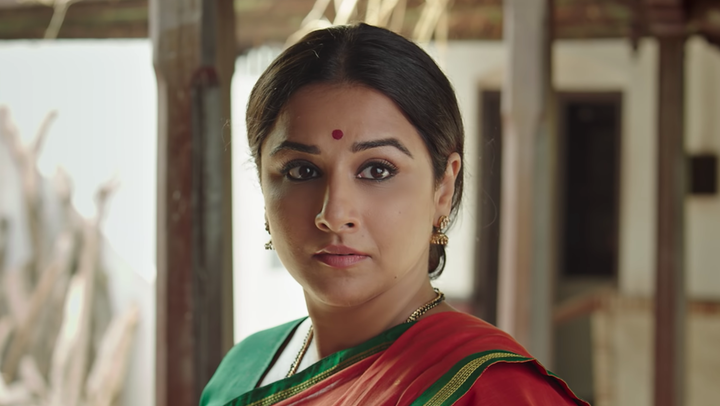 I'd have also loved it if the film had been completely based on the NTR-ANR friendship. They were both awarded the Padma Shri in the same year.
I also applauded—internally—when Rama Rao raised his voice against North Indian politicians for calling Telugu people 'Madrasis'. I know that these scenes were mainly included to show his shift towards politics. But it was still a pleasant surprise to see the agony of an Indian film actor whose mother tongue isn't Hindi.
NTR: Kathanayakudu, the first in a two-part series, has everything going right for it from the casting to the final cut. This is undoubtedly Balakrishna's best film. And I'm now eagerly waiting for NTR: Mahanayakudu (the second part in the series).