In a paragraph in her novel A People's History of Heaven, Mathangi Subramanian describes the work of a graffiti artist. "Banu's drawings are full of details – the dimples on chins, the callouses on fingers, the grass stains on knees. Scars left behind by struggle and disappointment and pain. Her sketches make our world feel intricate, significant, precious. Like a work of art." The words could easily be used to describe Subramanian's own writing – empathetic, mellifluous stories of girls and women whose lives are often overlooked not just by writers and artists, but also politicians and policymakers.
A People's History of Heaven, published this year, is the second novel by the San Francisco-based writer and educator. Her first novel, Dear Mrs. Naidu, aimed at middle-grade readers, was published in 2015 and she has also written three picture books for early readers.
All of Subramanian's books are set in informal settlements or slums in Indian cities and sensitively chronicle the spirit and lives of people living in them. Dear Mrs. Naidu features a feisty 12-year-old, Sarojini, who lives in a slum in Bengaluru with her mother, a domestic worker. Written in the form of a series of letters by the young girl to Sarojini Naidu, the freedom fighter and poet, the novel is a remarkable story of grit and won the South Asia Book Award in 2016. In A People's History of Heaven, five young teenage girls living in a slum in Bengaluru called 'Swargahalli' or 'Heaven' come together to save their community from being demolished. The motley gang is composed of Deepa, a dancer who is blind, Joy, a transgender girl who has recently converted to Christianity, Rukshana, the queer daughter of a union worker, Banu, a graffiti artist and Padma, a relatively recent migrant from the countryside.
Subramanian's fiction is strongly rooted in, and came as a response to, her experiences as a researcher. After a doctoral degree in Education Policy in the United States, she moved to Bengaluru on a Fulbright Fellowship for an ethnographic study of India's anganwadis. The time she spent on the field made her recognise the unique space these child care and health centres occupy in the lives of many Indian women. "I realised they were the only public places in Indian cities where women can gather safely," she says.
With assessment of teacher quality and curriculum as part of her work, Subramanian's days were peppered with conversations with adolescent girls who had run away from home, and pregnant women who had recently migrated to big cities because of their husband's daily wage jobs. "I found that these voices gave me incredible insights into the lives of marginalised Indian women that didn't fit neatly into my academic research. I began writing fiction as a way to process and celebrate these interactions," she says.
Informed deeply by her work, Subramanian's books are refreshing not only because of her evocative writing, or protagonists that readers rarely encounter in fiction, but also for the realism and humour with which she unravels themes of casteism, classism, gender inequality and religious discrimination.
"Initially, I was deeply uncomfortable telling stories of the people living in slums when they could do it much better themselves," Subramanian admits. While living in Bangalore, she co-facilitated a photography project with five aanganwadi workers and a professional photographer. The five workers shot, curated and installed an exhibit about their lives. "The project got a lot of national press and taught me important lessons about amplifying the voices of marginalised communities with dignity and respect," Subramanian says. "I reflected that, as an artist, I had a responsibility towards creating a space for all voices, not just mine."
While writing about marginalised populations, often living in low-income neighbourhoods, Subramanian neatly avoids the tropes of poverty porn that many other writers have fallen prey to. Her novels refuse to turn into patronising tear jerkers, granting their characters dignity and interiority while holding unequal systems of power accountable.
The side-stepping of literary cliches is achieved most vividly through the strong women protagonists who form the pivot of all of Subramanian's books. These women are intelligent, spirited, ready to fight the good fight, and advocate for the common good, showing solidarity with their communities. "I realised that because low-income girls and women had to work to survive, they tended to be much wiser and street-smart than sheltered, upper-class girls like me," she explains.
"Growing up in the suburbs of Wisconsin and Maryland in the US, Subramanian mostly read books with white characters, typically American teenage favourites at the time—Babysitters Club, Sweet Valley High and Nancy Drew."
Subramanian's picture books—Rainbow Sambar, Laundry Day and A Butterfly Smile—for younger readers, are similarly unafraid to tackle complex themes like patriarchy, casteism and climate change in entirely age-appropriate ways. "I don't believe in shielding children from reality; they are exposed to it, and it's better, in my mind, to open a discussion about these issues than to act like they don't exist," she says. "In the wealthy, urban, savarna communities I lived in, conversations about social change tended to involve individual acts of charity rather than efforts for systemic reform," she adds, explaining the need to alter this narrative, including for children.
Growing up in Wisconsin and Maryland in the US, Subramanian mostly read books with white characters, typically American teenage favourites at the time—Babysitters Club, Sweet Valley High and Nancy Drew. "The first time I read about people like myself in books—Indian American—was when I read Jhumpa Lahiri's Interpretation of Maladies when I was in college," she says. As the mother of a 4-year-old girl—who is already a bookworm, much to her mother's delight—she ensures that her daughter has access to plenty of picture books by and about diverse Indians.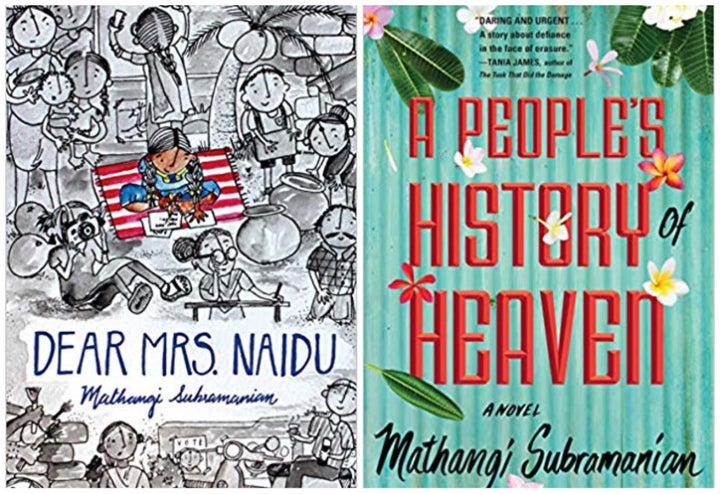 As an outlier who is actively including voices of Indians often not represented in English language fiction in the country, Subramanian thinks Indian publishing has made strides in the right direction, pointing to Indian presses such as Zubaan, Adivaani, Navayana, Yoda Press, Pratham Books and Duckbill who she says are "working hard to include Dalit, Muslim, Adivasi, and queer voices in their English language publishing". But there's lots more to be done. "I would like to see commercial houses in India include more diverse voices," she adds.
With five books behind her, the author is currently working on a new novel and a memoir, which is currently her favourite genre to read. She's inspired by writers such as Sandra Cisneros, author of The House on Mango Street, Yaa Gyaasi, author of Homegoing, Melissa Febos, author of Whip Smart and Abandon Me, and Meena Kandasamy, who has written The Gypsy Goddess and When I Hit You. "I like books that play with reality and paint rich and beautiful details," she says.
Writing two books as a mother to a 4-year-old has its share of difficulties. "Being a parent is incredibly challenging, as is being a creative person. When you combine them, and stick them in the context of patriarchy, it sometimes feels impossible to find time and emotional energy to write." The thought that keeps her going, though, is knowing that her daughter is growing up seeing her as a working artist. "Even if she ends up being a doctor or an engineer, I want her to know that she can always make art, and that the arts are vitally important," she says.
With their defiant, enduring characters and a revelatory sensitivity to their environments, Subramanian's books are the perfect embodiment of this importance.