Margaret Atwood has launched The Testaments – her long-awaited sequel to The Handmaid's Tale – at a press conference on Tuesday morning.
The 79-year-old Canadian author appeared at the British Library to mark the publication day of the book, 30 years after the bestselling original came out.
She told the audience there were distinct parallels to be drawn between fictional Gilead and today's America. "Some of the characters have escaped Gilead, across the border, similarly to when people come to Canada," she said.
The Testaments was first announced to fans in November 2018 with Atwood revealing it was inspired by their constant questions about her characters.
On Twitter, the author said while she wanted to answer those fan queries with a follow up that she had also felt pressure to write because of the current global political climate.
Atwood told the BBC on Monday: "Instead of going away from Gilead as we thought had been happening, we started going back towards Gilead in a number of places in the world, but including the United States.
″So instead of a fantasy 'haha this will never happen' it got a lot closer to reality because of the kinds of people backing Trump."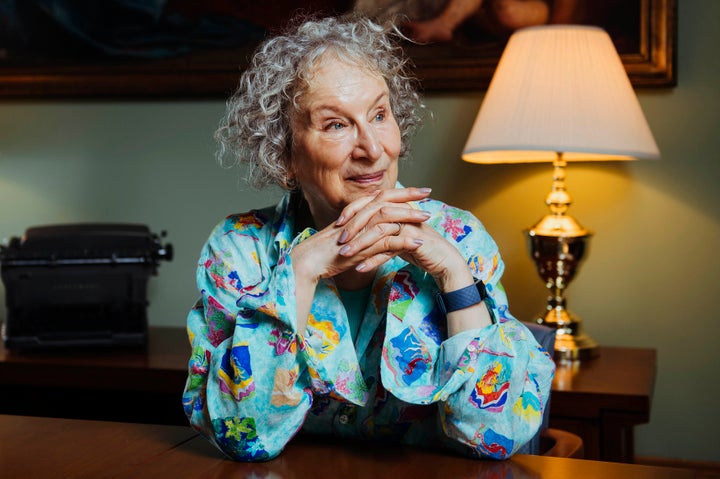 The Handmaid's Tale is set in a dystopian fictional society called Gilead where fertility rates have dropped and a totalitarian government creates new social classes in which fertile women become 'handmaids', enslaved to powerful couples who cannot have children of their own.
Society is ruled over by the men of Gilead, the secret police known as 'the eyes' and handmaids are made to wear long red dresses, heavy boots and white hoods, concealing them from public view.
Their outfits have been co-opted by female protestors around the world, most notably a group who marched in silence to the Argentinian congress in Buenos Aires in July 2018 to support the expansion of abortion laws.
Hundreds of fans queued on Monday evening to be among the first to get their hands on The Testaments, cramming into the central London branch of Waterstones on Piccadilly at midnight to hear Atwood speak.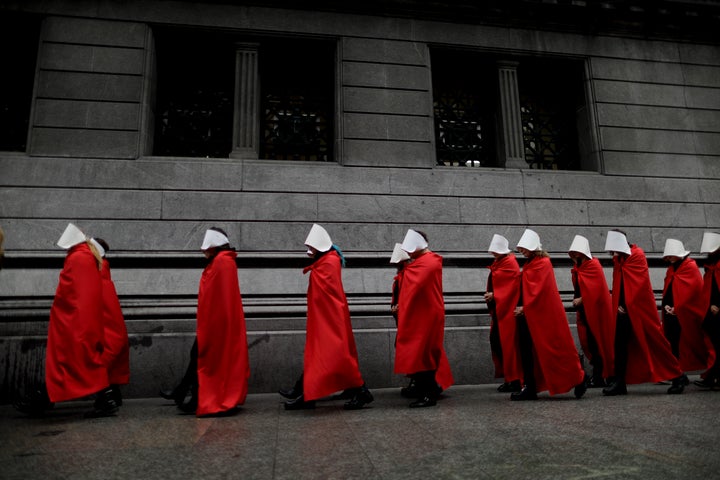 Originally published in 1985, selling eight million copies, The Handmaid's Tale saw a resurgence in popularity among a new generation when it was made into a TV series with actor Elizabeth Moss playing the protagonist, Offred.
But in an interview with the Sunday Times, she said it was more about learning from the past. "If you look at history...they turn on each other. There is always this feeling for them that another one is coming for them, always treachery from within."
Atwood has written 50 books of fiction, poetry and critical essays during her career and won 127 awards.