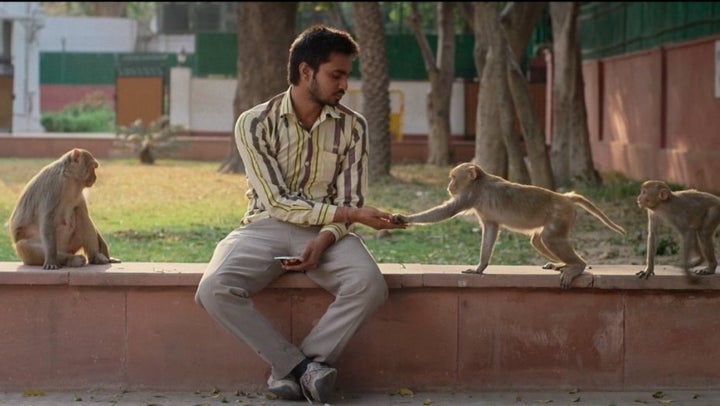 Day four of the ongoing Mumbai Film Festival was interrupted by the Maharashtra Legislative Assembly elections causing the organizers to reschedule a bunch of screenings. You know, for democracy. As a result, I could catch only two films, but both turned out to be such delights.
My first pick for the day included a first time filmmaker's infinitely personal and remarkably universal home-video doc called About Love. And the second film was a documentarian's feature-length debut, called Eeb Allay Ooo - a hilarious social satire about government establishments facing a very unique problem: prying monkeys.
But more than just documenting life or fictionalizing true scenarios, both films shared a surprising commonality: they were deeply entrenched in the milieu of the two cities they inhabited: Mumbai and Delhi.
About Love
Archana Atul Phadke's nearly three year long documentation of her family is essentially a vault of deeply personal memories. But despite its overwhelming intimacy, the narrative voice of About Love is such that watching the film feels personal to everyone, a testament of its stunning universality.
In About Love, Phadke observes her family members that include her grandparents, her parents, and her siblings. But as the film progresses and we learn a little more about these madcap characters, who weirdly enough are seemingly comfortable in front of the camera, we slowly begin to realize how deep our connection with them really is, because of how authentic and free of pretence they truly are.
Phadke manages to bring a true sense of vulnerability and sanguine emotion through the two female characters and at the same time crack everyone up with the men of the house. Filmed in a cramped South Bombay apartment, Phadke mines her own experience of domestic eccentricity, turning the film into a commentary on the nature of love, relationships and aspirations.
Eeb Allay Ooo
While About Love is majorly set in the family home and steeped in the effervescence of Mumbai, my second film of the day was one that was similarly deeply rooted in the lush and domineering structures of Lutyens' Delhi. Prateek Vats' film follows a gormless young man (Shardul Bhardwaj) who is hired for a specific job: to scare away the monkeys causing a nuisance around the government buildings in the heart of the country's capital.
There is something inherently and outrageously funny about the seat of power in the country being riddled by countless rampant macaques. One character even mentions, tongue firmly in his cheek, that Delhi has been ruled by monkeys for ages, just one instance of the kind of incisive commentary which Vats weaves into his narrative.
Luckily for us, he then goes beyond surface-level whimsical satire and enters a dark territory in the film's second act, the hints of which are s. The film begins its descent as an inward journey for the protagonist who, eager for the job, finds himself repeatedly shunned by society, gradually devolving into a state that is both, liberating and unacceptable.
As the character's devolution is complete, the film ends with an audacious, transformative fervour, as the young man ultimately embraces his real self: the one that he was attempting to chase away all along.