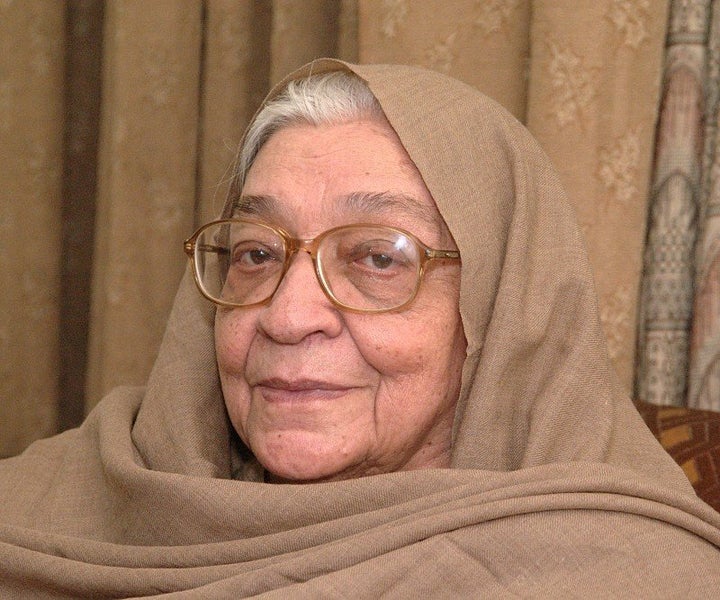 The famed Hindi novelist Krishna Sobti's death in Delhi on 25 January brings to mind one of her many works Daar Se Bichhudi (Fallen from a tree branch). Throughout her rich literary career, Sobti had been perched on a much higher vantage point compared with many of her contemporaries.
Sobti was one among a remarkable group of writers including Devendra Satyarthi, Bhisham Sahni and Upendra Nath Ashk, who migrated from what became Pakistan. While all of them wrote in Hindi, rather than their mother tongue Punjabi, many of their characters had Punjabi names and carried the anguish and pain of the Partition. Yet, none of them betrayed any lack of faith in the idea of India or an urge to stray from the path of secularism.
Sobti's works, from the novel Mitro Marjani to her lively memoir Ham Hashmat and her magnum opus Zindaginama, are fitting testaments of her unparalleled craft, sagacity and tall stature in the pantheon of Hindi writers. Her works, translated into many Indian and foreign languages, were received with great warmth and appreciation the world over.
Throughout her life, she wrote about women in an unreservedly candid way and a matter-of-fact, simple style. Her characters are so sharply distinct that her readers, while journeying with them, almost forget that in India, their mannerisms may well amount to moral digressions and ethical waywardness. At least some of these readers would be able to find around them some real-life reminders of Sobti's female characters, who grapple with the bondages of society on a daily basis. And yet, they try to live on their own terms.
Mitro Marjani (1967) heralded a paradigm shift in Hindi literature, because Sobti created a female protagonist with all her sexuality and its myriad connotations intact. Mitro served as the proverbial pebble to stir the stagnant waters in the pool of Hindi writing.
This is not to say that women were always suppressed in the works of earlier Hindi writers. Some of them did have self-esteem and tried to chart an independent existence.
But what they lacked was resistance and the will and courage to rebel. It was Sobti who turned women into real creatures with verve and grit who did not shy away from expressing their sexual desires. Indeed, this was an assault on the misogyny of ages that brought to mind Norwegian playwright Henrik Ibsen's A Doll's House (1879) which, in a different way, had once heralded the age of realism in far-off Europe.
Closer home, Ismat Chughtai had broken sexual barriers for women by writing the famed story Lihaf (Quilt) in Urdu in 1942. Chughtai was just 10 years older than Sobti but it took 25 long years for Mitro Marjani to arrive after Lihaaf. Both were called daringly bold works ahead of their times, as the two great writers depicted women's dignity and sexuality shorn of the shy inhibitions in the literature of the past.
Like Chughtai, Sobti also challenged the deeply entrenched morality that worked against women but it would be wrong to read her writing through a feminist lens alone. For Hindi readers, she opened a wide window against and despite misogyny by portraying women in shapes and roles other than that of a goddess to be deified or a pliant vessel to do man's bidding — Sobti's real-life characters yearned for as liberated an existence as could be aspired for by any man.
Among her Hindi readers and admirers, Sobti was much more than a writer. It is rare for Hindi writers to question the dominant trends of the times, including those dictated by the powers that be. Sobti never put awards and honours above a writer's pride. Resistance to intolerance and arrogance flowed in her blood. She is known to have spurned awards and joined protests despite being on a wheelchair. In 2015, she was among the writers who returned their Sahitya Akademi awards to protest the Dadri lynching and the murder of writer M.M. Kalburgi.
She came out to denounce the 1984 massacre of Sikhs in Delhi, demolition of Babri Masjid in 1992 and the Gujarat riots in 2002. She had also opposed the expulsion of Bangladeshi writer Taslima Nasreen by West Bengal's Left Front Government at a time many left-leaning writers preferred to remain silent about the act by what they thought was a friendly regime.
Even of late, despite her frail health, Sobti did not hesitate to speak her mind on contentious issues. She lived and died as a writer — her first novel, Channa (the last to be published), was launched in Delhi earlier this month and a new translation of one of her works, A Gujarat here and a Gujarat there, was slated to be released in February, around her 94th birthday.