Obviously, any relationship consisting of two alive homo sapiens is bound to run into situations where the background and traditions of each individual collide and cause more or less heated discussions. "That's the way my family always did it, and that's the way I'll keep doing it"...
But if you factor in that the two of you come from different countries - even if the countries are neighbors - you're entering a whole new dimension. Then it's not just personality issues or the way you were brought up that will collide. Suddenly, you have two proud (hopefully) national identities that need to be coordinated and fine-tuned to run smoothly together. And even if most of the time is pretty easy (the whole love conquers all thing), often even charming, there are certain occasions where problems can - and will - occur. These occasions are usually called "holidays".
My wife and I have actually - knock on wood - been able to find a pretty good balance between Danish and Swedish traditions over the years. We run an "every second year" cycle where the cultural collision is simply too vast to bridge, and otherwise we have just chosen to have an unusually large amount of holidays in our home as we run both the Swedish and Danish calendars. A clever solution where everybody is a winner.
But there is actually one day that's still a little bit problematic to us, and that's New Years Eve. To make a long story short, it's mostly a schedule thing. Danes and Swedes watch the same shows (Dinner For One), just on different time slots, and we eat basically the same kind of food. There are a few differences - Danes wouldn't dream of missing out on the Queen's (the actual Queen, not the band) New Year Speech, and they have a peculiar passion for climbing chairs at midnight and jumping into the new year. But really, that's about it, and those differences shouldn't be too hard to bridge. They are. It seems the closeness of the traditions makes it even more difficult to settle the question of national power over the remote control.
Now, there is one Danish New Years Eve tradition that I have been happy to accept. The lovely New Years Cake - the Kransekage. This marzipan based cake is traditionally served in layers of wreaths, topped with frosting and sometimes chocolate or almonds, eaten together with Champagne at midnight. But here, I have turned it into a petit four-like cookie, completely frosted and topped with a single fresh raspberry - I think it looks beautiful, and fits perfectly together with a cup of strong coffee after dinner. A simple compromise.
HAPPY NEW YEAR!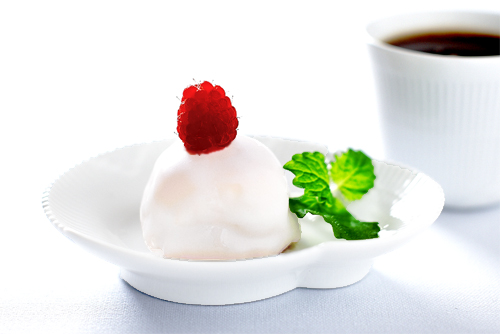 Kransekage - Danish New Year's Cookies
Makes 12
4 Oz of fresh marzipan
2 Oz of sugar
1 Egg white from free range egg
Frosting
4 Tablespoons of icing sugar
½ Tablespoon of water
Fresh berries for garnishing
1. Mix the egg white and sugar until fluffy. Fold in the marzipan and beat until a smooth dough. Roll into a tube and cut into 12 cakes. Roll each cake into a ball. Bake in a preheated oven at 450°F for 6-8 minutes or until they are light golden. Remove from the oven and set aside to cool.
2. Whisk together the icing sugar and water for the frosting. When the cakes have cooled off completely, cover each one in frosting. Place a single fresh berry on each cake when the frosting has almost stiffened.
PHOTO BY MADS DAMGAARD