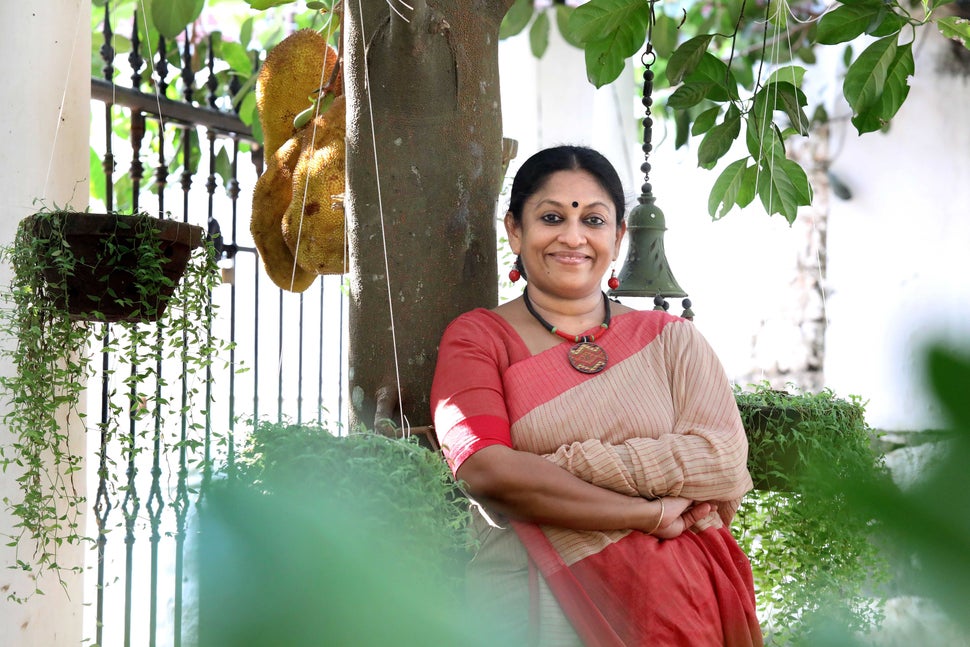 KR Meera begins her novella, The Deepest Blue, addressing 'chaste wives (sati savitris), strictly monogamous men (maryada purushottams) and 'every wayfaring Marykutty (who) will step in to perform a critique' — "You can stop reading right now… Only the firm hearted are allowed to proceed". True to this 'warning', the three novellas in Meera's latest collection titled The Angel's Beauty Spots, translated from Malayalam by J Devika, are uncomfortable and deeply disquieting.
The women in these stories are hungry for love, profusely scarred and unrelenting. The titular story follows Angela, who sleeps with men of power, yet remains fiercely devoted to her daughters. The second novella, And Forgetting the Tree, I..., probes abuse, hapless love and mental illness through Radhika, a married lawyer, whose laundry day is interrupted when her ex-lover visits her after 16 years. In contrast to these deeply realistic settings, The Deepest Blue is fairytale-like and follows a wife on a house-hunting mission with her husband, falling for an ascetic who owns the house of her dreams, a naalukettu. Meera who doesn't shy away from setting her stories in places far and wide, from Calcutta to Spain and France, sets these stories in the familiar — rented houses and old mansions in Kerala. Her narrative is well balanced with men — lovers, fathers and husbands — who are blemished and all too human with burdens of their own.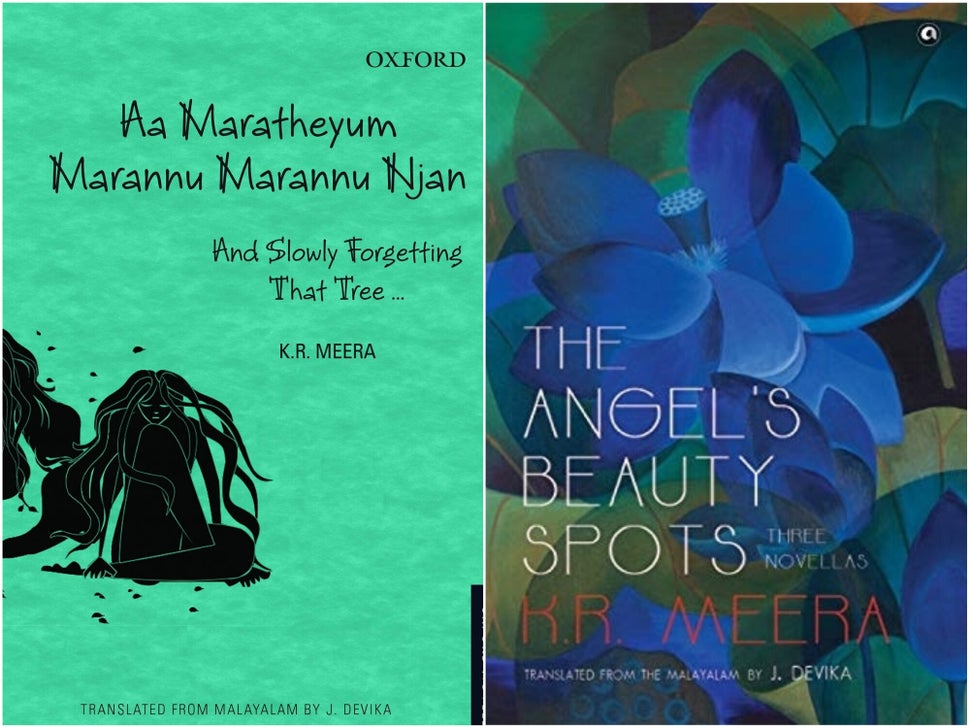 Symbolisms, quintessential of her writing, are aplenty — serpents and birthmarks stand for death, love and perseverance. Surreal atmosphere built on short, brisk sentences embroider the stories. In And Forgetting the Tree, I..., trees and the scent of wood haunt the protagonist, creating a claustrophobic ambience; blood projects the violence in The Angel's Beauty Spots; serpents, local flora and the colour blue liven a woman's desire in The Deepest Blue.
This year has been a hectic one for the multi-award winning author. In addition to her new book published by Aleph, she has been involved in judging the richest literary prize in India, the JCB Prize for literature. Over email, she talks to HuffPost India about male writers, creativity and what she hopes to achieve through her writing.
"The story's movement upon paper is like a serpent's movement upon a rock. An unpredictable slithering. If it goes wrong… readers will pull out their daggers" (The Deepest Blue). At what point, if at all, do you accommodate the audience while crafting a story?
I wrote the introductory passage to The Deepest Blue at a time when male writers and critics used to accuse women of writing 'immoral' stories to boost sales. It was a reply to them. But setting that aside, your question is thought-provoking. Of course, I consider the audience while writing. In creative writing, my target audience is those who cannot be carried away by empty rhetoric, those who walk by me and dream with me for a better world. I want to tell them a new story in a new way, with every new book.
Character names have been an integral part of your work — the betrayer Yudas (The Gospel of Yudas), the philandering Madhav and pure-hearted Tulsi (The Poison of Love), empathetic Angela (The Angel's Beauty Spots), names that mean variations of light (The Unseeing Idol of Light). In The Deepest Blue, there are unnamed characters. Was this intentional? Do you have a process in choosing names for your characters?
Some of the names come naturally. Some are deliberate. In The Deepest Blue, the narrator has a name — Geeta. But the ascetic doesn't have a name as he doesn't need one. He is simply a common noun.
Radhika (And Forgetting the Tree, I...) endures an abusive, toxic relationship and doesn't think twice before extending help to the abuser. Was it difficult to write such a character, who might be called 'weak' in a feminist sense? Were you tempted to liberate her in fiction as a writer/creator?
I don't intend to write stories about feminists. I want to write stories which would turn the readers — men, women and transgender persons — into feminists. Radhika doesn't claim to be a feminist. But she lives like one. She is not wilfully enduring toxic and abusive relationships. She is born out of them and brought up by them. Her relationships turn toxic and abusive not because the men — her father, her lover or her husband — are inherently evil. They turn evil because they are not empowered to face and fight their failures, inferiorities and insecurities. Radhika's challenge is to liberate herself from the terrace where the man she loves has left her naked and locked up, knowing not what he was doing to her and himself. She knows well that he too is a victim.
Noose and knots have been recurring themes both as symbols of suffocation and liberation — Hangwoman thrives on nooses, the protagonist in The Deepest Blue laments that "thali — the marriage pendant — was tied around my neck like a noose", Rajani in The Unseeing Idol of Light can effortlessly tie hangman knots. As a writer and a woman, what has been restrictive for you and how did you navigate it?
I have no idea why I am so obsessed with nooses and death by hanging. My friend and translator J Devika says that my earlier stories are nothing but smaller moulds of Hangwoman, the moulds similar to those in wax or mud which a sculptor would experiment with before actually making the final sculpture in metal or concrete. She knows my creative self better than me. But of course, as a writer and a woman, there had been many restrictions and suppressions in my life. How did I navigate it? I kept on writing.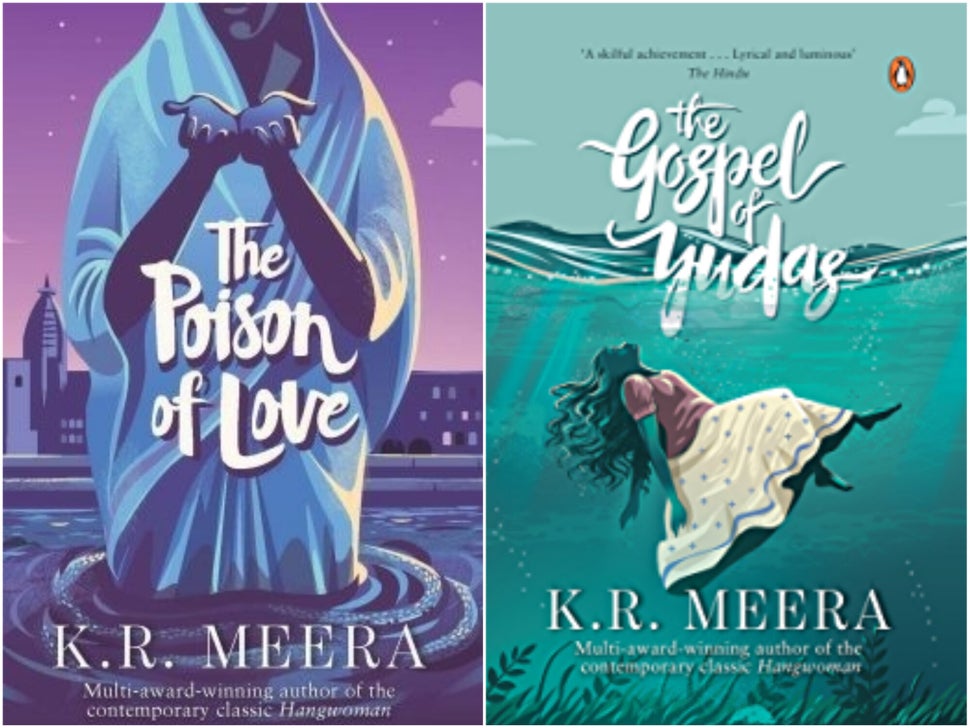 You have been vocal about many contemporary women issues including the Suryanelli case, the misogyny in the Malayalam film industry in handling the molestation of an actress and women's entry into Sabarimala. Elif Shafak has said that some writers 'do not have the luxury of being apolitical.' Would you agree?
I would say some writers do not have the 'option' to be apolitical.
The three novellas tiptoe on choice— Angela chooses to sleep with men of power, Radhika's choices do not provide her with happiness, and the unnamed wife chooses infidelity for a greater love. How does choice play out for contemporary women writers in telling their stories? Which writers have made an impact on you?
I am disinterested in analysing my stories as it is like dissecting myself. But I should say that these stories are not about women's choices or their failures. They are about men's failure in deserving them. Sleeping with rich men is not a choice for Angela (The Angel's Beauty Spots). It is an option for her. Her other option is to live with her husband who wants to live by selling her. Since both options are the same, she chooses the one with more bargaining power. (Of the three men, Narendran is her choice, but she wouldn't opt for him as it would drive another woman into nothingness). Radhika (And Forgetting the Tree, I...) has two options— Christy and Ajith. Both of them have forced themselves into her life as they cannot survive without her. In the case of Geeta (The Deepest Blue), her love is not a choice but a psychological and physiological reality. Neither her husband nor her lover can match her passion or do justice to her.
Of the contemporary fiction writers, Kamala Surayya and Arundhati Roy have made a strong impact on me. All others are feminist intellectuals of our times — Kamala Bhasin, Medha Patkar, Nivedita Menon, Vrinda Grover, Indira Jaisingh and of course, Devika.