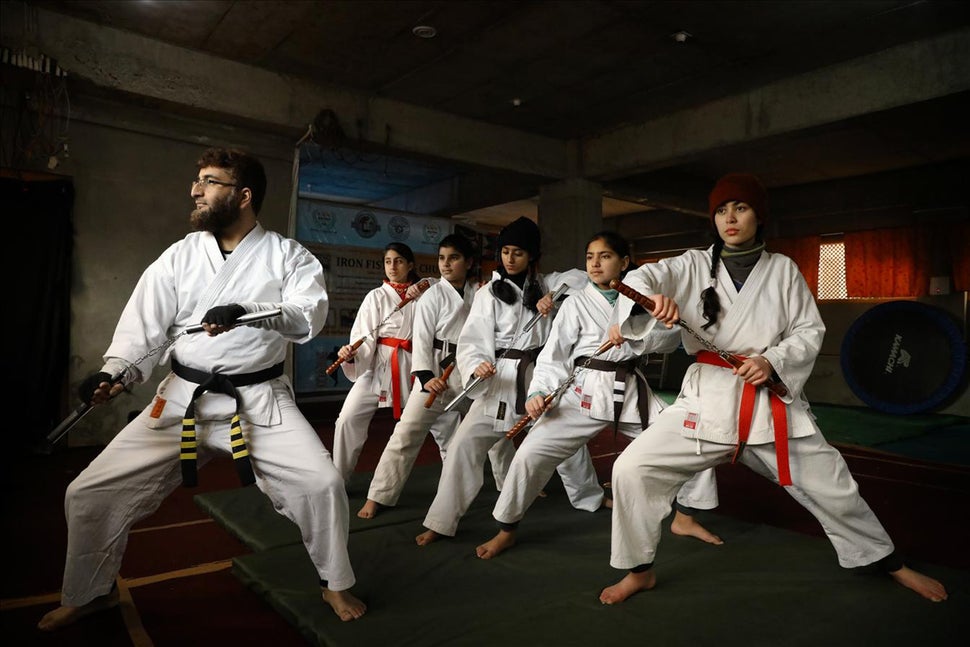 SRINAGAR, Jammu and Kashmir ― In 2017, when Rabiya Nissar, a student from Kashmir had gone for a national martial arts event to Delhi, some boys turned up and started harassing the girls she was travelling with. The boys, who had no idea the girls were trained in martial arts, received a beating from Rabiya and her group.
"I want every girl to join martial arts to gain the confidence level which is required in modern times," said the 14-year-old. "For me, it's a way of life. It teaches me how to walk while keeping my head high."
For the past four years, Rabiya has been attending Iron Fist Wing Chun, a martial arts academy in Srinagar, Kashmir, run by Peerzada Adil Shah, an IT professional and a black belt in Taekwondo and other martial art styles, since 2012. It was two years later that Shah started a separate class for girls at the academy, located in Soura, a volatile neighbourhood on the outskirts of the city.
Not only is Muslim-majority Kashmir a conflict zone which sees frequent clashes between security forces and residents, especially in Srinagar, the traditionally conservative valley is also confronting a rise in crimes against women. The class for girls, which started with six, has swelled up to 60. It is the parents who religiously drop of and pick up their girls from the academy, every weekend.
"There are young girls, school goers, college students, university scholars in the batch for girls," said Shah, a librarian at Sheri Kashmir University for Agriculture and Science Technology (SKUAST), who has self-funded the academy. "Self defence and martial arts is need of hour for girls."
The academy has recently added a "super mom" group. "Martial arts is a discipline of life and it has two objectives, how not to fight and how to finish quickly," he said.
Muskaan Rashid, who has trained at the academy, described how she reacted when some boys passed lewd comments and hit her brother in 2018. "I intervened and punched one of them badly," said the 14-year-old. "I told them to go and bring whoever you want to bring."
"For me, it's a way of life.  It teaches me how to walk while keeping my head high."
Iron Fist Wing Chun academy in Kashmir.