It was after an exhausting day filming a music video titled Alpha Female about women skateboarders that filmmaker Sasha Rainbow and her crew spotted Kamali, then a 7-year-old, who zoomed up and down the skateboarding ramp with the effortless ease of a pro. At that point, Rainbow and her team were filming in Bangalore.
Rainbow immediately knew there was a story there. The Kiwi filmmaker wanted to find out more about her and learnt that Kamali came from Mahabalipuram, a coastal town in Tamil Nadu.
The filmmaker had already seen a picture of Kamali online and had arranged for her and her mother to drive down to Bangalore. As Kamali and her mother stayed with Rainbow and the crew, they spoke about Kamali's life. "I was incredibly moved by their story, we spent six months fundraising and working out logistics to get back to their village to film a doc about the family," Rainbow said.
The linguistic barrier was an obvious challenge. "It meant we filmed more from the heart, communicating through body-language," the director said.
"On Day 1 of the shoot, we saw Kamali, who was as tall as her skateboard. She had this magical energy which lit up the entire skate park. Before we knew it, she was going up and down the ramp. It was such an electrifying moment," Rainbow recalls, in a phone conversation from Los Angeles.
The film has already won Best Short Documentary at the Academy Award-qualifying Atlanta Film Festival, Best Director at Mumbai Shorts International Film Festival and was also screened at Palm Springs International ShortFest and the Indian Film Festival of Melbourne.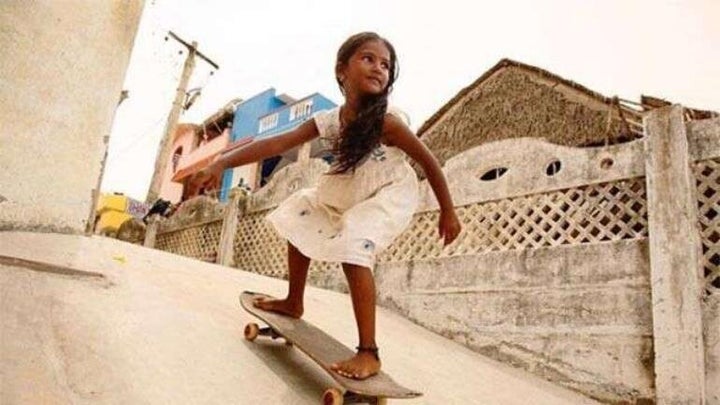 What moved the filmmaker the most was Kamali's mother's commitment to empower her daughter through sport. She saw it as a means to improve their life, instead of a juvenile distraction. As a result of a foreign crew shooting a film on her life, many young girls in Kamali's village have found encouragement to take up the sport, which doesn't have robust infrastructure even in big Indian cities.
As a white woman making a film on a brown girl from a poor socioeconomic background, Rainbow says she was conscious of her privilege. But how did she ensure that the camera's gaze doesn't turn exploitative?
""I was very clear that I want to focus on a story about a mother and daughter's
relationship, and celebrate Kamali and Suganthi's strengths and the change
Suganthi is fighting to create for her daughter," says Rainbow, who started with shooting music videos as her then boyfriend was a musician.
That she belongs to a family of immigrants herself — her grandfather was a prisoner of war, who fled from the Soviet Union and settled in New Zealand—and has witnessed the hardships that go into raising a family intimately also helped in giving the film a rare sensitivity.
"I was always fascinated with the camera. I was gifted one for my 16th birthday and I'd often film my university years on it. So it was amazing when I learnt one could make a career out of it," Rainbow says.
What does she hope the film will change for Kamali?
"We're hoping to set a scholarship programme which will enable her to complete her education," Rainbow says.
Plans are also afoot to build a better infrastructure for skatepark in Kamali's village. "Kamali actually teaches other kids skateboarding. But if she needs to go big, she needs better infrastructure. We're figuring out how to make that happen."
Recently, after seeing the film, a sports brand flew Kamali to China to watch a skateboarding championship. It was her first trip abroad and Kamali was overwhelmed. "These are the little changes that have happened in Kamali's life. I'm most moved by her mother, Suganthi, who's trying so hard to change her daughter's life."
'Kamali' is being distributed by RYOT Films in partnership with HuffPost, and will be exclusively released on HuffPost India on 20 October.