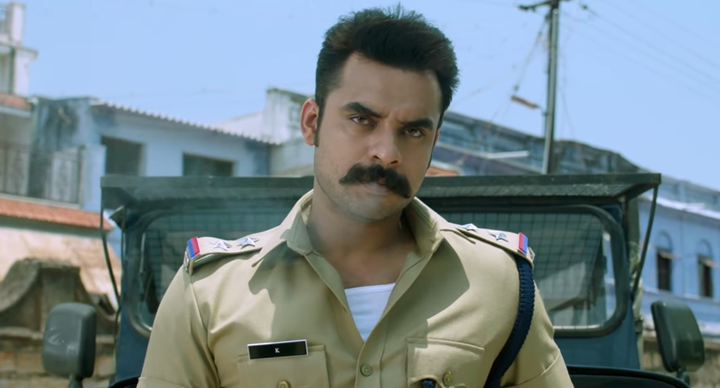 The brash, muscle-flexing, flamboyant SI (Tovino Thomas, whose character strangely has no name) in Kalki is a blend of Bajirao Singham and Chulbul Pandey. He has swag, insolence, unlimited courage and a sense of righteousness and is played by an actor who pulls it off with flair. But unlike his successful predecessors, our man is let down by a narrative that fails to bolster his panache effectively.
Right from the opening scene, Kalki, directed by newcomer Praveen Prabharam, reminds one of those Tamil action potboilers which later get remade in Bollywood. A town called Nenjamkotta on the Tamil Nadu-Kerala border, we are told, has been taken over by a local gunda and political kingpin, Amar (Shivjith). He has a father who is the head of the local political party, a brother who also works as his local henchman and a sister who is equally devious. Then, the local SI hangs himself, setting the stage for the hero to enter and clean the system.
Kalki does borrow heavily from Singham, be it the hero's playbook of vigilantism masked as justice or shades of the villain's character, including his gang of mindless gundas who hang on to his every word.
Not only is the writing unoriginal, but the writers (Prabharam and Sujin Sujathan) also don't bother to give it a local flavour. It could be one of those Telugu films dubbed into Malayalam. It was also quite amusing to watch a sort of who-smokes-the-most-cigarettes-in-style contest between the hero and the villain. Even the good-vs-evil narrative doesn't really work here, when you have a hero who settles scores with the villain with the same murder ratio.
Coming right after Kerala has seriously debated police brutality and custodial deaths, some of the scenes in this movie strike the viewer as dangerously out of touch. At the police station, when the constable informs Tovino's character that the thief has puked blood after being bashed up, the SI suggests rolling him on the ground. This is followed by flipping a cigar into his mouth, accompanied by a loud, annoying BGM. When Amar assigns his man to sever the leg of one of the SI's favourite constables, he avenges it by severing both the legs of the villains' preferred henchman. Similarly, when another man from his team is slaughtered, our 'hero' retaliates by killing the villain's brother. For someone who apparently has this level of complexity, his backstory is weakly sketched.
While Tovino's backstory is weakly sketched, the antagonist's character gets the worst treatment in the film. He has neither dynamism nor a backstory—all we get is a muscled, brooding, white-dhoti wearing man who has been instructed to look ominous. He reminded this viewer a little of Unni Mukundan's (ludicrous) villain in Mikhael.
Many of the characters, you feel, have simply been added to give some volume to the villain's gang. The villain's sister (Samyuktha Menon), for instance, seems like a failed attempt to create a so-called "bold female character" (a single mother who is as depraved as her brothers). There is a ridiculous scene where she faces the SI for the first time, only to repeat the fiery lines her brother told her to convey to him. That clearly shows how much the film values her character. The side characters, except for Sudheesh's Abdulla and KPAC Lalitha's brief appearance, hardly register. The Tamil immigrants of Nanjamkotta, especially, are caricatures, cliched and offensive (blackface makeup).
Kalki eventually rests on the leading man, Tovino, and he gets all the typical alpha male heroic build-ups that we have seen in umpteen cop films before. The Ray-Ban sunglasses, the cigarette flips, multiple gravity-defying action stunts, single-handedly flinging villains hither and thither and that slow-motion walk after every feat. He doesn't get great punchlines, though.
The biggest (and maybe only?) takeaway from Kalki is that among the younger lot of male actors in Kerala, there's finally one who has a quintessential star quality to him. Tovino Thomas was always a good actor but with Kalki, he shows us he can be a star as well. Pity that this bland script wasn't exactly the platform to showcase it.