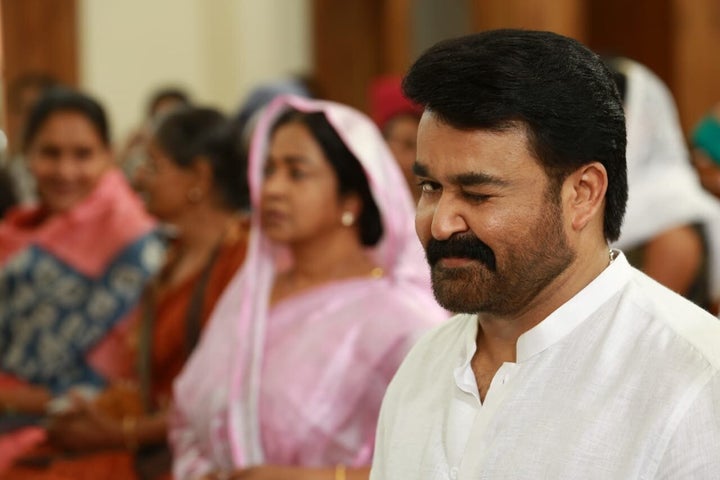 Ittimany: Made in China, Mohanlal's big Onam release, could have been a fun family film, but it's unfortunately pretty hard to sit through. The hero (Malayali Mohanlal, don't ask) is the offspring of a Chinese father (Mohanlal again!) and Malayali mother and is apparently inspired by some "Chinese model" to make money by hook or crook. The Chinese link is about as convincing as a Tinkle story—it's limited to an aerial shot of the Great Wall of China, Dad Mohanlal in a ridiculous hairdo and fancy 'Chinese' clothes and Ittimany's absurd habit of breaking into Chinese one-liners in between. What follows is Ittymani's tryst in Kerala with some Chinese attitude as his handbook.
Ittymani gets that typical reverential superstar account—he is in his early 40s (!) unmarried (still bride-hunting and has already seen 35 women), charmer, multi-faceted and a gold-hearted darling in general. The initial part of the narrative tells viewers about Ittymani and his many feats. He lives with his elderly mother (KPAC Lalitha, who sleepwalks through her role), runs a small Chinese restaurant that's in bad shape and also sells duplicate goods. It's a typical village from a Malayalam movie, with a prominent church, vicar, small-time businessman and other characters. There is Aju Varghese playing Ittymani's yes man and uttering salacious lines, while Salim Kumar is in the movie for no apparent reason. But there is a nice bit featuring Siddique, who plays the priest, and how Ittymani meets him in the first place. The closest one gets to an antagonist is Hareesh Kanaran's Pothan, who is smarting because Ittymani, after agreeing to marry his sister (Honey Rose), tried to swindle money from the broker.
The sloppy writing and filmmaking slow down the narrative, which would be ideal for a long-running soap opera on Asianet or Surya TV. Not to forget the risqué jokes and the dialogues with sexist slurs. At one point, Pothan is constantly derided for his apparent lack of machismo, as he eats off his sister's salary, along with the underlying taunt that it makes him less of a man if he is dependent on a woman's earnings. But then the same writers also try to make a statement that an older woman shouldn't be judged for marrying a younger man—"Why can't I marry a younger man and be looked after? By marrying an older man, I am again expected to nurse him," she declares. But then any surge of hope one feels in that moment is crushed at the lewd humour around her sexual prowess, equating it to a second-hand ambassador and enough scenes to suggest the younger man's "virility". You have scenes where toddlers comment about their grandma's first night and daughters-in-law worrying about their mothers-in-law consummating the marriage.
While one can perhaps forgive the predictability of the scenes, what's clearly indigestible are the moral science lessons imparted by the hero and his bizarre plan of action to teach selfish children a lesson. That stretch is uneasily similar to something Mohanlal did in Sathyan Anthikad's Innathe Chinthavishayam—if then, it was a misogynist guide to save marriages, this time it's a vicar's manual to raise selfless children. And in both instances, Mohanlal does it with such saccharine correctness that it almost induces heartburn. Another important question—what was Honey Rose even doing in this film? She is turning out to be the archetypal superstar heroine these days—pretty young thing in a blink-and-miss role.
At a time when Malayalam cinema has come a long way in terms of craft, concepts, technology and ideas, a film like Ittimani… is a huge step back—more so when you have a superstar like Mohanlal anchoring it.