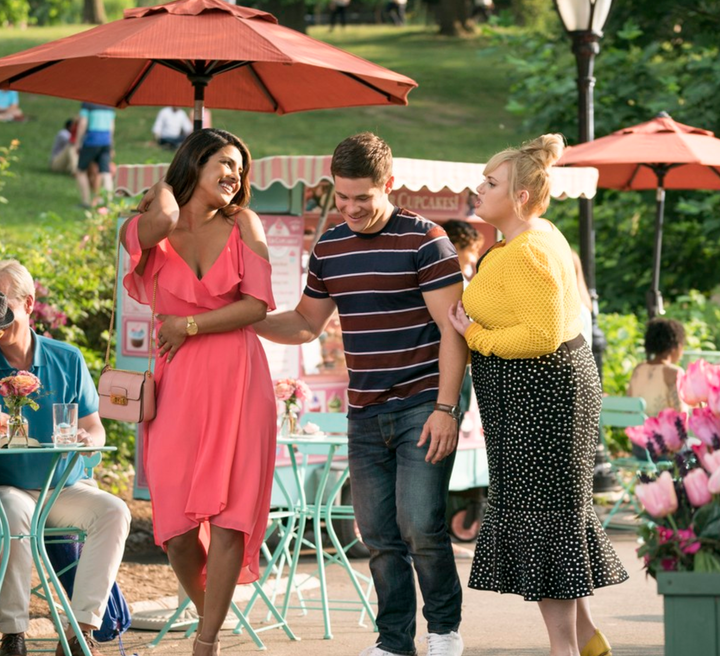 Isn't It Romantic, an anti rom-com starring Rebel Wilson, Adam DeVine, Liam Hemsworth and Priyanka Chopra, mocks the conventions of a standard Hollywood rom-com, while becoming one itself in the process.
Wilson plays Natalie, an architect with major self-esteem issues, who has grown up idealising films such as Pretty Woman only to realise that such flights of fantasies belong only in the fictional word.
She works at a cramped up office, has a regular job, and is often mistaken for the pantry assistant, even when she's walking in conference rooms for meetings with important clients.
After getting almost mugged on the subway station back home, Natalie hits her head (she's tripping on things way too often), and wakes up in a dream narrative - her apartment has stretched itself out, her dog looks squeaky clean, her wardrobe has been revamped, and people around her "see her" and she isn't invisible to them anymore.
Director Todd Strauss-Schulson and writers Erin Cardillo, Dana Fox, Katie Silberman infuse the film's screenplay with crackling one-liners that subvert the tropes of romantic comedies. While being in the parallel reality, where coffee shops look quaint and the New York skyline is painted with a golden glow, Natalie's character is shown to be self-aware about these absurdities and eventually, she longs for her rickety apartment and her old-self, feeling trapped in a world she aspired to be in as a child.
For most part of its under 90 minutes run time, Isn't It Romantic is tons of fun.
Once the film settles in Natalie's alternate reality, the writers take a lot of pleasure referencing and parodying rom-com cliches: the over-the-top gay best friend, the hunky dude who talks in meaningless metaphors, the office bestie who's now extra nasty, the hot supermodel whose only feature is to 'ooze hotness.'
By ridiculing the cliches, Isn't It Romantic does something remarkable - it critiques the exaggeration of musical romances while also simultaneously celebrating them as something that should remain only in the movies. It's a film about mocking romcoms but it's also secretly in love with them.
Some of the portions in the dream sequence are appropriately otherworldly and take the viewer into a cinematic universe that's both, overwhelmingly beautiful, but also unbearably perfect.
Liam Hemsworth plays a billionaire hotelier who gets smitten by Natalie while Priyanka Chopra stuns as Isabelle Stone, a 'yoga ambassador' a profile which becomes a hilarious, running gag in the movie. ("Ambassadors are for countries not for yoga," Natalie quips).
Chopra has a relatively smaller part but is quite a joy to watch as she amplifies the cliched character of the "hot-cheerful-model-who's-silly-but-also-hot" with remarkable ease. She looks absolutely stunning and reveals great comic timing, a refreshing departure from some of her past roles.
Hemsworth is reliably funny as his character Blake turns out to be a hilarious caricature of several romcom leads (Nick Young from Crazy, Rich Asians, Daniel from Bridget Jones's Diary)
Quirky, witty, and subversive, Isn't It Romantic doffs its hat at several iconic films (La La Land, Groundhog Day, Pretty Woman, Serendipity ) but borrows its premise largely from Woody Allen's 1985 comedy The Purple Rose of Cairo, a film where Mia Farrow's character literally enters a movie only to later realise that there's no real escape from reality and self-acceptance, self-love are the only coping mechanisms to deal with the crushing burden of existence.
Interestingly, Isn't It Romantic goes the whole hog and ends up satirising even the self-love trope, becoming a full-blown parody that's mostly worth every minute of its running time.
(Isn't It Romantic is now streaming on Netflix India.)
Correction: An earlier version of this report said Isn't It Romantic stars Chris Hemsworth. The movie stars Liam Hemsworth. The error is regretted.