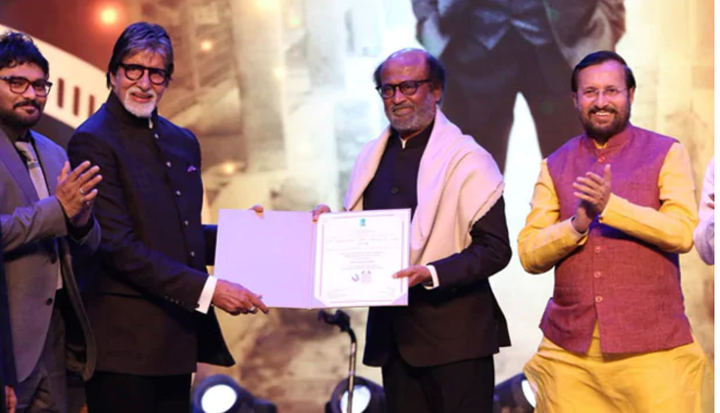 'Javdekar go back' was a chant that echoed on the streets of Panjim, Goa as hoards of people, many of them local Congress workers, protested against the Union Environment Ministry's decision to divert waters of the contentious interstate river Mahadayi.
The locals had gathered outside the main venue of the International Film Festival of India (IFFI) which opened yesterday in Panjim in the presence of Information and Broadcasting Minister, Prakash Javadekar. Javadekar is also the Minister of Environment, Forest and Climate Change.
Javadekar returned mum on the issue and while he was present at two ceremonies - one for IFFI and the other for NFDC's Film Bazaar that runs parallel to the festival, he didn't take questions from the press.
IFFI 2019 opened with Bollywood filmmaker Karan Johar hosting a ceremony at the Shyama Prasad stadium where the star wattage was at an all-time high as both Rajinikanth and Amitabh Bachchan were felicitated for their contribution to Indian cinema.
"Rajinikanth is a part of my family," Bachchan said on stage. "There is lot of back and forth between us. Sometimes I advise Rajinikanth, and at times he advises me. It is a different matter that we don't listen to each other's advice. I feel relationships are made of this. Sometimes I tell him not to do something, but he goes ahead and does it. Sometimes he tells me to do something, but I go ahead and do it."
A special Bachchan retrospective will also run during the course of the festival. Along with the two superstars, legendary French actress isabelle Huppert and British filmmaker Ken Loach (I, Daniel Blake, Sorry We Missed You) were also honoured.
While Huppert was present in person to take the award, Loach, who was invited by IFFI but couldn't make it (two people with the knowledge of the conversation that IFFI offered the 83-year-old director an economy class ticket), sent a recorded video, where he thanked IFFI but also warned about the rising nationalism.
"It's always extraordinary to us that the stories we tell about our world and society manage to make contact with people across the world. It really shows that things that concern us - finding lives of dignity, bringing families and working together ― all these things we share are the same," he said.
"Although the details of our lives are different, the concerns are universal. We now have a particular problem that we share - the rise of the political far-right concerns us all where people are set against each other. Divided by countries and economic class and divided by interest. What we have to assert, in every way we can, especially though films, is that what unites us is far bigger than what divides us. And we all fight together for a better world."
Loach, an acclaimed filmmaker, has often tackled the subjects of societal oppression against the marginalised in several of his films.
Later in the evening, an intimate ceremony was held at Goa's Marriott to declare NFDC's Film Bazaar open. The Bazaar is a marketplace for writers and directors to find producers and sales agents for their work, which include scripts, under-production titles and completed projects.
To be held until November 28, IFFI 2019 will screen over 200 films from 76 countries, which includes 26 feature films and 15 non-feature films in the Indian panorama section. John Bailey, cinematographer and former President of the Academy of Motion Pictures Arts and Sciences is the head the International Jury of IFFI.