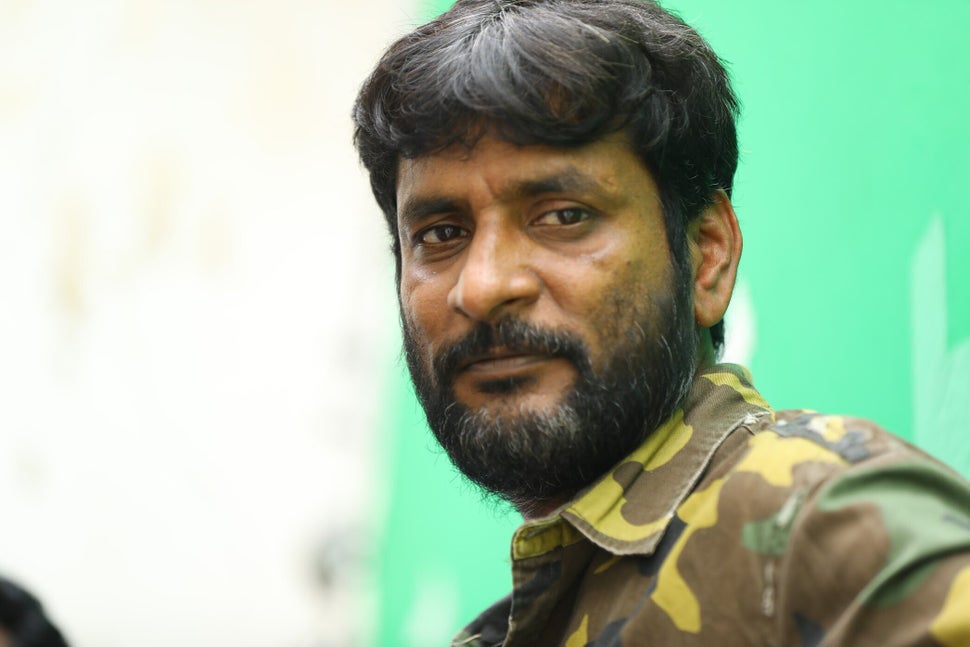 HYDERABAD, Telangana —"Jeena hai to marna seekho, kadam kadam par ladna seekho!" The slogan ′If you want to live, learn to die; learn to fight with every step", which still haunts student protests in the country, is believed to have been coined by George Reddy, a student leader in Osmania University, in the 1970s.
On November 22 2019, a biopic on his life George Reddy: A man of action was released starring Sandeev Madhav in the title role and Muskan Khubchandani as the female lead.
"Each segment, each dialogue in the film could have created controversy and I was worried whether the film would see the light of day," director Jeevan Reddy told HuffPost India in a candid interview.
To understand the director's concerns, it is important to first unpack the legend of George Reddy.
George Reddy was a brilliant student, and a trained kickboxer who supposedly gave up the prospect of a job at the Indian Space Research Organisation to organise students and workers under the banner of the Progressive Democratic Students, an outfit he founded. The outfit, which still survives as the Progressive Democratic Students Union or PDSU, was at the forefront of Osmania University's famed beef festival organised in 2011.
George himself has vanished from the public imagination. All that remains of his short, but vivid, life Aare a few poems and ghazals he composed and a short video clip of him which featured in a Film's division film on student strife in Indian campuses. In the clip George, wearing an olive green shirt is heard as saying:
"Our society has become rotten. And this rottenness has spread into every facet of our life including into our universities. Today we have no other course left to us open now. We have raised our voice in protest. Our protest has remained unheard," George says in the clip. "We have marched in procession. Our processions have been broken up by the police. We have erupted in spontaneous violence and our violence has been met with a greater violence. Today what is left to us but organise ourselves and meet violence with violence?".
Apart from the clip, there are a few more details in a short blog post by Avinash Conda, a Hyderabad based blogger whose father had told him about Osmania University's tryst with student politics in the 1970s and the role George played in it. This was followed by a longer article on him titled Banda Canteen Broadcasts and a commemorative meeting which was organised in Hyderabad. In 2016, author and editor Gita Ramaswamy came out with a book on George titled Jeena hai to marna seekho published by Hyderabad Book Trust.
As students of Jawaharlal Nehru University protest against an increase in their hostel fees, George Reddy who was also a product of his times may inspire many, director Jeevan Reddy said in a candid interview with HuffPost India.
So does the film pay a fitting tribute to a charismatic student leader, or water down his politics to make him more palatable to the establishment?
When did you encounter George Reddy as a character?
In my student life in Siddipet college (Telangana) I had heard of George Reddy. Everyone in my friend circles had heard of him but no one knew much about him. When I did my first film Dalam, my friends, cinematographer Sudhakar Yakkanti (who is George Reddy's director of photography) and Damodar Reddy encouraged me to explore the character.
How did you go about researching a character about whom very little documentation exists?
I took just the final four years of his life in Osmania University campus for research. I walked in his footsteps—the physics department, library and the canteen in Osmania University. What did he do in OU that thousands of people followed his funeral procession? In those times they came on cycles to Hyderabad to get a last look. In those days women turned up for his funeral. When even big politicians did not and still do not get this sort of love from people, it fascinated me that George got it.
I thought a lot about who he was. I heard that a documentary filmmaker who was on a trip to Bolivia to make a film on Che Guevara came to Osmania University because he got a letter from George about the political turmoil on Osmania University campus. The story is that the film maker came to OU to interview George. I realised that he was a dynamic hero in real life. I realised that in India if we look at heroes, after Bhagat Singh it is only George Reddy who stands out. He was young and he carried the same power which Bhagat Singh had.
The challenge was to present this aspect of George to young students of this generation. Taking George Reddy, the person, as the central idea, we developed a character with whom students of this generation can also connect. We wanted to show the students of present day the ethics and sacrifices of a student leader of yesteryears. I wanted them to want to know why the students of the 1970s raised their voice when they faced problems. I wanted them to explore from where the slogan Jeena hai to marna seekho originated.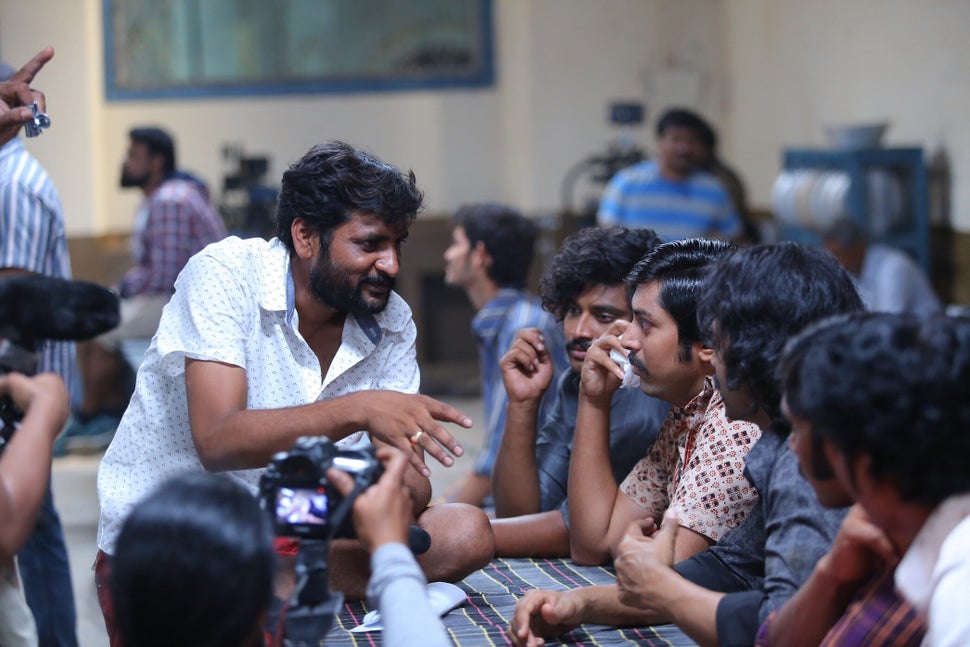 There is very little of George Reddy's background in the film. Some important parts of his life, including the fact that he was brought-up by a single mother, who was once part of student politics to later become a devout Christian, do not come through in the film. We only see his mother handing out books on Che Guevara, Bhagat Singh and Russian revolution to George.
He loved his mother but he never learnt anything from her. George never learnt anything from anyone. He learnt on his own. Others, including his mother, only listened to him. When I did my interviews, it was evident that he was not influenced by his family. He had no inclination towards any particular caste or any particular religion.
As per Gita Ramaswamy's book Jeena hai to marna seekho, before he joined OU, George wanted to be a doctor but was turned down because he did not have a Mulki (settler) certificate in Telangana region because his father was from Chittoor district in Andhra Pradesh. In your film, George who was on Osmania University campus during the peak of Telangana agitation, does not speak a word about Telangana and or his own status as a "non-Mulki".
For me these are personal issues. I am a staunch supporter of Telangana agitation and the separate statehood for Telangana. Telangana agitation has its own history and it was a fight against injustice. The fight was against a lack of jobs and education in the region. I love that fight. I love George too. I was told that George mentioned Telangana agitation as a "big movement". But his focus was different. I concentrated on what he thought and not the agitations that surrounded him or his family background.
The film is set in the 1970s. During the shoot, how did you manage to create the mood of the 70s students politics?
I decided that I will cast only newcomers in the film even though many people asked me to cast a star for the lead role. If we had taken an established hero for the role of George Reddy he would have brought his own acting style, reputation and characteristics into the role. We wanted someone who would look, act and speak like George. Sandeep Madhav, the actor who is also a friend of mine was called for the screen test. He became George Reddy soon. Then for each role we chose people who matched the characters. A total of 98 new, young actors were cast in different roles.
Another aspect of the film was the ambience and setting. We got Gandhi Nadikudikar to do art direction and he made the massive set recreating the historic Osmania University of the 1970s. In the film there are two lead roles or heroes—one is George Reddy and the other is the very set of Osmania University. Each day we had around 500 junior artists working on this set along with the lead actors.
As the shoot progressed the era and the character of George started casting their spell. Each day people started approaching me wanting to know more about George. They started shouting the slogan Jeena hai to marna seekho. All artists started asking me questions like: Who killed George? A George vibe started buzzing in the location and that shows in the film.
"My message in the film is that—George Reddy is India's best action hero."
It sounds like a lot of calculations went into the making of the film. The film, however, shows George Reddy as a vigilante, an action hero who reacts to problems instantaneously without thinking much. How did you envision the character of George Reddy?
Many people asked me why I did not include more about George's political background in the film. My take is that, George Reddy did not adopt the ideology of Che Guevara or Bhagat Singh even though he may have been influenced by them. He read a lot on Russian revolution, Bhagat Singh and Che. But he never blindly adopted them, I am sure. He may have been a sympathizer.
He was in Osmania University for just four years and during that time he did not get a lot of time to think and choose an ideology. His main concern was to react to each problem the students faced.
George Reddy for me is all about action. He was a disciplined person, a boxer, a non-smoker and a teetotaler. Wherever injustice happened he fought against it. There was a punch in each of his punches and we introduced dramatic music to bring in this rhythm of his fight in the film. Whenever he read in the library he used to use a blade to tear the pages in books that are stuck together. This blade he used to put in his mouth. A friend of his told me that he would bind the blade in a kerchief and use it whenever he fought. We introduced this blade-kerchief fight in the film, which used to be popularly referred to as Che (Guevara) Chatpat.
Though many people criticised me saying I turned a leader into an action hero, I still maintain that George Reddy was an action hero. Bhagat Singh was an action hero. Wasn't Che an action hero? So was Subhash Chandra Bose. My message in the film is that—George Reddy is India's best action hero.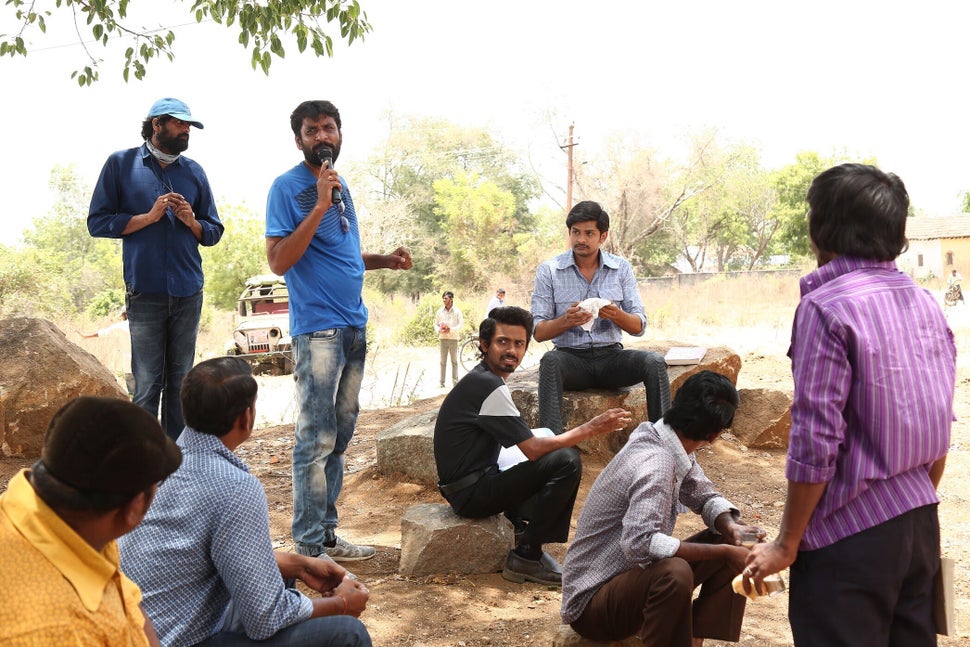 In the film George meets Maoist leaders in a forest at night but shows no inclination of joining ranks. Going by the recorded accounts of those who knew George, he leaned towards Communist Party of India Marxist-Leninist. There is no mention of this in the film. Why did you choose to portray this long association with the Left as a brief acquaintance, thereby reducing George to a one man army?
He was influenced by the communists. He was influenced by Srikakulam peasant uprising but never joined the struggle there. He even procured a gun, I am told and this part is shown in the film. But he never used the gun. My point of view about George comes in as an observation made by one of the characters—that if George had used the gun, the history would have been different.
So according to you was George a rebel or a revolutionary?
In India there are only two fronts or wings— the left and the right. I think George brought in a new front—a straight front. He wanted to feed the hungry. He wanted to fist fight when wrongs took place. He was directly fighting for the people.
Towards the end, does the film take a Gandhian turn with the female lead character of Muskaan taking pictures of Gandhi's statue at Telangana Legislative Assembly and then finally throwing George's gun into the Hussain Sagar lake against the backdrop of the Indian flag and Buddha statue? It gives a feeling that George was killed because he was violent on campus. Are you condoning his death towards the end?
Our land is a land of which has had bouts of violence followed by silence or peace. George never fought against elected representatives or incited students to unleash violence on elected representatives. George fought for justice but never used his gun. His fist fights and violent reactions were personal traits. In fact George and Gandhi are the same. George asked people to raise their voice. Gandhi also asked people to come together and raise their voice. For that he was gunned down. George too was killed for raising his voice. He was killed because his voice reached beyond the four walls of the campus and people started holding meetings in Delhi and Chennai. I did not condone his death but brought in a parallel between Gandhi and George.
Are you saying that George chose a democratic fight?
Yes, he chose a democratic fight. Like Gandhi and Subhash Chandra Bose.
From Che to Bhagat Singh and Gandhi, your George Reddy seems to be going all over the place. Do you think George Reddy did not cater to one ideology but many?
Don't put ideology in a box. Gandhi said he was non-violent in marches but many people died for India's freedom. Then, how can we say our history is all about non-violence. Similarly George Reddy was influenced by many and he influenced many and he was killed for it. His history too is about violence and the silence or peace which follows.
You do not show ABVP and RSS, the outfits were believed to have played a pivotal role in the murder of George Reddy as politically motivated. In the film, his murder seems to be the result of personal rivalries. In the end, when George gets killed, you introduced a skull cap wearing Muslim character among his assassins. Did you make these cinematic choices because you were worried of back lash from the Sangh Parivar?
I do not like the right-wing, let me be very clear. I chose not to waste screen time on them by showing them and their motives in the film. I chose to dwell on George instead. The Muslim character was introduced because I am sure that the people who killed George belonged to all faiths because they were hired rowdies and killers. They killed him for money.
About some differences which I have with the film. George Reddy was killed in broad daylight. Why does the film kill him off at night? Also, there is no evidence that his own friends 'betrayed' George. Why does he appear to have been betrayed by one of his own?
I introduced a huge card in the beginning of the film saying the film is a cinematic representation of George Reddy's life. Despite that please don't ask me why I did not make a documentary. George was killed in the night because it seemed cinematically dramatic. About his friend who took him to the hostel where he was killed, there is no clarity why the person chose to do that. I too left it open ended in the film.
And the women in the film seem to be bystanders to this grand revolution which is happening around them, especially the one in love with George. How come?
George Reddy had a huge female fan following on campus. That is only natural because he was a man of action and women liked him. There were women students who used to wait at the bus stop to just have a glance at George Reddy. Why wouldn't he be adored by women?