This week marks 25 years since the world met Rachel, Monica, Phoebe, Ross, Chandler and Joey, yet the creators of Friends are still dropping behind-the-scenes bombshells about the show.
At a panel event to mark the anniversary, producers spoke about some of the challenges they faced when creating the sitcom, including the fact that scriptwriters were banned from using words including "condom" and "nipple" in some of the earlier scenes.
NBC – the show's US network – reportedly took issue with body parts and the simple form of contraception, according to Marta Kauffman, the show's executive producer.
"There was an argument where Monica and Rachel fought over who could use the last condom," Kauffman said at Tribeca TV Festival in Manhattan this weekend, according to Variety. "We could show the box, you could shake the box so you could hear the condoms, but you couldn't show the foil packet, and you couldn't say condom. It had to be in the box."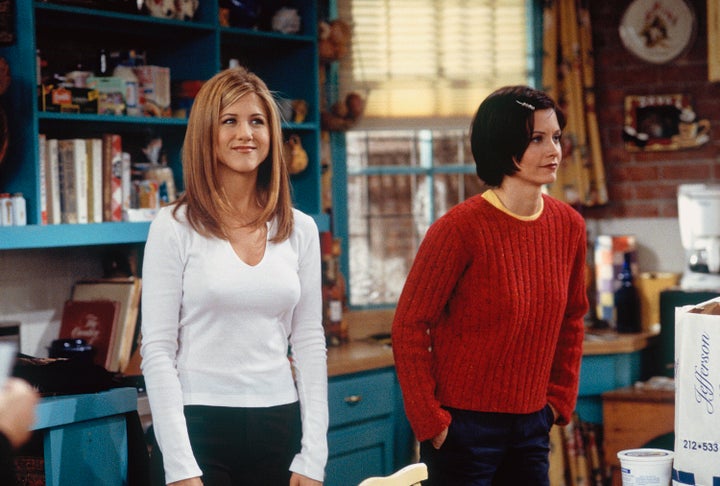 The episode Kauffman mentioned – The One Where Dr. Ramoray Dies – aired in 1996 and it seems the network did relax its prudishness by 2001, when a pregnant Rachel famously told Ross: "Condoms only work like 97% of the time."
NBC may have u-turned and shows such as Netflix's Sex Education are starting to break the mould, but seeing condoms used or even discussed is still incredibly rare in film and TV, according to Isabel Inman, head of communications at sexual health charity Brook.
"Condoms are the only method of contraception to protect against both sexually transmitted infections (STIs) and unwanted pregnancy," she told HuffPost UK. "With young people remaining one of the groups most at risk of STIs, much more needs to be done to normalise condom use and reduce the stigma associated with them. The media plays an instrumental part in this."
"Negotiating safer sex is key to consent, yet we hardly ever see condoms being used or discussed in films or TV shows," Inman added. "The reality is that although we are making progress in terms of sexual health – like relationships and sex education becoming mandatory in schools next year – there is still a lot of work to be done to change societal attitudes to sex and sexual health."