When I was a child growing up in Goa, coughs and colds came with a silver lining: my family's standard remedy of a shot of brandy-like feni, with a little sugar to soften the taste. It cleared up blocked sinuses in a trice. Sometimes, the feni was set on fire to burn the alcohol—a spectacle that worked better than the 'medicine' to cheer us up. Other treats that made an appearance in times of sickness included pez (congee) and the nourishing and tasty tizann, a warm porridge of nachni (ragi), local palm jaggery, and coconut milk.
Pretty much every Indian home has their own version of 'sick' food, fed to loved ones who are battling discomforts such as indigestion, colds, coughs, fever, headaches, period pain, and the like. While their medicinal properties may be debatable, these home remedies deliver what every afflicted soul needs: comfort, warmth, and a soothed belly.
Liquid comfort
India offers a rich diversity of soups, watery dals, and herbal decoctions to replace lost fluids.
A common decoction drunk across the country is the Ayurvedic kaadha, made by boiling down herbs (especially tulsi) and spices (pepper, cardamom, cinnamon, cloves, licorice) into a healing beverage.
In Sidharth Mehta's Gujarati home, hing mari ukalo (a hot combination of asafoetida, black pepper powder, lemon and salt) is a go-to for stomach upsets. In Rajasthan and Gujarat, raab comes to the rescue for tummy troubles. "It is made with ghee, flour, and jaggery and thinned with water/milk, and spiked with spices or soonth (dry ginger) powder. It is versatile in consistency and type of flour used, fills you up, and gives the appetite a boost," says development professional and food blogger Sheetal Bhatt, whose earliest memory of raab is her grandmother making it for her.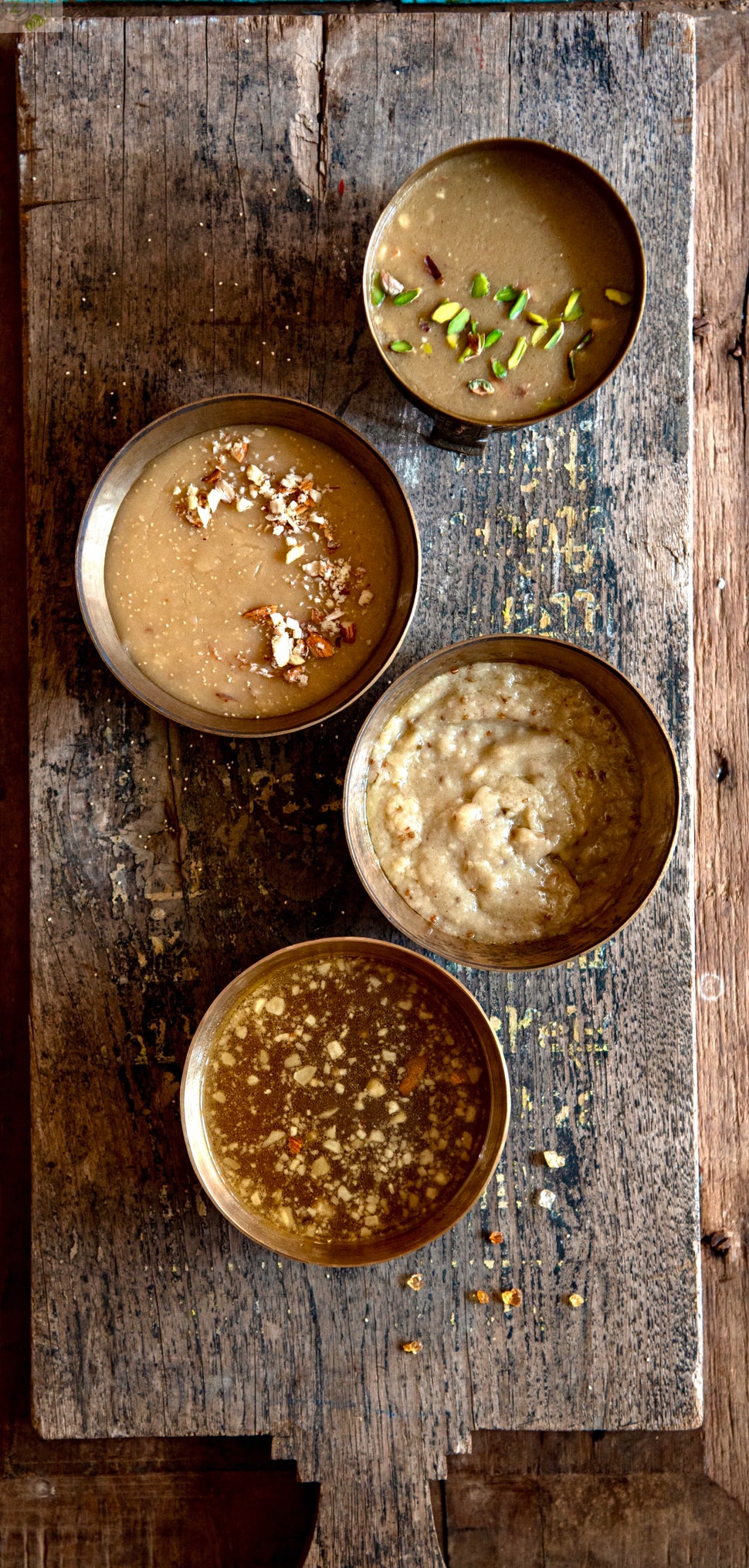 Writer Shakti Salgaokar recalls having a variation of sol kadi (a Konkan drink with a kokum base) called ovya lasnachi kadhi featuring ajwain and garlic when she had congestion. As a child, journalism student Sahej Marwah had tonsils-related ailments that would make it difficult to swallow food. It was seera—a popular thick drink in Sikh households, made with besan cooked in ghee, sugar, and water—that saved the day. "It helped with throat infections and colds, and my mother always said it gives you energy. It had to be eaten hot," she says.
Soups are popular pick-me-ups around the world, and India is no different. Down south, steaming, peppery rasams abound, such as the cumin-scented jeera milagu rasam of Tamil Nadu or the garlicky dal-based miriyala pappu chaaru of Andhra Pradesh.
"My go-to is always soup—it is light and can be packed with everything good and healthy," says home chef Jasleen Marwah. When her daughter is under the weather, she usually feeds her a Kashmiri mutton shorba flavoured with whole spices, garam masala, garlic, ginger, saunf (fennel seeds), with milk or curd for creaminess.
Food writer Nikhil Merchant's Kutchi-Bhatia household loves osaman. "It's a watery dal with jaggery, kokum, tempered with hing, mustard, curry leaf, cumin, and sliced mooli. It's sweet, sour, and smoky with a hit of spice," he says. Merchant remembers waiting for the dal to settle down so he could enjoy the water at the top. "It is healthy and absolutely flavourful and opens up sinuses. It's a protein-packed meal but light enough to digest easily," he says.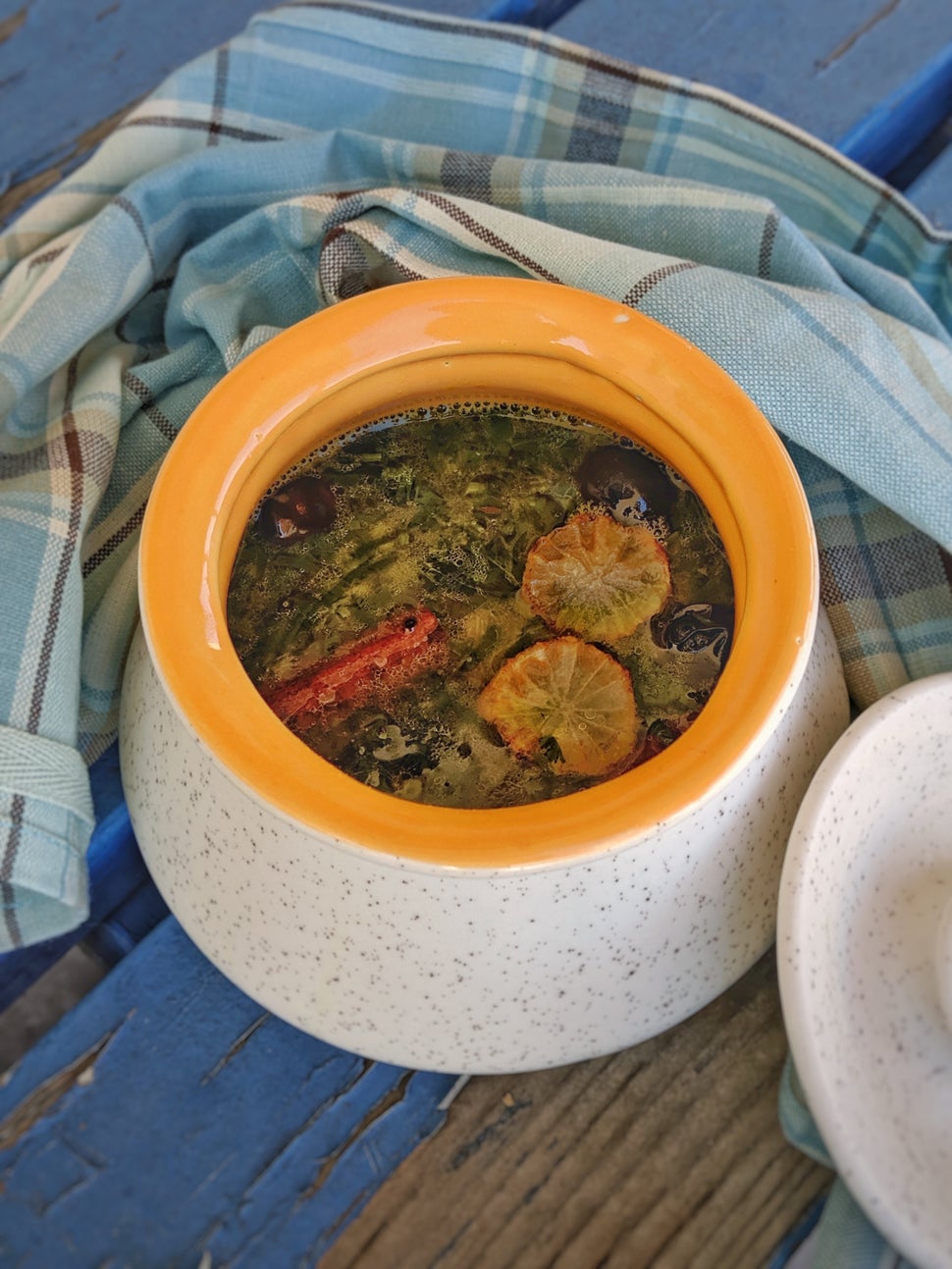 In many Assamese homes, khar is the tasty remedy to treat an upset stomach or acidity. "It is alkaline in nature and settles the stomach," says Joyee Mahanta, co-founder of O'Tenga, an Assamese food delivery service in Mumbai. The key ingredient in khar is the peel/ stem of the bheem kol (banana), which is sundried and burned. The resultant ash is then mixed with water and kept overnight, after which it is sieved and the liquid used to make preparations such as omita khar (with raw papaya), tioh khar (with cucumber), and matimaah'or (with black lentil). These are typically eaten with plain rice.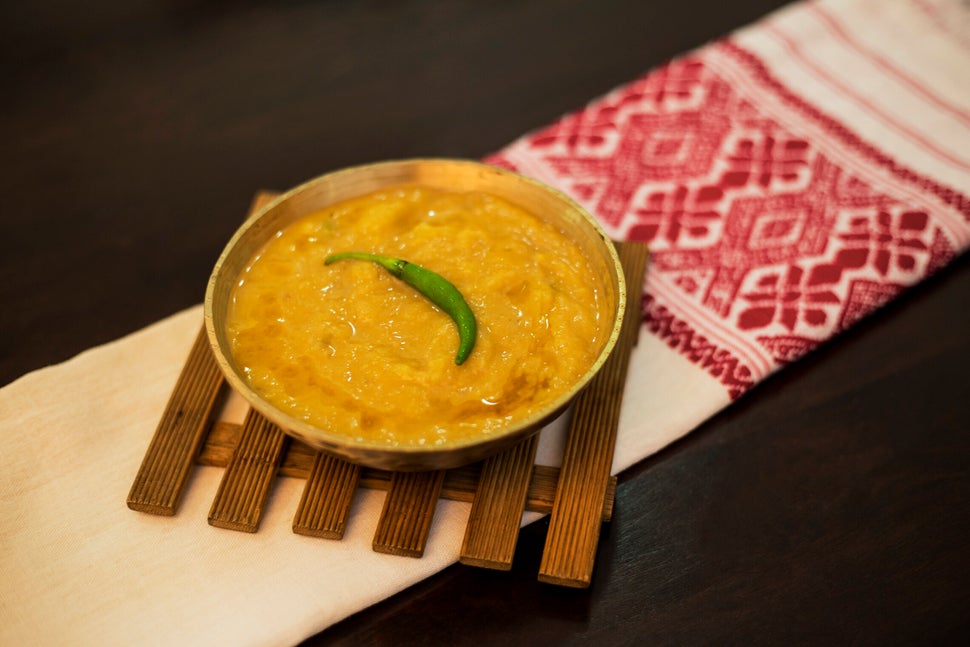 Rice and shine
Rice could very well be considered the superfood of the sick. It can be served with invigorating ghee or cooling yoghurt, or be cooked into an invalid-friendly gruel such as pez or with dal into a hearty khichdi.
"Curd rice is my cure-all. It is fairly easy to make, the ingredients are accessible and local and it cuts across barriers… everyone eats it," says culture writer Sushmita Sundaram. "It is cooling, fills you up without weighing you down, helps with digestion, is easy on the stomach and nourishing."
Maharashtrians often turn to metkut bhaat—overcooked rice with ghee and metkut (a spiced powder made of dry roasted rice, wheat and lentils). In Andhra Pradesh, there's sonti annam (rice with dried ginger powder, ghee and spices), while in Tamil homes, such as that of Satish Iyer, veempam poo sadam (rice with dried neem flower and ghee) is eaten for its curative properties.
Rice, especially the non-refined local variants, are perfect accompaniments to soups, watery dals, rasams, and light curries.
Not everyone, of course, wants rice all the time. For Vandana Shrimali, who blogs at Amma ki Rasoi, moong dal cheela is the perfect staple when sick because it is healthy, easy to digest and filling.
Curative curries
Most Indian cuisines have curries and stews for every occasion, and that includes times of sickness.
Independent writer Azera Rahman usually gives her daughter xingi maaso'r torkari, a fish curry made with xingi (stinging catfish). "It's a simple curry cooked with a little turmeric, salt and garlic. Xingi adds taste, and is supposed to give strength," she says. Freelance writer Reshmi Chakraborty's mother would make a brown stew with mutton, carrots, potatoes and peas for the family—a recipe inspired by one from the classic Bengali cookbook Rannar Boi by Lila Majumdar and Kamala Chattopadhyay.
Salgaokar recalls how her grandmother would feed her kulithachi pithi to treat the sniffles. The curry made from horsegram powder and garlic was drunk like a soup or eaten with sticky rice and ghee. She also fondly recalls a magical crab curry. The base of the curry was vatan, a paste made of coconut, sliced onions, coriander, khus-khus, cloves, and pepper, and it was flavoured with the juices from the crab. "She would say 'forget the crab, just eat the curry and rice'. That crab curry would just dry up the cold," says Salgaokar.
Freelance editor Samarpita Sharma swears by a Bengali fish curry that she says does wonders for fevers and stomach upsets. "It is made with just kalonji (black cumin), salt, and turmeric. The fish (usually rohu) is cut thin, semi-fried in a little oil and then boiled in the jhol (curry). It also has parval (pointed gourd) for its cooling properties. This runny curry is eaten with boiled rice," she says. A raw banana and potato jhol, which sometimes had fish, is also used to treat an upset stomach.
A spoonful of sugar
As Mary Poppins said, a spoonful of sugar helps the medicine go down. Civil engineer Stuti Shrimali's family remedy for stomach pain and headaches is chawlai ka doodh—a porridge made of amaranth grains roasted and cooked with milk and sugar. Senior manager Nehaarikaa Talwar's mother would feed her besan sheera, a dish that's popular across north India, with extra sugar when she had a cold or chest congestion. It's a remedy Talwar still uses. "You roast besan in ghee, ground black pepper and cardamom, add jaggery or dry fruits, and simmer gently in milk until thick. It has to be eaten hot, and you don't drink water for half an hour after you have it," she says.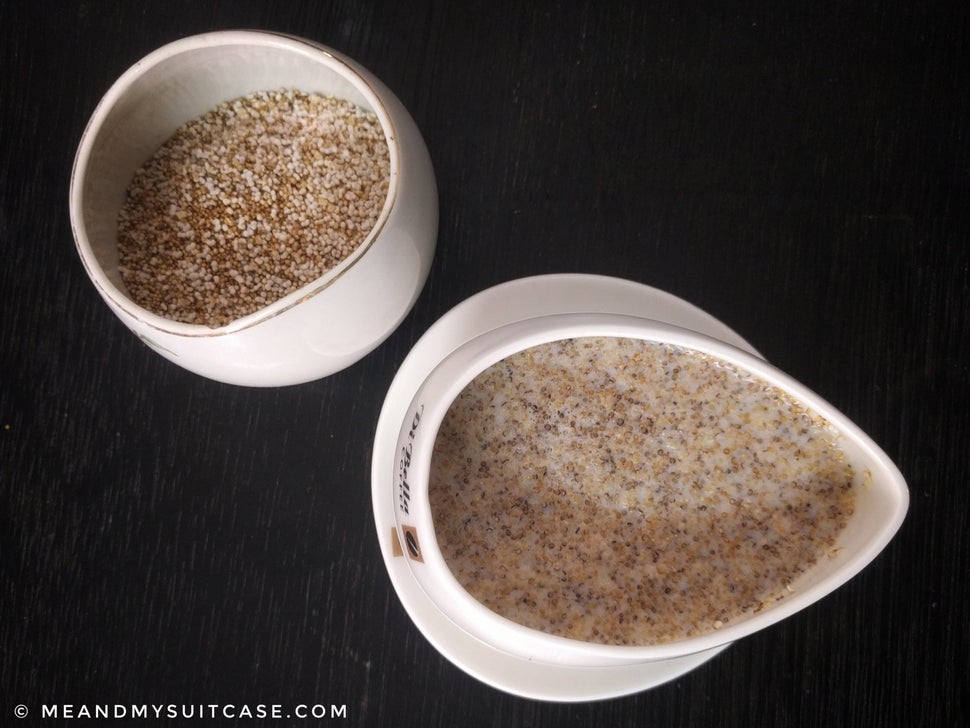 Journalist Somya Lakhani also has a favourite childhood remedy that she has carried into adulthood. Churi is a simple dish made of one soft phulka, broken into bits, and mixed with generous amounts of ghee and sugar. It was given to her as a treat. "When you're unwell and you can't taste anything—that's when you're fed this," she says. "It is comfort food. It has no nutritional value and does not boost your immunity. It works psychologically because you've been told as a child that it will help you," she says.
If ever there was a time for comfort food, being sick would definitely be it.