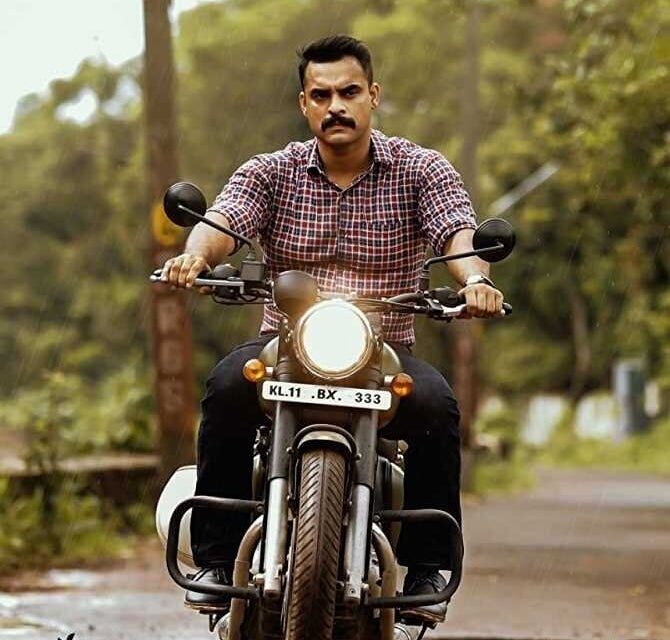 During a visit back home in Kerala, an Army man pulls up drug peddlers, rescues children from a school bus dangling from a bridge, delivers patriotic speeches at a school and also solves the problem of burnt biryani at a wedding. Maybe this would work better as a PR exercise for the Indian Army. But debutant director Swapnesh K. Nair decided to turn it into a full-length feature film, dotted with cliched, half-baked characters and events in a narrative that can at best be termed pointless.
The film opens to a voice-over about a village called Edakkad and its occupants and they all sound excruciatingly dreary. The hero, Shafeeq Muhammed (Tovino Thomas looks beefy but bored), is introduced during a local temple festival where he is taking part in a century-old custom. Then it meanders to the people linked to him—the mother who is a panchayat member, father who has almost retired from cooking biryani, a friend who runs a small grocery store, a sister who has cleared police selection and a brother-in-law who runs a school.
P. Balachandran's writing is inconsistent—you only get passing mentions of characters who, at times, seem progressive. So the inclusion of the sister who gets a police selection is just an opening for her brother Shafeeq to launch into a patriotic rant about the army. We don't follow that story after that. The mother is also just a skeletal sketch—liberal, independent woman who considers her son and daughter to be equal. The father's character is confusing and abrupt and also gets a needlessly dramatic scene that ends up as silly. He cooks biryani at a wedding but burns the dish and when the son bails him out by replacing it with hotel biryani, the father reacts in anger and talks about getting "humiliated at the hands of his son". When his friend's sister is caught taking drugs, Shafeeq, the duty-bound army officer, opts to keep quiet initially and even later, we aren't told how she came out of it. The grandmother is another bizarre character, who agrees to betray her grandson for a packet of beedi.
We are unable to invest in a single character, including the main lead. When a father (Sudheesh who is getting typecast) beats his pot-smoking son black and blue in the police station, or sheds a tear wishing his son would be a better human being, you remain unmoved.
The lead character's role doesn't stretch beyond his good Samaritan act. So his romance with schoolteacher Naina (Samyuktha Menon) just comes across as starchy, with a preposterous romantic stretch in Kashmir in between.
The bad guys are a bunch of impoverished lads who mostly get to say terrible lines and sit on a rundown bridge over a tunnel and smoke pot. Forget menacing, they just seem like they urgently need a shower and a trim.
At some point the film drifts into an exhausting docu-drama but since that will lead to spoilers, let's leave it at that. All's well that ends well as the bad guys finally get a haircut, fresh clothes and an army badge.