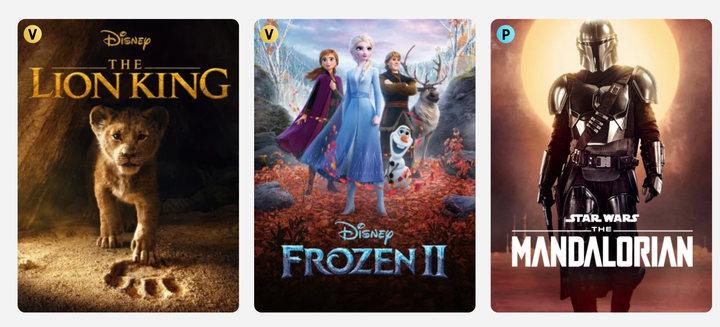 Disney+ has finally launched in India after Hotstar's app update on March 11 ushered in our first look of the redesigned streaming platform, making a wide range of original Disney content available to users in the country.
The launch had been initially planned for March 29, but was later delayed.
On the Android and iPhone app, Hotstar's green has been replaced with Disney+'s blue colour scheme, the new content added from the studio's catalogue can be seen on the home screen. A separate tab named Disney+ will also lead you to new additions on the platform.
Shows have now been differentiated with Premium and VIP icons to indicate access based on subscriptions.
What are the subscription plans?
Disney+ India has two subscriptions plans.
You can get Disney+ Hotstar VIP at Rs 399 a year through which subscribers will get access to the entire Marvel Cinematic Universe and biggest movies including The Lion King, Frozen II, Aladdin and Toy Story 4. Latest Bollywood movies like Panga, Tanhaji, exclusive Hotstar Specials shows like Neeraj Pandey's Special Ops, Out of Love, Criminal Justice, unlimited LIVE sports, and STAR TV serials are all available under this plan.
But Disney+ Hotstar VIP excludes a lot of the original Disney content as well as HBO shows that the Premium subscribers will get access to.
Disney+ Hotstar Premium is priced at Rs 299 a month and Rs 1499 a year. It gives access to more English language content and 29 Disney+ originals, including The Mandalorian, High School Musical: The Musical: The Series as well as the latest American shows from studios like HBO, Fox and Showtime.
Well, you can immediately jump onto fan favourite Mandalorian for your dose of Baby Yoda content.
Disney+ has dedicated channels for its Disney, Pixar, Marvel, Star Wars and National Geographic shows and films, which mean you get:
— All the Star Wars movies in the Skywalker Saga (minus Rise of Skywalker) and standalone film Solo
— All the films in the Marvel Cinematic Universe (except Spiderman: Homecoming, Spider-Man: Far From Home)
— All the Pixar movies and short films
— Disney musicals like The Lion King, Frozen 2, Aladdin and Moana
Other popular Disney originals include Marvel's Hero Project, The World According to Jeff Goldblum, Lady and the Tramp, High School Musical: The Musical: The Series: Season 1 and Noelle. See more here.
The app also now has a mode called Kids Safe which has Disney cartoon shows and films like Mickey Mouse Clubhouse, Duck Tales, Avengers Assemble and Spider-Man shorts.
It also has six channels—Mickey Mouse & Friends, Princesses, Disney Junior, Super-Heroes, Action Adventure, and Animals & Nature— to segregate shows by theme.
Disney says the best of these have been dubbed in Hindi, Tamil and Telugu.