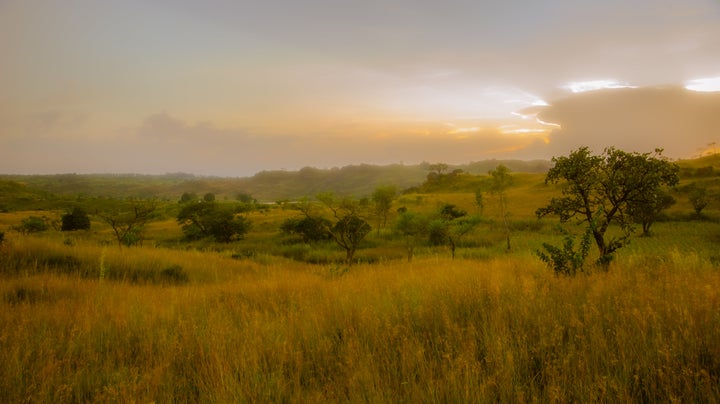 Set in Umuahia, Nigeria, in the 2000s, Chigozie Obioma's An Orchestra of Minorities is the story of a poultry farmer whose day is interrupted by a woman contemplating suicide on a highway bridge. Chinonso Solomon Olisa, our hero, is a lonely man. He is grieving his dead father, affected by the early death of his mother, and estranged from his only sister. He finds solace and peace in raising poultry and taking trips to the market. It is on one such ordinary day of his daily existence that he meets the woman, Ndali Obialor. The sight prompts him to throw away two of his prized fowls into the waters below to show her the severity of a fall. This moment of sacrifice becomes a turning point in his life. He understands that he has done something out of the ordinary because "… his chi flashed the thought in his mind that he'd done enough, and that it was best he left." So Chinonso leaves the scene immediately.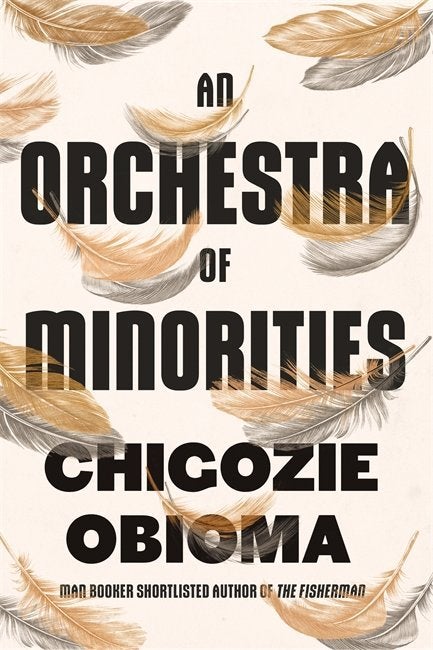 In An Orchestra of Minorities, the chi(s) or guardian spirits inhabit the bodies of their hosts. They flash images in their minds, project helpful dreams while they are asleep and give counsel through thoughts. They can eject out of their hosts at will but their powers are limited. They cannot see the future or interfere in the natural course of events or influence a man against his will. They go through several rounds of reincarnation, often remembering skills gained from previous hosts, and are bound to their present host as a guide and witness. Chinonso's chi, in fact, has been around for hundreds of years, as a guardian for a slave woman, a Biafran warrior and Chinonso's own uncle, to name a few.
The novel begins with the chi standing in the celestial court of the supreme being, Chukwu, to give a testimony of his host. Told through flashbacks, we see Chinonso's life, from birth to the present, through the eyes of his chi. Deeply grounded in the mysteries of Igbo cosmology, the book is both a story of love and of the descent of a man who aims for the stars. And who better to hear it from than his own chi, who has been by his side through his happiest and darkest moments? As the novel ends, one wonders if the chi has exalted the reader to the status of the supreme being and is pleading with us on behalf of his host for a fair judgement.
Chinonso's life is a series of chance encounters bearing consequences. Insignificant events and choices, made by the mortal or the disembodied narrator, lead to bigger ones like a domino effect. Months after the incident on the highway bridge, Chinonso and Ndali cross paths, igniting a romance between the saviour and the saved. They make love amidst clucking hens and power outages and dream of getting married. Chinonso is a happy man until reality hits him in the form of humiliation by Ndali's family. She is rich, privileged and a pharmacist in training while he is uneducated, poor, awkward and the owner of a fowl business. He meets a friend, Jamike, who helps him travel abroad but ends up in Northern Cyprus under Turkish occupation or 'Africa in Europe'; in Chinonso's words, 'hell'.
The novel illuminates Chinonso's sacrifices from the first day he meets Ndali. He sells his farm and house in the hopes of being educated abroad so that he can be worthy of her hand. At heart, An Orchestra of Minorities is a familiar story of poor-boy-rich-girl-in-love, that relegates all other characters to the margins, almost like an epic about the poor Chinonso. Comparing it to Homer's Odyssey, which the book was marketed as, would be an exaggeration. But it definitely makes a compelling read, dotted with the tiniest details of the mundane and streaked with white supremacy, glory of foreign lands and social ladders. When Chinonso hears there are no jobs in Cyprus he wonders "how could there be no jobs abroad in a country abroad where white people live? Maybe the Nigerian students going there were lazy".
The detached narration of a chi as opposed to the man himself, sometimes sedates sympathies towards our tragic hero. But the unbiased narrative helps us see the latent cruelty in humans. When a young Chinonso injures his beloved bird as an act of revenge, we see the protector merging into the antagonist.
Obioma is no stranger to novels that dissect psychology and distress. His first novel, The Fishermen, about the collapse of a family when a local mad man predicts the death of one sibling at the hands of another, was shortlisted for the Man Booker Prize in 2015. In contrast, his second novel is more expansive in girth, slathered with English, Igbo and pidgin with copious elements of the Igbo belief system. The book's title, An Orchestra of Minorities, is derived from Chinonso's late father's name for the chorus of birds when a predator strikes. Just as Chinonso helped Ndali come back to life on a bridge, his chi crosses many bridges to fight for his host. Chinonso's life is an ensemble of a man's play with dreams and fate. At one point, he tells his friend, Jamike, "I'm ready to do anything to marry her" and one wonders, is that so wrong?