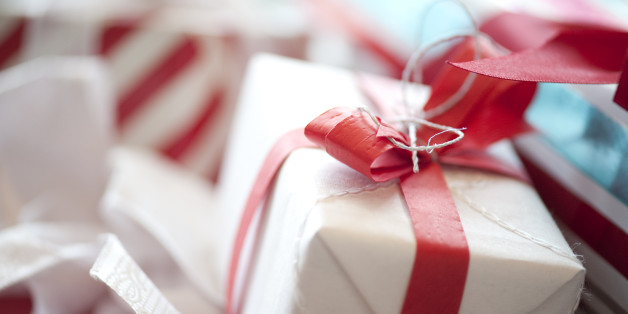 Matin Bahadori via Getty Images
Thanksgiving is here, which obviously means it's time to start thinking about your holiday gift giving. Whether you like it or not, another season of holiday shopping kicks off officially on Black Friday. It's time again to agonize over what to give family members, to put off your shopping and scramble at the last minute to gather everything you need. Or maybe it isn't. Maybe this year can be different. Maybe you can give more experience gifts and charitable donations or agree to forgo unnecessary gift-giving altogether. Wouldn't it be nice if this holiday season wasn't stressful at all?
If you can't denounce gift giving, which is totally understandable (or if you don't find gift-giving stressful, in which case we'd like to know all your secrets), why not look for inspiration from some of your favorite people? We at HuffPost Taste can't help but be curious about the gifts some of our favorite chefs have received. As impossible as it is for us to come up with a present for our parents every year, we think it'd be near impossible to think of a gift that would impress some of the chefs we admire so much.
So we decided to pose the question: "What's the best gift you've ever received?"
We got incredible responses from some of the most influential chefs and food personalities in the business, from Mario Batali to Christina Tosi. Their answers run the gamut from sincerely touching to incredibly useful, and not all of them are food-related gifts either. (Chefs have lives outside the kitchen too!) From a trip to Japan to a cast iron plancha, the gifts ranged from experiential to concrete, and together they make up one hell of a gift guide. If you need inspiration this gift-giving season, check out what some of the greats have received for the holidays. Then let us know the best gift you've ever received in the comments.
Mario Batali: A Cookbook From His Sons And An Elton John Concert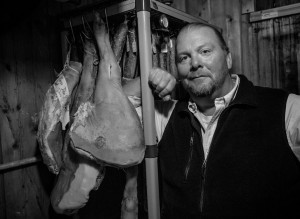 Batali, cookbook author, restaurateur and chef of restaurants like New York's Del Posto and Babbo, has two favorite gifts. First he says, "My fave of all time was The Batali Bros Cookbook. My two boys (Benno and Leo) wrote and photographed a 30 recipe cookbook of stuff they learned watching our home kitchen, plus extrapolating from their fave dishes. They shot the whole thing on my wife's iPhone and had it printed in hard cover. It was and is an outstanding achievement of love and hard work and a milestone in our family. Later Dan Halpern picked it up for Ecco and although they were initially embarrassed, I think they are almost as proud of it as I am.
Next, "For my 14th birthday my dad waited in line for five hours to get me two tickets to the Elton John Yellow Brick Road Tour and I believe it changed my life forever. The show, the music, Elton, the costumes and the crazy weed-smoking, joy-filled fans made me appreciate the rock concert experience in a way that has affected me to this day."
Wylie Dufresne: Golf Cart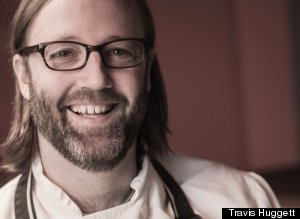 Dufresne, chef and owner of New York's Alder and Wd-50 says, "My wife gave me a golf cart last year -- best gift ever. I don't golf, or ever plan to golf, but I have a really good time driving the thing around our yard in Connecticut on the weekends -- hauling firewood from the garage to the house, going to get the mail with my daughters, and tooling around with the kids in a wagon hitched to the back. I have dreams of taking it on a long haul some day: Pedal to the metal, I can get it up to 14 mph, so if I leave early, I figure I can get to the nearest major city by nightfall."
Mollie Katzen: Homemade Chocolate Chip Banana Bread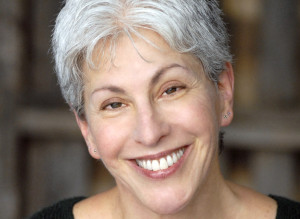 Katzen, author of Moosewood Cookbook, inspired by the Moosewood Restaurant, says, "My all-time favorite gift was a loaf of chocolate chip banana bread made for me (one of my own recipes!) by a 12-year-old friend. It was wrapped in colorful paper, with a homemade card. So many layers of personal and thoughtful -- just the best thing ever. I think people underestimate how wonderful it is for people to give and receive simple hand-made gifts."
Jonathan Waxman: A 'Saddle' Of Lamb From Thomas Keller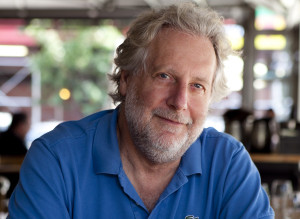 Waxman, chef and owner of New York's Barbuto, says, "My all time fav was a 'Saddle' of lamb from Thomas Keller's personal stash. Not only generous, but truly a perfect and delicious main course for a perfect holiday meal."
Marcus Samuelsson: A Trip To Japan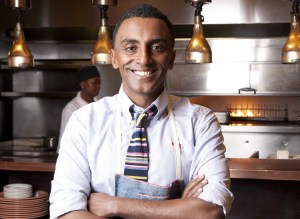 Peter Ross
Samuelsson, cookbook author and chef of New York's Red Rooster, says, "One of the best gifts I was ever given was when my mother helped me purchase a flight to Japan so I could eat fugu (blowfish) for the first time. I had never had sushi or real Asian cuisine so this was an eye opening trip that I can never forget. Having my mom help me pay for the ticket made the journey for the perfect bite all the sweeter."
Christina Tosi: A Print Of Neil Young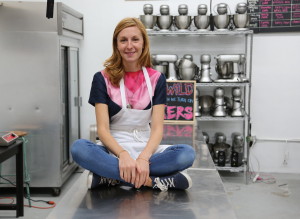 Tosi, chef, owner and founder of Momofuku Milk Bar, says, "A framed William Coupon print of Neil Young (from the 1988 Rolling Stone Cover shoot)."
Alex Stupak: Cast Iron Plancha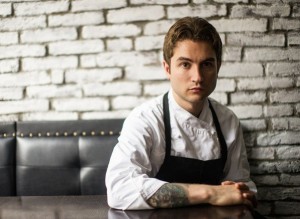 Stupak, chef of New York's Empellón Cocina, Empellón Taqueria and Empellón Al Pastor, says, "My cast iron plancha from Le Creuset. I cook everything on it at home."
Scott Conant: Casa Dragones Tequila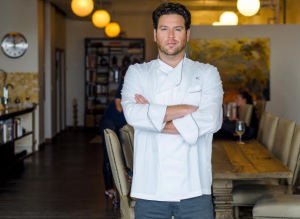 Conant, Italian chef and restaurateur of Scarpetta, says, "Casa Dragones [tequila] finds a balance between the sophisticated drinker and the open-minded novice. The quality speaks for itself. Whenever I've had the chance to introduce it to anyone, they are immediately blown away by the taste and elegance. Particularly during the holidays, it's important to make a lasting impression like that on loved ones."
Stephanie Izard: A Wooden Chicken From A Carousal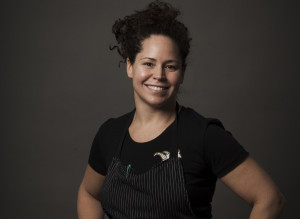 Izard, winner of "Top Chef" season four and owner of Chicago's Girl and the Goat, says her favorite gift was a large wooden carousel chicken -- yes, from a real carousel! Stephanie's husband, Gary Valentine, gave her the chicken, which is from France in the 1900s. Stephanie loves that it is the first thing guests see when they walk in her house.
Matt Abramcyk: Engagement Photograph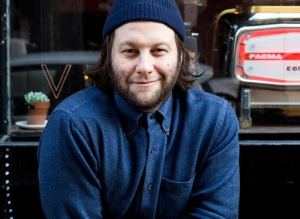 Abramcyk, restaurateur of New York's Navy, Tiny's & the Bar Upstairs, Smith & Mills and Warren 77, says, "The best gift I've ever received would be a photograph my wife gave me on our engagement by Todd Hido."
Seamus Mullen: Best Made Axe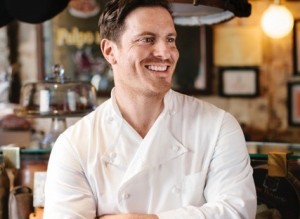 Mullen, chef of New York's Tertulia, says, "One of the best gifts I've ever received was a Best Made axe, which my wife gave me for Christmas two years ago. Best Made is one of my favorite brands -- they make beautiful yet functional products, and I love their modern throwback aesthetic. The axe is quite symbolic for me. I grew up in a very rural part of Vermont, and chopping wood was one of my chores as a kid -- to this day my mother still chops her own wood! And now as an adult, I have this beautiful wood-fired grill at Tertulia, so it all sort of comes full circle!"
Sarah Simmon: BarkBox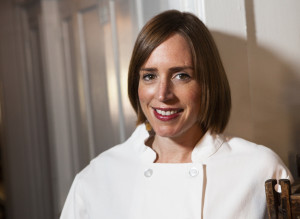 Simmons, founder and chef of New York's Birds & Bubbles and CITY GRIT culinary salon, says, "Bark Box is the best thing ever -- I hope our CITY GRIT Gift Baskets make people half as happy as the Bark Bark makes my dog, Sheldon, happy."
Dave Arnold: A Sawzall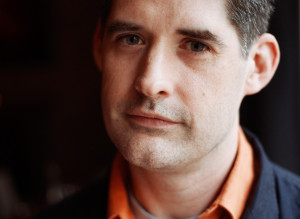 Arnold, Inventor/Partner in New York's Booker and Dax at Momofuku Ssam, says,"The Sawzall, in 1992. It was the first Christmas present my in-laws ever gave me (even before I became their son-in-law). I cut through everything I could find with it. I used to run around telling everyone it was not the "saws some." Little did I know that I would later make the searing equivalent, the Searzall."
Brendan Collins: His Daughter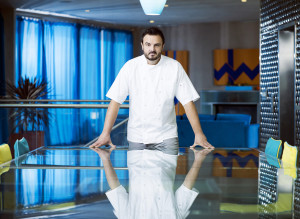 Collins, chef of Los Angeles' Waterloo & City, says, "My daughter, Saffron, was born on December 23rd 2006 and was released from the hospital on Christmas Day. She was the best gift anyone could ever wish for and a gift that keeps on giving."
Floyd Cardoz: iPad
Cardoz, chef of New York's White Street, says, "The best gift I ever received was my iPad. It made my life so much easier with everything from newspapers to reading books, movies and even teaching staff about ingredients off the web. A great tool for my garden. Writing my second book has become so much easier, with note-taking to picture-taking. It has made both my personal as well as my professional life so much more easier. It's near me 24/7."
Michael Voltaggio: Piano Lessons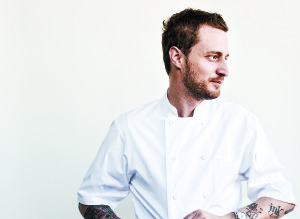 Voltaggio, chef of Los Angeles' INK and winner of the sixth season of "Top Chef," says, "Piano lessons. I've always wanted to learn. Problem is, I still havent had time to go."
Jenn Louis: Drum Set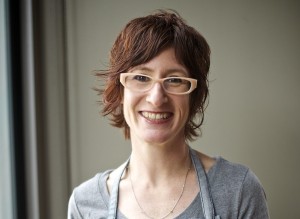 Louis, chef and owner of Portland, Oregon's Lincoln Restaurant, says, "My 11th wedding anniversary gift: a really cool drum kit, 1070's Ludwig acrylic. It's loud and super fun to play."
Jean-Marc Houmard: Photo Album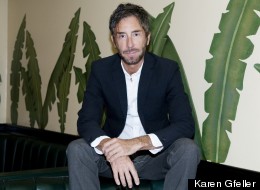 Houmard, owner of New York City's Indochine, ACME and soon-to-open Tijuana Picnic, says, "I think the best gift I've ever got was a really well done book with pictures of my 50th birthday: all my friends and staff had planned for months a surprise party on the roof top of 60 Thompson with a Dolce Vita theme and everybody looked super '60s glamorous. The pictures look like they are from a movie still of a black and white Fellini movie with the New York skyline in the background. That's the kind of gift you keep your whole life."
Neal Fraser: A Bicycle And A Manual Espresso Machine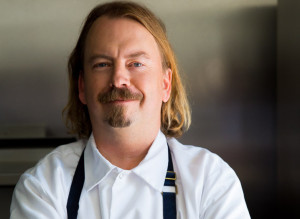 Fraser, former chef of Los Angeles' Grace and BLD and chef of the soon-to-open Redbird, says, "My favorite holiday gift I have received in recent memory was a new bike from my wife, Amy. I was planning a bicycle tour in Vietnam and she surprised me with a custom Landshark bicycle. My wife also bought me an espresso machine and grinder. It's a manual espresso machine with a Mazzer mini grinder. Now I can make amazing espressos at home."
Dan Kluger: A Vintage Egg Scale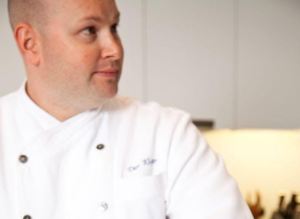 Kluger, formally the executive chef of ABC Kitchen and ABC Cocina with a new restaurant slated for 2015, says his favorite gift was, "a vintage egg scale. You place an egg on the scale and it weighs it by Small, Medium, Large, Extra Large or ounces per egg or by the dozen."
Kathleen King: A Five Pound Tub Of Ice Cream And An Engagement Ring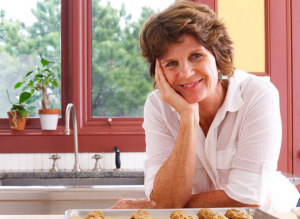 King, owner and founder of Tate's Bake Shop, says, "My favorite food gift was a five pound tub of Graeter's black raspberry chocolate chunk ice cream. I met the owner of the company at the NASFT show in NYC and a few weeks later this tub arrived.The magic is the chocolate chunks do not get rock hard. The only thing I like better than cookies is ice cream! My favorite non food gift was my engagement ring. It's a gift that keeps giving by connecting me to my husband and son, plus it's beautiful. "
John Stage: A Trip To Morocco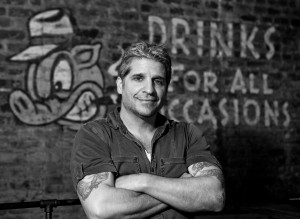 Stage, founder and pit-master of Dinosaur Bar-B-Que Restaurants, says, "I went to Marrakech and Essaouira on the coast for seven days and it was a surprise gift/trip from my girlfriend. It was a completely different cultural experience then anything I ever experienced. My favorite part was wandering the souks by day and hitting the market at nights. The night markets were full of Moroccan BBQ. Thirty to forty vendors nightly we're grilling anything that moved, excluding pigs. Couple that with snake charmers, monkeys, boxing matches, dentists pulling teeth -- it was wild. Then we went to the coast for some of the best seafood I have ever had."
Sebastien Archambault: A Day At A Race Track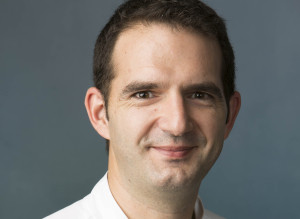 Archambault, executive chef of New York's The Back Room at One57, says, "The best gift I received was a couple of years ago. My wife surprised with a full day stage on a race track in Paris. It was the most beautiful 1985 Porsche sports car. I raced all day and worked with an instructor in the classroom and on the track. It was a dream. What's next? Aviation stage?
Eric and Bruce Bromberg: Culinary School And A Bicycle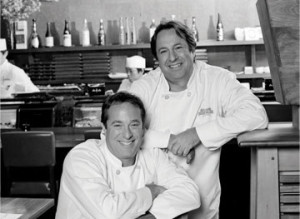 Eric Bromberg, co-owner and chef of New York's Blue Ribbon Restaurants says, "The best gift I've ever received was when my dad sent me to culinary school at Le Cordon Bleu in France."
Bruce Bromberg, also co-owner and chef of New York's Blue Ribbon Restaurants says, "For my 40th Birthday my wife Kerry and the team gave me a Blue Ribbon bike. It gives me a place to think and a way to stay healthy so I can live a food focused life."
Want to read more from HuffPost Taste? Follow us on Twitter, Facebook, Pinterest and Tumblr.