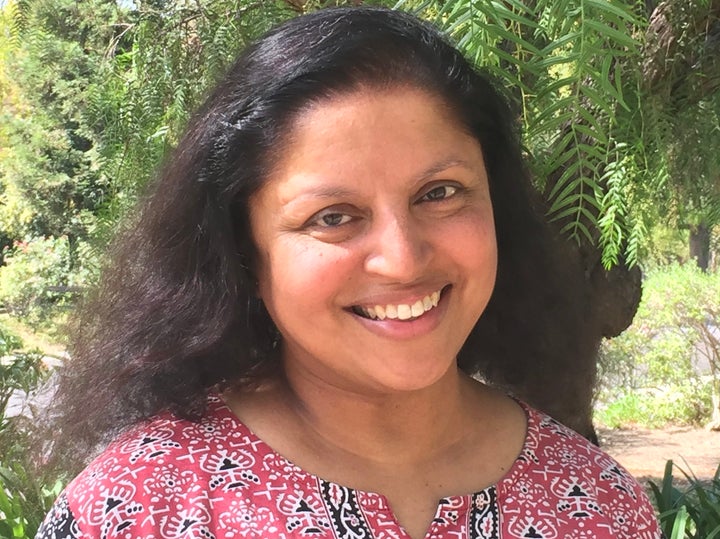 A few pages into The Atlas of Reds and Blues, Devi S Laskar's debut novel, readers can really tell that she's also a poet, photographer, artist and (former) journalist.
Her slim novel—just shy of 250 pages and composed of segments and snapshots—explores and examines what it means to be a person of colour, particularly a woman of colour, in America today. Through "Mother" (the narrative's unnamed protagonist), Laskar writes, rather lyrically, of the second-generation American experience, of racism and sexism, and of otherness. Kiese Laymon, author of Heavy: An American Memoir, put it best: "Devi S Laskar's The Atlas of Reds and Blues is as narratively beautiful as it is brutal."
Laskar, who holds an MFA from Columbia University and an MA in South Asian Studies from the University of Illinois, is also the author of two poetry chapbooks from Finishing Line Press: Gas & Food, No Lodging and Anastasia Maps.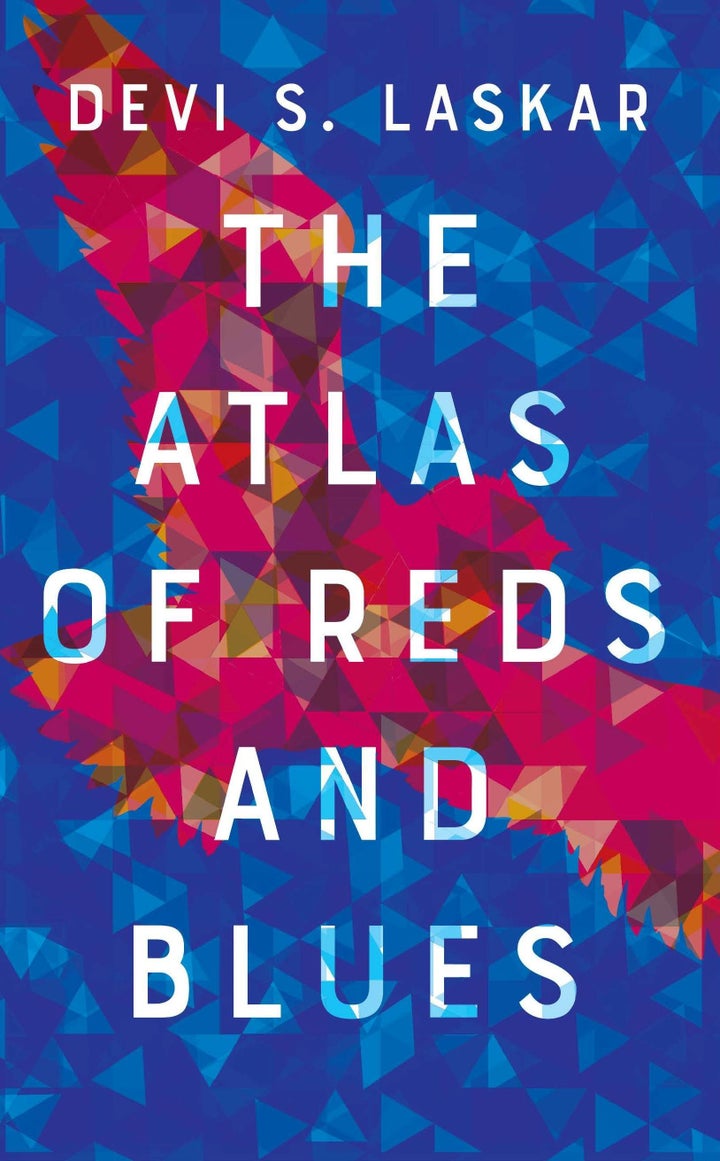 Over an email exchange, Laskar talks to HuffPost India about her bold formalistic influences and choices, brutality in contemporary America, and Barbie.
Let's begin by talking about the beginnings of your book. The opening scene and opening pages build on a real, personal experience—from when your home was raided in 2010, and your personal possessions were confiscated. The Atlas of Reds and Blues fictionalises this event, but also envisions it as a fork-in-the-road moment, where your protagonist and your plot work on this premise: what if…
To take this idea of one moment, one memory—can you speak to the structure of your novel? I'm thinking here of how a mere handful of your chapters are titled (including "Act I: The Curtains Are Drawn, Briefly", "In Media Res", and "Act II: Low Like Losing Hope"), while most others are titled with ampersands ("&") only. Of how some chapters run pages long, while others are shorter sections—sometimes as short as a sentence. And, of how you're a poet and journalist. The narrative is non-linear. This creates a particularly unique reading tempo. Can you share some details on these dramatic, poetic, formalistic influences and choices?
So I modelled this book on two things: Sandra Cisneros' seminal novel, The House On Mango Street; and a form that playwrights and screenwriters use called Aristotle's Incline. The titled parts are section headings that follow Aristotle's Incline ("Trouble Swallowing" is the prologue, for example—followed by "Moving Day in the Ordinary World", "Inciting Incidents", "Act I decision etc.) and the "&" delineate the chapters. I am a poet and a former newspaper reporter, I've been trained to write short, to compress a lot of information in to a small space. I enjoy this way of writing, and I think this structure was effective for the "Mother" narrator as she pieces together valuable moments from her life.
Onto what seems like another stylistic choice/device: your protagonist "Mother" and her family of three daughters ("Eldest", "Middle Daughter", "Youngest") and husband ("my hero", "my man of the hour") all remain unnamed. When "Mother" was younger, we knew her as "Real Thing", and her sister as "Baby Sister". Greta, the dog, is the only member of the family whose name we know. Anna Burns' Milkman comes to mind, where nicknames for (unnamed) characters have political connotations. What does naming, or lack thereof, in the novel mean to you?
I'm Bengali, and in our extended family and community when I was growing up, no one used each other's given names when addressing one another. Everyone had a title. I wanted to pay homage to that. The second reason is that I wrote a book about being Other and being invisible as a person of colour in America. So in my mind there was no point in giving them names, no one in society "saw" them or acknowledged them.
The novel is set in the aftermath of 9/11 and also makes mention of the American elections. It centres around and is concerned with racial, gender, and sexual politics; unwarranted violence, prejudice, and police brutality; and that question immigrants, albeit with exasperation, have grown to expect 'Where are you really from?' With its release in the current worldwide (and particularly American) political climate, what conversation do you wish for Atlas to spark?
There can be no change without candid conversation. I know that talking about racism and misogyny often leads people to feel defensive and feel attacked. I'm hoping that this book will spark debate and conversation in the context of this fictional family, and then the information can be applied in the real world.
Speaking of national identity and the immigrant experience, you explore it in various layers and through multiple generations—the legacy and lingering effects of systemic racism. We see racism in Mother's and the girls' schools, in the workplace, in the protagonists' front yard, in suburban Georgia, in America. Can you speak about this in relation to the title of your novel—and the colours of the flag it evokes? What do you wish for your Indian readers to takeaway from these explorations and descriptions of the diasporic experience?
The title of the novel comes from an unpublished poem I wrote in 2008. That poem was my first overt political poem and it was never published: the line is "the atlas of reds and blues, where red means more than convention and blues are not just songs of regret." I'm a photographer too, and I was trying to create snapshots with my words - I noticed there was a lot of blue and red in this book (and the original title of this book wasn't working) and my editor and I thought this would be more appropriate. I wanted to give the readers the experience of journeying with the narrator, seeing what she sees, and assessing the situations for themselves.
"It's a story of a woman at a four-way stop of racism, misogyny, invisibility and being other.""
This is your debut novel. How would you describe it to readers? Is it an immigration novel, a post-9/11 novel, a motherhood novel? All of these—or is categorisation via genre futile for you? Because, to me, it also read like poetic fragments, puzzle pieces of a detective story, and dramatic sketches—really stretching the form of what fiction—and a novel—can do.
I think Atlas is not an immigrant novel, per se. It's a story of a woman's life. Sure, it's an American story because she's in America—but to me it's a contemporary story of how a woman of colour is treated in the world: it's a story of a woman at a four-way stop of racism, misogyny, invisibility and being other. I am a poet and a former reporter and I am always looking for hybrid works, books that stretch the boundaries and definitions of what is considered "fiction".
There are several narrative threads—and time periods—running through the novel, but the book closes where it opens. One among these snippets or sketches, a running commentary if you like, is on the cultural icon Mattel's Barbie Doll: its history, its geography, its politics (racial, corporeal). Why Barbie?
I'm the daughter of an academic, and I've had the great fortune to travel back to India to visit family and also to see the world. Wherever I went with my parents when I was growing up, I was always asked where I came from and as soon I answered America, their first response was Oh yes, America: home of Barbie dolls and Coca-Cola. Barbie dolls are the iconic American toy and people are crazy for them. And those dolls send a sad message—it sets an impossible standard of beauty.
Mother and her daughters keep their experiences of racial bullying and other violent encounters to themselves. They keep these stories a secret from her husband, their father—who's white, and often travelling for work. They don't wish to "upset" him. Why is this? Are they trying to create safe spaces for storytelling and secret keeping—for women, particularly brown women?
A few reasons. In their world there must be one "innocent" person, and he's the primary breadwinner—so they chose him because if he knew how bad it was he wouldn't be able to leave. And yes, I was trying to create an echo from the past—there's a chapter where the The Real Thing is hearing a story about Sita from the Ramayana and I wanted to echo that storytelling and secret keeping in the present action of the story.
Mother reads—and admires—Aristotle's Poetics, Gabriel García Márquez's One Hundred Years of Solitude, Chimamanda Ngozi Adichie's Half of a Yellow Sun, Toni Morrison's Beloved, Hermann Hesse's Siddhartha. Who are some of your literary influences—both, for Atlas, and in your larger reading and writing life?
I love The House on Mango Street by Sandra Cisneros, and Citizen: An American Lyric by Claudia Rankine. I was influenced by those books as well as Maggie Nelson's Bluets and Mary Robison's Why Did I Ever. My go-to books in my writing life are mostly poetry: for example, Leaving Yuba City by Chitra Banerjee Divakaruni, Play Dead by Francine J Harris, When My Brother Was an Aztec by Natalie Diaz, the poetry of my teacher Lucille Clifton.
Are you working on a new project? What can we expect from you next?
I lost most of my work in 2010 during the raid (by the Georgia Bureau of Investigation). My computer was confiscated by the state police in Georgia. Although all of the legal matters were dismissed by a state judge in 2016, most of our belongings have yet to be returned. I was working on a different novel on the day of the raid. It's called Shadow Gardens, and it's an ethnic retelling of Mrs. Dalloway. Now that Atlas is out in the world, I've returned to that novel, and have restarted it.