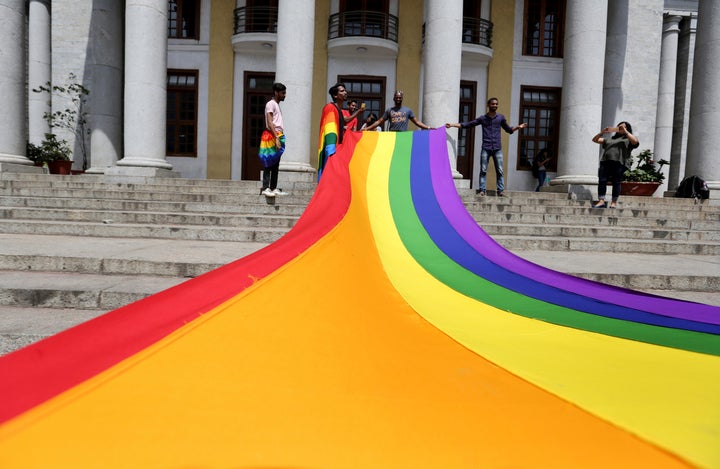 Sharif D. Rangnekar's memoir, Straight to Normal: My Life as a Gay Man, spoke to this reviewer as a friend. Rangnekar's book, which is about coming to terms with and accepting his sexuality and coming out as a gay man in a homophobic society, is also about the various burdens that he carried through his life and the reconciliations he made.
A communications consultant and former journalist, Rangnekar was the third and youngest son of D. K. Rangnekar—a former editor of The Economic Times and Business Standard—and his wife Veena Kapoor, a naturopath and yoga expert and a former member of the Central Board of Film Certification (CBFC). About his birth, Rangnekar writes: "After two sons, my father was hoping for a daughter but he got me—a slightly oversized baby boy. I was named Sharif after the Egyptian actor, Omar Sharif." Rangnekar's childhood was influenced not only by his illustrious parents but also by his elder brothers, Dilip and Dwijen, about whom he writes fondly; and even though he did not really face pressure from his family to excel academically or in sports and extracurricular activities, the first burden he had to carry was of a personal desire to at least be on par with his brothers.
Due to his father moving from Mumbai to Kolkata, Rangnekar had to change schools and had a lot of coping up to do. He had practically no friends, his bad health was not allowing him to perform well in the schools he was enrolled in, and his brothers too were moving ahead in their lives, a situation Rangnekar touchingly mentions: "[The] social life and activities [of my brothers] grew as they both moved into St James' School… It was at the same time that I moved to class seven and was now without either of my brothers in the same school. I was also unhappy to find a largely unfamiliar set of classmates as the school had decided to shuffle us around into different sections. I was, once again, compelled to build new bonds and recreate a group."
It was at school that Rangnekar realised that he was attracted to people of his own gender, and it was at school that he had his first bout of depression. Unhappiness, he called it: "I seemed to hit a sudden period of unhappiness." Once, he took the divider from his geometry box and wrote on his desk: "I do not wish to live. Life is not good." After that, he tried drinking mercurochrome despite knowing that it was poison. "Maybe everyone will miss me or maybe they would not miss me at all," was the thought that was in his mind at that time. Though he did not ultimately kill himself, this heavy burden was evident on Rangnekar's life during his teens.
An introvert from his childhood, Rangnekar writes about being othered at most places he went to, and this process of being othered had to do with his background, rather than his sexuality. Upon shifting from Kolkata to Delhi after the death of his father and changing into yet another school, people around Rangnekar could not accept that he could not speak Hindi.
"There were times when [his] family was even accused of being British or not Indian enough just because [he] told [people] that [they] spoke English at home." Another bone of contention in Delhi was his name, as people "[questioned] his first name and its Arabic lineage, doubting whether [he] was Hindu or Indian."
A rise in professional success—he started as an editorial assistant at Penguin Books India before working as a journalist with The Pioneer and The Economic Times—made Rangnekar more sure of himself. However, even then there were moments of uncertainty that could have been disastrous had Rangnekar not used his wits at the right time. One episode in this book that stayed with this reviewer is when Rangnekar almost got married to a woman. There was a lot of pressure on him from his family and friends to conform – they were unaware of his sexuality as he had not come out – and like many gay men taking on a veneer of heterosexuality to fit in, Rangnekar too had agreed to a marriage to a woman. Finally, a misunderstanding between the respective families helps Rangnekar walk away from that situation.
His association with the Naz Foundation was a revelation to Rangnekar. He realised that unlike his own privileged position as a salaried professional, few gay men in Delhi "had permanent jobs or job security as such. Many had left their homes to live in Delhi and make a life for themselves." They had to fend for themselves apart from struggling to survive in a homophobic society, and that "was a huge struggle as Delhi was a city of networks that weren't easy to crack." There was also class discrimination on gay platforms. While gay men were allowed in gay parties, "[cross-dressers] and trans-genders had no place at such parties" and Rangnekar "wasn't aware of anyone who raised a voice against such rules."
Rangnekar's writing is breezy yet sincere, full of life and yet rooted, and reading this memoir is like taking a journey from the India of the 1970s and closeted societies till the time the discriminatory Section 377 was scrapped. Straight to Normal: My Life as a Gay Man deserves praise for expressing the upheavals of a remarkable life in an engrossing manner.