Ben Miller has a secret past-time and he's not sure how he feels about it. In fact, if he's being completely honest, he finds it all "a bit mehh". But the actor knows he couldn't live without the habit, which takes up the best part of an hour every day. He meditates. Twenty minutes every morning, 20 minutes every evening.
"When you do it that regularly, it's pretty much like cleaning your teeth," says the Johnny English and Death in Paradise star. "It's about as glamorous and other-worldly as clipping your toenails. I don't get transported onto clouds of bliss or anything. Most of the time nothing really seems to happen, but where I do notice the difference is in the rest of my day."
Since he started last December, it's also had a very real impact on his mental health. "I do suffer with anxiety and it seems to have really helped with that," Miller tells HuffPost UK.
"I do quite a stressful job, there's a lot of unpredictability and part of me really, really enjoys that, but I think there was part of me that found it quite difficult."
In particular, Miller meditates to overcome his panic attacks. "I don't know what triggers it for me. It can happen any time of day or night and it can literally happen during a conversation – it doesn't seem to follow any pattern," he says of the experience. "I've never woken up in the morning and thought: 'I'm going to have a panic attack today.' I always seem to be surprised by them."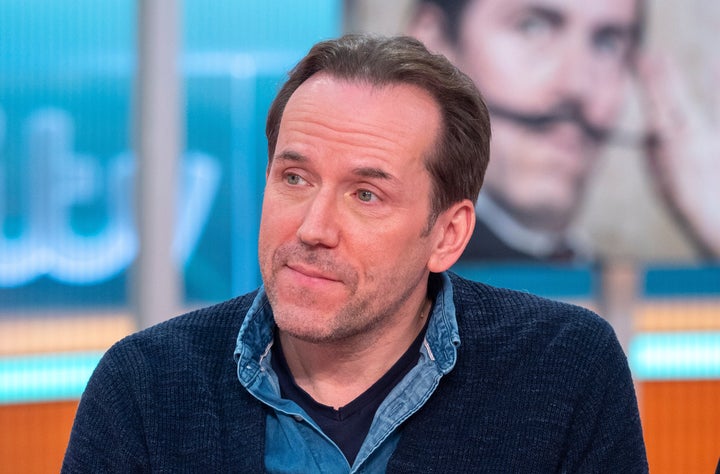 Miller is perhaps best known for being one half of the comedy duo Armstrong and Miller – he first met Alexander Armstrong on the London comedy circuit in the 1990s and the pair got their own TV show after being shortlisted for a Perrier award at the Edinburgh Festival Fringe in 1996. But there is nothing remotely amusing about panic attacks, says Miller, who describes them as a "psychedelic" experience where "you feel like your reality collapses".
"You don't know who you are, or where you are, or what you are, or what you're doing," he says. Miller will often experience accompanying palpitations and shortness of breath, but says that his panic attacks are more than a list of physical symptoms.
"It's existential for me. You literally feel like the universe becomes a plughole and you're swirling down it," he says. "But it usually passes and then afterwards, you think: 'God, what was all that about?'"
When Miller can't keep his anxiety at bay with meditation and, as he puts it, "shit hits the fan", he books in some cognitive behavioural therapy (CBT). Most of the time though, meditation is enough. Despite the benefits not always being immediate – he still experiences the odd panic attack – that 40 minutes of calm each day has helped make them less frequent. "I still lose my rag and I still get anxious about things. I suppose it's now just to a lesser extent."
Miller prefers to meditate by sitting still and focusing on emptying his thoughts, rather than visualising a mantra or paying close attention to the breath. The actor first learned the techniques when he attended a course 20 years ago, but admits he didn't stick to it at the time because he felt too busy.
He was inspired to dust off his skills last year after reading a book on the topic and hearing a growing number of people praising meditation. With mental health spoken about more publicly than ever before, Miller says he's become more comfortable sharing his own experiences in recent years.
But he believes we still have some way to go to end stigma. "I wish it would happen quicker than it is. I don't think men older than I am are really opening themselves up to the idea of looking after their mental health," he says. "It was so wrapped up with ideas of manhood, that hard-drinking, not-talking-about-your-feelings image. That was the whole idea of masculinity at one point, and I think it still hovers around, to some extent."
Miller points to the current male suicide statistics as evidence that more needs to be done: last year, there were 6,507 suicides registered in the UK, three-quarters of which were among men. The statics are part of the reason Miller has chosen to support the men's health charity Movember.
The organisation is personally close to Miller's heart, as his father and grandfather both died of prostate cancer. "I think the culture needs changing, it's as simple as going to the doctor, that's all it is really, but men still don't do it," Miller says, adding that he wants to encourage men to seek help.
"I wouldn't presume to tell other men what to do, but all I can say is, I, myself, have suffered mental health problems and have really benefited from getting help through counselling and support groups and therapy. Two heads are better than one."
Ben Miller is supporting Movemeber, a charity designed to change the face of men's health through awareness-raising (and moustaches). To donate or learn more, visit Movember.com.
In What Works For Me ' – a series of articles considering how we can find balance in our lives – we talk to celebs about their mental health and self-care strategies.