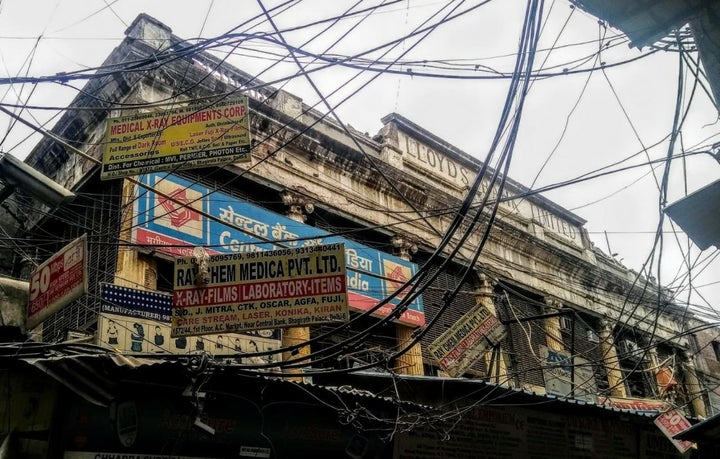 Though no one remembers her birth name, the petite, four-and-a-half feet tall, Kashmiri dancing girl with sparkling eyes and a mesmerising smile is remembered as Begum Samru.
Her father was Latif Ali Khan, whose estates were 80 miles off Delhi. He had taken her mother from the lanes of Delhi's Bazar-e-Husn — Chawri Bazar — and it was here that she found herself once again after her father's death, when his elder wife and son threw the mother and daughter out of Khan's estate.
They returned to Delhi, where the mother died soon after. The famous courtesan Khanum Bai of Chawri Bazar took the little girl under her wing and trained her as a dancer.
She was 14 years old when an Austrian professional soldier named Walter Joseph Reinhardt saw her and was enraptured by her. She went to live with him. Reinhardt, nicknamed Sombre because of his serious visage, was a mercenary with an army. This was corrupted to the more Indianised word 'Samru'.
He would usually pledge his army to the highest bidder. The young girl was an intrepid soul and joined her partner, and later husband, into battle, also learning the art of warfare herself. She also became an excellent commander.
He helped Mughal Emperor Shah Alam II ward off the Jats and in return was gifted the rich principality of Sardhana near Meerut.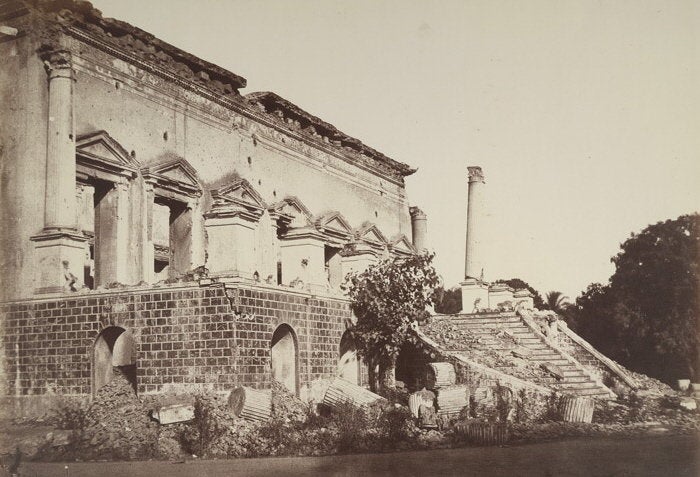 Reinhardt died in 1778 in Agra and was buried in the Roman Catholic cemetery there. Begum Samru, as she was by now known, managed to get the sanad to rule Sardhana in her name and commanded her men with brilliance and acumen, leading them herself.
Three years after her husband's death in 1781, she converted to Catholicism and took the name Joanna after Joan of Arc.
In 1787, she rode into the Red Fort at the head of her Sardhana Brigade to rescue Shah Alam II, who was besieged there by Ghulam Qadir Rohilla. The Rohilla chief had to accept defeat at her hands.
The grateful Mughal emperor conferred the title of Zeb-un Nisa or 'jewel among women' on her.
Her service and devotion to Shah Alam II continued. She saved his life in the battle of Gokulgarh and was given the title Farzand-e-Azizi or 'beloved daughter', which later gave rise to the name 'Farzana'.
'Farzana' is often confused as her birth name.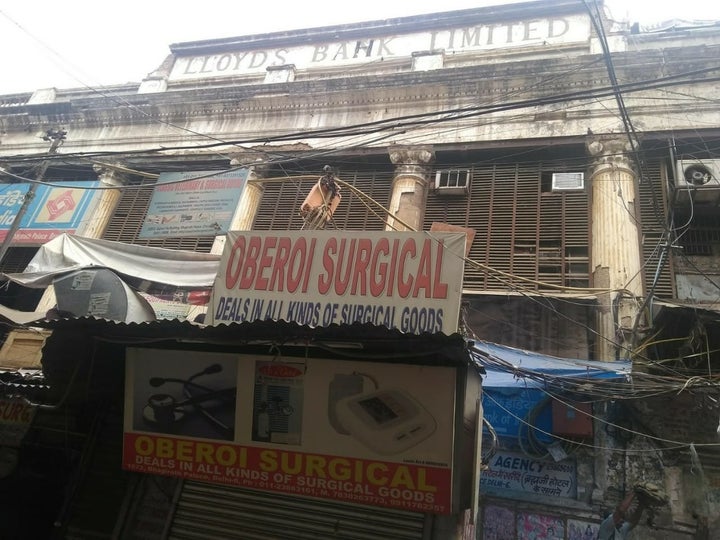 Julia Keay in her book Farzana: The Woman who saved an Empire, writes that this "was the most prized. At the imperial court she would be called by this honorific and, shortened and personalised as 'Farzana'."
For her support to him during his dark days when he was besieged in the Red Fort by Ghulam Qadir Rohilla, blinded and humiliated, Shah Alam II conferred another title on her: Umdat ul Arakin or 'pillar of the state'.
In 1806, when Akbar Shah II succeeded his father Shah Alam II, he presented her with a section of the 'Khas Bagh' or special garden created by Jahan Ara Begum, daughter of Shah Jahan in Chandni Chowk.
She laid out a beautiful palace for herself just outside the walls of the Red Fort walls, with formal gardens, pools and fountains and a beautiful palace in the neo classical European style.
Though I could find no record for the architect of this palace, there are records for the basilica in Sardhana built later. Its architect was Anthony Reghelini, an Italian officer in the Begum's army from Vicenza, Italy. The basilica has Reghelini's signature double staircase built in a way to resemble a flowing stream.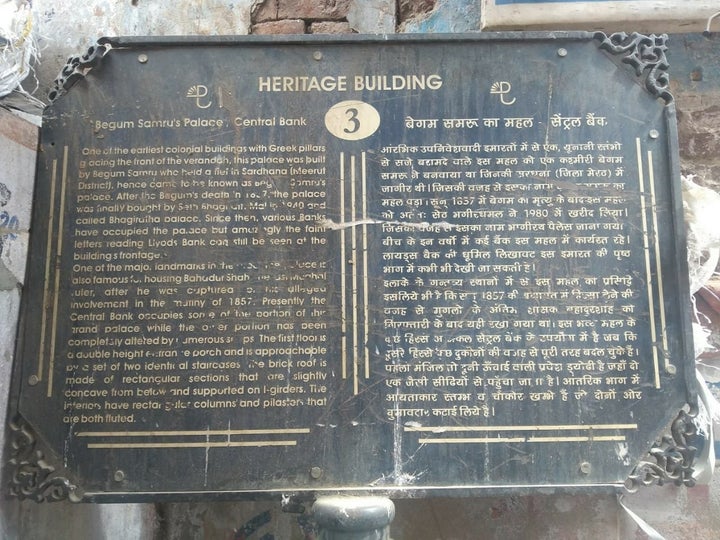 The entrance to Begum Samru's Delhi palace also has a similar staircase from old paintings. This building is one of the earliest buildings to have Greek pillars and must have been a stately home for a stately woman.
This palace was completed in 1808 and Begum Samru gave a lavish reception where the Mughal Emperor was the guest of honour.
Gokul Chand recorded her life in Zeb-un-Tawarikh. Julia Keay notes a translation by Nicholas Shreeve in Dark Legacy: The Fortunes of Begum Samru in her book Farzana.
From the entrance through the garden laid
A carpet that from silk and gold was made.
So many precious items were assembled
They cargo from a hundred ships resembled.
Khilauts, jewels, silver, gold and more
Each guest provided from this generous store.
The food and drink purveyed for delecation
Were prodigal, defying all description.
Dancing thrilled and music sounded
Songs, like nightingales, resounded.
The padisha filled with pleasure and delight
Gave many thanks for that most wondrous night.
British and Mughals keenly sought invitations to this palace where Begum Samru held lavish parties till her death in 1836.
Her palace became the Delhi London Bank in the Uprising of 1857, where the sepoys who came from Meerut after 'rebelling' against the British East India Company killed Thomas Beresford, the bank manager, and his family. Later it became Lloyd's Bank and today it is the Central Bank of India. Today, it is the hub of the electronic and accessories market in Delhi known as Bhagirath palace after Seth Bhagirath, who purchased the haveli in 1940.
One has to push through over crowded narrow lanes to reach the building which today houses the Central Bank of India. It took me two trips to finally find it in the labyrinths of Bhagirath Palace.
The façade still bears the name Lloyd's Bank on top, and that is the only distinguishing feature left. Shops, labourers waiting for employment and vendors, now cover the architect Reghelini's signature double staircase. The locals believe that there is a tunnel that leads up to the Red Fort.