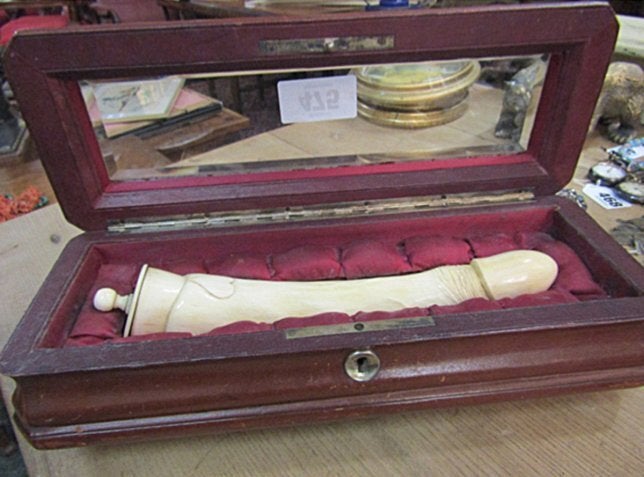 An antique sex toy with Anglo-Irish origins has been bought from an international buyer and will "return to Ireland", the woman who ran a public campaign to acquire it has said.
The 19th century ivory dildo was sold in 2017 to a wealthy private collector from the United States for £2,900 (€3,200).
However, last weekend a customer emailed Shawna Scott, the owner of online sex shop Sex Siopa, informing her that the item was up for auction again.
"It made my heart sink when it was sold. It just seemed like such an important part of Irish sexual history," Scott told The Irish Times.
"Sometimes I think with Irish history, unless something is tied to the famine or 1916 it gets a little forgotten or re-prioritised."
But she didn't have the cash to buy the antique item, and on Monday asked the public for donations. She said her intention is to relocate the dildo to a museum in Ireland.
The businesswoman wrote on Twitter: "I don't have the extra cash necessary to purchase the ghost-ridden (in more ways than one) ivory sex toy, and I have zero clue as to how museum management works or if anywhere would take it.
"So I need help. Who can help me save this dildo?"
If confirmed as authentic, the sex toy is around 130 years old and was owned by a wealthy Anglo-Irish household. It received more than 100 bids from nearly 40 different countries when it was auctioned in April 2017, the Irish Times reported.
At the time, Matthews Fine Art Auction Rooms advertised the sale of this "antique carved ivory ladies' companion in scarlet lined leather upholstered carry box with inset bevelled glass panel".
Speaking to The Times just before the item was sold auctioneer Damien Matthews explained that the original owner was fighting a battle in China, the 1899 Boxer Rebellion, where he decided to have it made and sent back to Ireland for his wife.
"It is beautifully romantic," he said.
"You can talk about it as a smutty thing, but this was very much an object of love and desire. It goes beyond erotica, it screams love and devotion. It is very, very rare, I have never come across anything like it in 25 years of traipsing around the country. It is a rarity, and it is Irish."
Scott posted regular updates about the progress of her crowdfund on Twitter between 4.28pm and by around 8pm, informed her followers that they had "won the dildo for Ireland!". The businesswoman was accepting donations via her Paypal account.
Speaking to HuffPost UK, Scott described her excitement. "I've already gotten a tonne of support and interest from local historians and museum staff who want to help me with this project," she said.
"This has truly been a massive group effort from people all over Ireland to save an important piece of Irish sexual history and I can't believe that I get to be part of it".