While I firmly believe nothing can compete with a seasoned graphic designer and their years of experience, as someone who has worked with a lot of small and medium sized businesses I get it; budgets are tight and not every business has the luxury of putting a graphic designer on payroll despite design playing such a big roll in business.
Adobe noted that companies that foster creativity enjoy 1.5x greater market share and 71 percent of companies report creating 10x the number of assets today than just a few years ago! A study by the United States Census Bureau shows that estimated annual operating expenses of United States retail, accommodation, and food services firms has rose between 2006 and 2016.
If you are among the many businesses that have a big need for design without the budget, read on for resources that you can use to either create designs yourself or hire someone for little money.
Ucraft allows users to make their own responsive websites and landing pages for free (via its starter package) or $8 per month (via its builders package). The free package is ideal for users who are looking to create one page, while the paid package offers a complete website build along with unlimited pages. How it works is: users select a template (and get a free subdomain form ucraft.me), choose an app based on function (such as create a new page or upload photos), then drag and drop elements onto landing pages.
Your website gets hosted on a cloud hosting that Google provides, making the website easy to access and edit anytime. In addition ucraft's website builder function, it also has a free logo maker tool, search engine optimization functionality, the ability to connect a custom domain, and team collaboration capabilities.
Slance, the new student freelance marketplace connects businesses with U.S. students. Students gain relevant work experience while businesses can get low budget designs. "Other freelance sites allow businesses to access the global talent pool but issues often arise like time zone, language, and cultural differences," says Slance co-founder Adam Thornhill. "Students provide a fresh, youth perspective that seasoned professionals do not offer," he added.
Slance operates on simple four step process:
1. Post a job in minutes. 2. Review applicants based on their feedback rating. 3. Hire freelancers from the Slance dashboard. 4. Pay freelancers. 3. Fiverr
If you have $5 in your budget, check out Fiverr. For just $5, freelancers will create your design, be it a business logo, illustration, banner ad, or something else. Fiverr's online marketplace expands to even more services such as writing and recording professional jingles, creating t-shirt designs, and much more. So while you're on Fiverr design help, you might stay awhile to fill some of your other business needs.
Social Media influencer Eren Mckay cannot stress enough how great of a tool PicMonkey is. "I use it on a daily basis," she says. There are two versions available: free and paid, with one of two paid options starting at $3.33 monthly, billed annually. Out of every free image editing tool, PicMonkey is Mckay's number one choice (and she's always creating engaging images that she posts on her social channels that she made with the tool). "I especially love how it has a variety of functions and intuitive interface," she added.
I've been using this tool for over a year now and can't say enough great things about it. While I do have a graphic design background, I love using Canva for inspiration. Within minutes, users can create professional looking images for anything their heart desires from ebooks to posters. There are a ton of templates, shapes, charts, grids, frames, lines, and icons to choose from in order to achieve that perfect for your business design. Canva is free to use (just drag and drop images of text). Additional images are available for purchase at competitive prices.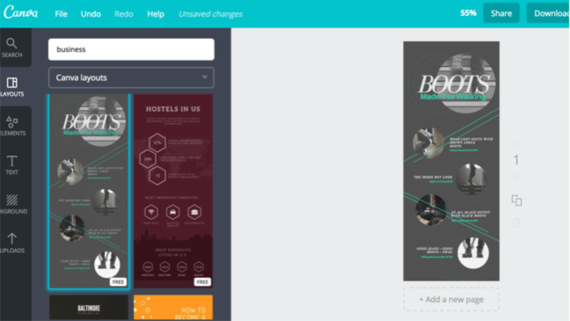 Pictured: A Canva infographic template screen shot taken on 9/3/16.
6. Visme If your graphic design needs include presentations and other engaging content, Visme lets you do both. Creating an account takes seconds and if you're a fast copywriter, slides can be created in minutes. Like many of the other tools featured, Visme uses drag and drop functionality with hundreds of free images to choose from. Upgraded plans that offer more storage, charts, and other features start at $7 per month. For $16 a month, collaborate with other members of your team, get access to analytics to track the number of visitors to your published content, premium support, and the list goes on.
Bannersnack is a banner creation app that lets users create static, animated HTML5 and interactive banner ads. While prices are subject to change, at this time at minimum, I'd recommend a single user license running for $12 a month ($144 billed yearly). On the basic plan members get unlimited downloads (without watermarks), static banner templates, 25,000 embed view per banner per day, and access to stock photos. The free version is limiting and is designed to give users a feel of the app before upgrading.
What will you create today?