Christmas season is all about making beautiful memories with friends and family. And so many of these memories are centred, but naturally, around food. From waiting to dip the rose cookie cutters into the batter with grandmom in a Telugu home to entertaining friends from the Buddhist and Muslim communities in the freezing cold of Ladakh and Kashmir (nothing warms you up like some stir fried Kanti tikkas or a bowl of Dhanewar Korma), Christmas, like every festival in India, comes alive with gorgeous food.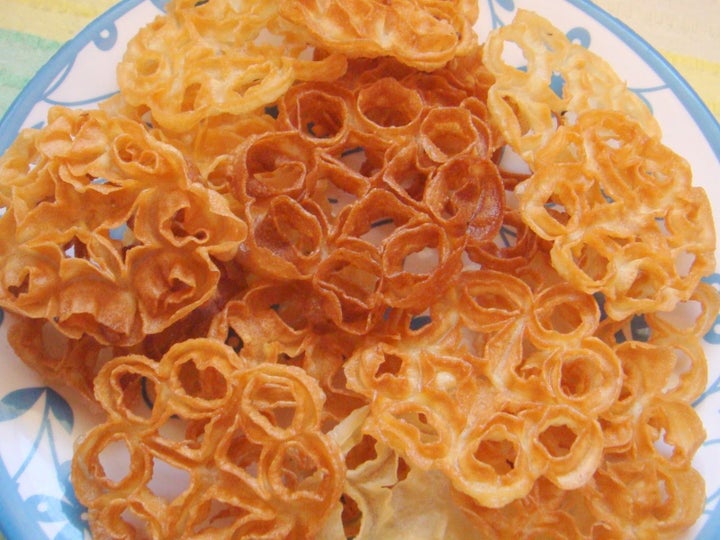 Of Colonial Influences and 'Kalkals Day'
For the large part, in India, Christmas is associated with meat roasts, gravies, puddings, cakes and cookies. All of which are definitely a part of the celebration particularly in homes in Kerala, and the food-wise similar Mangalore, Goa and Mumbai. Of course, each of these regions add in a bit of the local flavours – the decadent Kerala fruit cake, the Mangalorean Kuswar and spicy Pork Bafat with Sannas, the Goan Bolinhas and much more. A lot of this is reminiscent of the colonial times in the country, which naturally left its mark on the food of the nation.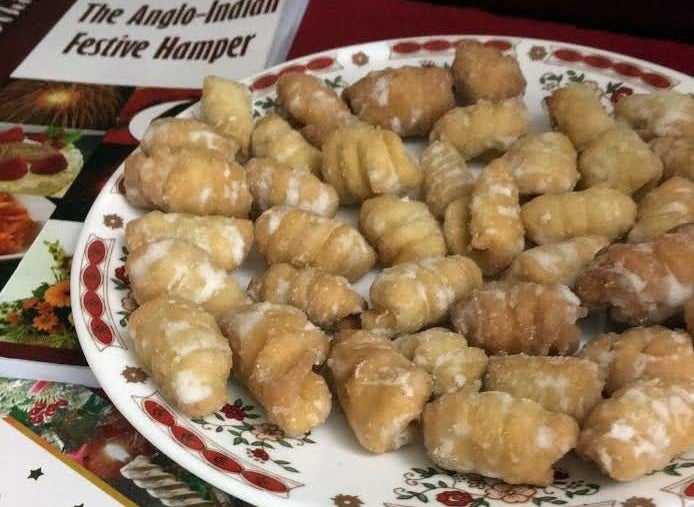 Bridget White-Kumar, a Bengaluru-based food consultant who has also authored cookbooks, said that a Christmas lunch in an Anglo-Indian home comprises coconut rice or mutton or chicken pilaf, meat ball curry, chicken curry, duck or pork Vindaloo, beef fry, pork or lamb chops and devil chutney among others. Christmas Dinner is always a roast.
"Earlier," she explains, "it was always Turkey roast with stuffing and gravy, but these days it's usually chicken or duck roast with stuffing. It can also be beef or pork Roast accompanied by steamed vegetables, mashed potatoes, bread, dinner rolls and steamed rice. The grand finale is the Christmas pudding and other Christmas goodies."
Elaborating on the sweets, Bridget speaks of Kalkals or Kulkuls which are common all over India at Christmas time. A variant of 'filhoses enroladas' a Portuguese christmas sweet, Kalkals are crunchy inch-long curled or shell shaped sweetened fried doughs. Since the preparation of Kalkals is elaborate and requires many hands to help, a separate day is designated as 'Kalkal Day', when every member of the family spends a few hours rolling out his/her portion of the kalkal dough.
The Fortifying East Indian Pintyacha Sop
Regina Pereira, a private caterer and an East Indian home chef in Vasai, Mumbai explains that a special Christmas tradition in the East Indian villages of Vasai is having 'pintyacha sop' (pronounced Soap) on returning home from midnight mass. "Pintyacha Sop is essentially baby country chicken soup - a concoction believed to have medicinal powers, and when had after the long midnight church service, rather fortifying and warming," explains Pereira.
"The pintyacha sop is made ready before leaving the house for midnight mass. Once we get home, we have the Christmas cake and the soup and then move on to other treats and house parties in the neighbourhood, or go touring the many elaborate cribs that are a popular attraction in Vasai during the Christmas period," says Pereira.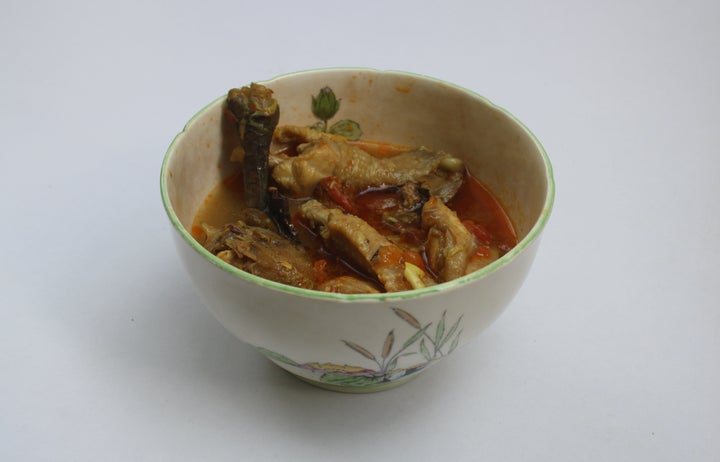 Black Tea, Arsa, Nimki and Dhuska with Chicken Curry in Jharkhand
In Jharkhand, particularly around Ranchi and Jamshedpur, the preparations for Christmas begin right after the Pujo celebrations. "In fact, churches across the region ensure that the dates for Christmas get-togethers and celebrations do not clash so that everyone can attend as many events as possible," says Smita Mukherjee who grew up in Bokaro and is currently a life sciences teacher in Kolkata.
"For tribal Christians from this region the festive meal includes meats like pork, beef and chicken which are usually served with dhuska, a form of deep fried batter-based bread made with peas, coriander and rice powder. The meat dishes do not contain potatoes, usually have lots of gravy and are eaten with rice. Guests are served snacks such as arsa and nimki as well as rose cake and all this is washed down with some black tea. Making Arsa is a labourious process which requires two people to drop rice (which has been soaked, strained, dry ground and then sieved) into hot sugar syrup till it becomes a dough. This is then mixed with white sesame seeds, shaped into little balls when hot and deep fried," says Mukherjee.
"Besides arsa, we also have peetha, which is similar to arsa, but includes saunf," says Smita Lakra, a homemaker from Ranchi. "We also make shinghara – which is similar to a momo, an arsa-like dough is prepared and rolled out like a chapati, filled with jaggery and peanuts, closed and steamed."
Lakra also talks of the traditional cold meat – a dish very typical to the tribal Christian homes here. This involves a large hunk of beef with no bones, which is poked with a skewer twice a day and each time is rubbed with half a lemon dipped in salt and some jaggery. This is done for around 3-4 days. On the 5th day, the meat is washed down and boiled. Once cooked, it can be sliced and eaten as is, or can be tossed with onions and green chillies. This dish is not meant to be refrigerated even during the marination, because no moisture should form on it and also because the weather is usually so cold in Jharkhand that preservation happens naturally!
'Hunter' Meat and Yakhani Pulao of Allahabad
Preserved meats are also a part of the Christmas specialties in Christian homes in Allahabad as well. Amrita Chopra, the managing director of the Zion Hospitality Pvt Limited speaks of hunter meat and salted Meats. "I am unsure of how the name Hunter came about – but I do remember my uncles going on a hunt and the meat caught being used. It is rubbed down with fat and a range of masalas and slow cooked in a tandoor overnight. The low heat imparts a great flavour. Beef was cured with salt and dried in the sun for around 15 days and then placed in a tandoor. These salted meats are used all through the Christmas season. Our version of the Yakhani Pulao is also very popular".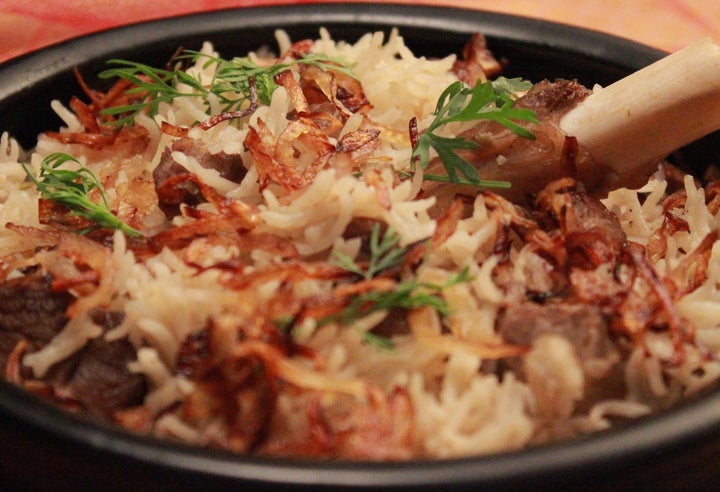 The Chinese influenced Yarkhandi Pulao of Ladakh
From Yakhani in Allahabad to Yarkhandi in Ladakh, Christmas food of the Ladakh and Kashmir region is unique. Tanya Rigzin, an educator and learning facilitator, originally from Ladakh but now based in based in Srinagar, says, "In Leh, you will find Yarkhandi pulao, made with a mix of carrots and mutton, on the table. Our forefathers traded with China a lot and people would come across the border and stay for a month or so, taking refuge with the locals. They ended up bringing their version of a pulao and it blended with Ladakhi cuisine. The grated carrots makes the rice turns a pale orange. The lamb chosen is usually of the Dumba variety (which have a large layer of fat). Only the fatty pieces are used for the pulao. Usually the fat puts you off, but in the cold, it is apt."
Elaborating on a Kashmiri Christmas spread, Rigzin talks of popular dishes like the rogan josh, the dhanewar korma— made with lots of coriander, the badam korma — which forms part of the wazwan, and the aloo bukhara meat, with dried plums and mutton. A popular sweet is the phirni, not made with rice as is done in North India but with semolina.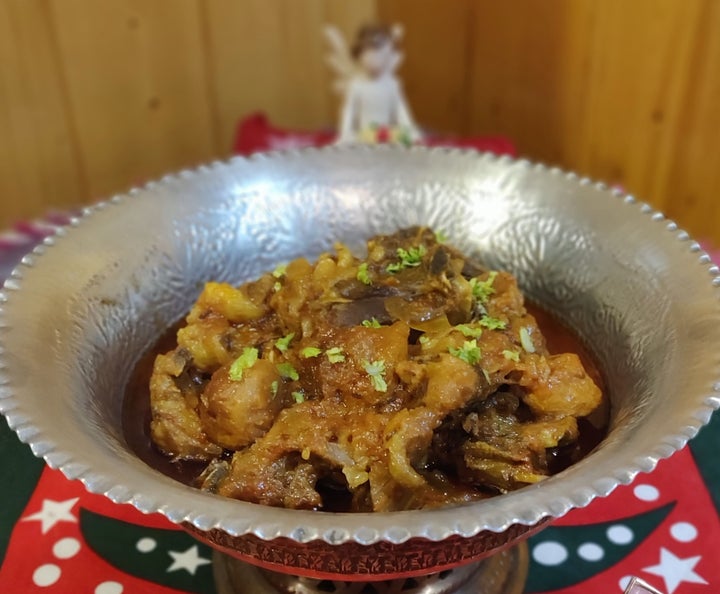 Of Coconut Rice and Nuvvulu Laddoos of Tamil Nadu and Andhra Pradesh
For Shalini Rhine, an account coordinator in Chennai and an avid food lover, and her Tamil Christian family, every celebration is usually centred round biryani. "However, our family has a tradition of celebrating with something unique on the menu. My mothers' specialty is coconut rice, spicy chicken or mutton gravy and a sweet mint chutney, the recipe for which was passed down to her from her mother. Coconut rice is low on spice, but can be as heavy a meal as biryani considering it is made with coconut milk. The preference of this over biryani probably comes from a family that wants to make something special for Christmas rather than go with what is popular," says Rhine.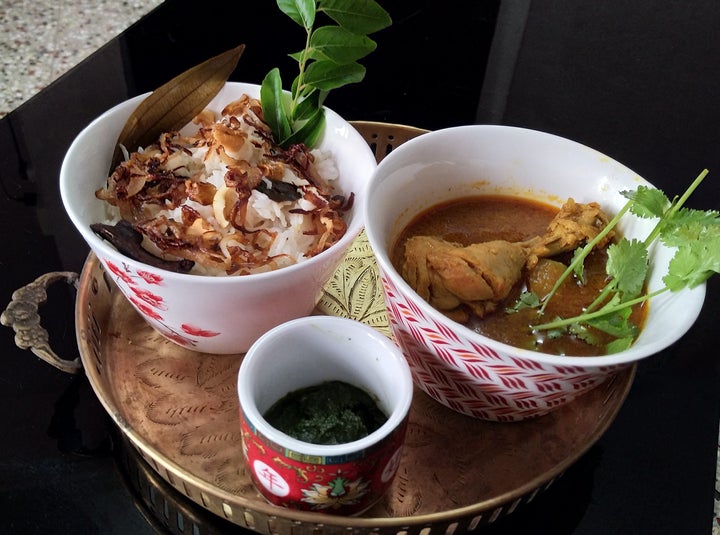 This something special is also like the tradition of having homemade Nuvvulu Laddos (Sesame and Jaggery) that Joel Dubba's grandmother made in their Telugu Christian household. "The main delicacies during Christmas for our family besides the laddoos are the rose cookies, mixture and Murukulu (chakli)," says Joel, a music composer and singer. "As children, especially for the rose cookies, we were allowed to dip the mould in the batter and put it in hot oil for frying, and that used to bring us such joy!"
Yarkhandi Pulao from Ladakh – Recipe by Tanya Rigzin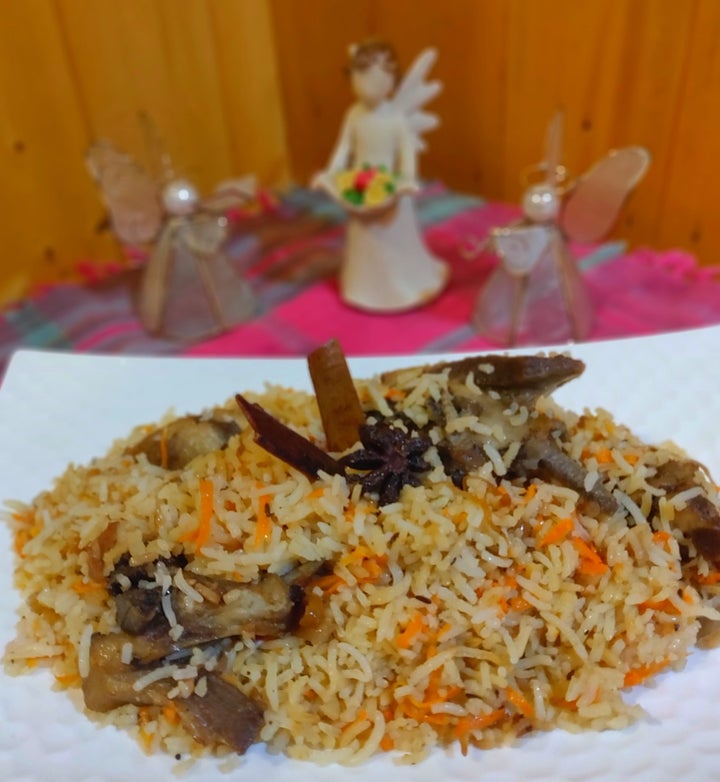 Ginger 2 (2 inch pieces)

Garlic 1 clove

Onions 2 small

Cumin 1 tsp

Cinnamon 3 (2 inches sticks)

Black cardamom 4

Bay leaf 3

Star anise 2

Coriander seeds 2 tbsp
1/2 kg Mutton (preferably pieces with a considerable amount of fat)

Basmati rice 2 cups

Green Cardamoms 6

Black Cardamom (freshly ground) 1 tsp

Green Cardamom (freshly ground) 1/2 tsp

Cinnamon (freshly ground) 1 tsp

Star anise (freshly ground) 1/2 tsp

Cloves 4

Shahi zeera (black cumin) 2 tsp

Carrots (grated) 200 gms

Onions 2 large

Ghee 1/5 cup
Begin by making a spice pouch, adding all the listed spices for it above. Boil and cook the mutton with the spice pouch, mutton, salt (according to taste) and 3 cups of water and cook till the meat is tender.

Squeeze the spice pouch to extract all the flavour from the aromats into the broth & separate the mutton pieces. Lightly sear the mutton in ghee.

Parboil the rice with green cardamoms and salt (60% cooked). Drain excess water from the rice. While the rice is being cooked, fry the onions in ghee till golden brown.

Toss in the fried onions, freshly ground spices, cloves, shahi zeera & grated carrots into the parboiled rice. Start layering the rice and mutton one by one in a thick bottomed pan.

Pour the flavourful broth (around 2 cups) into the layered rice and let it slow cook on low flame till the broth is absorbed by the rice and blooms till perfectly done.
Alu Bukhara Ghosht from Kashmir – Recipe by Tanya Rigzin
Mutton (small pieces) 1/2 kg

Dried plums 100 grams

Kashmiri red chilli powder 1 tsp

Turmeric powder 1/2 tsp

Fennel powder 1 1/2 tsp

Coriander powder 1 tsp

Cinnamon 1 inch stick

Black cardamom 2 whole

Cloves 4

Tomato puree 1/2 cup

Ginger-garlic paste 2 tbsp

Salt to taste
Mustard oil is a must for Kashmiri cuisine
Heat mustard oil and smoke it till it's ready to be cooked in. Sauté ginger-garlic paste in the oil and add the whole spices (cinnamon, cloves and black cardamom). Sprinkle a little water to avoid overcooking of the spices and prevent them from burning.
Add the tomato puree and continue to cook on medium low flame till the oil starts to separate from the sides then add mutton and sear it well. Put in the powdered spices and cook well. Continue cooking till the mutton is tender.
In the last 15 minutes, add the dried plums and let them slowly absorb all the flavour from the curry.