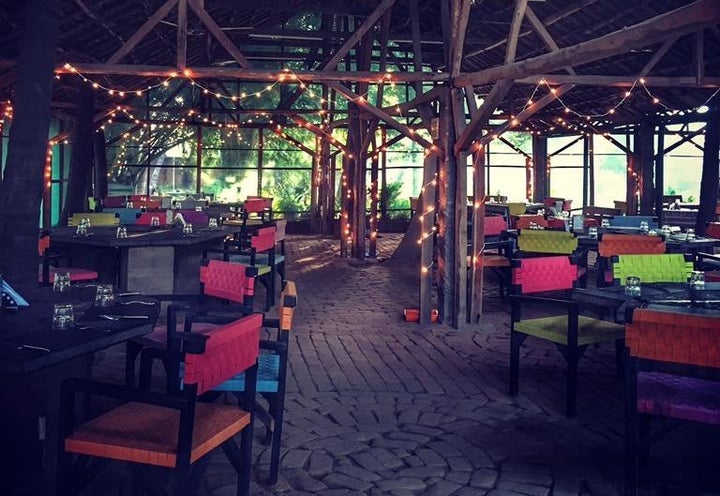 With its mild pace, innumerable beaches and historic temples, Chennai can be a nice place for a family vacation. Beyond the usual suspects like the zoo, the planetarium, Marina beach and the various indoor play areas that dot the city, here are some unusual picks for outings that both the kids and the adults will love:
1. The Farm, Semmancheri
This quaint farm-cum-restaurant on Old Mahalingapuram Road is the perfect place to drive to on a Sunday morning. You can also have a brunch at The Farm's organic restaurant.
The Farm also houses a variety of animals, including horses, cows, goats, hens, chickens and buffaloes. Your child will get to snuggle up with a feline or two as you order your food. Every guest gets a complimentary 20-minute farm walk where your kid can pet and feed the animals and explore the vegetable garden and the picturesque rice fields.
Dining in this farm-to-table venture is also a great way to teach your kid to eat healthy. The Farm grows most of the fruits and vegetables used in the dishes it serves and makes its own diary products, including artisan cheese. Kids can also assemble their own pizza and watch it being made in the wood-fired oven.
If food isn't incentive enough to drive to Semmancheri, there is an eclectic shop on the premises, which sells a range of things including homemade soaps, various cheese varieties, children's books, homemade pickles and baked goodies. The Farm is also an off-beat venue for hosting children's birthday parties.
Cost: A meal costs approximately Rs 1,500 for two people.
Timings: 7:30 am to 6:30 pm; farm walks are conducted every half an hour between 9:30 am and 11:30 am and 1:30 pm and 4:30 pm.
Address: 1/277, Semancheri Village, Old Mahabalipuram Road, Chennai - 600119
2. Adyar eco-park, R.A. Puram
A burst of dense, green foliage in the centre of Chennai, this ecological park is a government restoration project to protect the fragile ecosystem of the Adyar estuary. The park is home to over 150 species of trees and innumerable insects and birds. You can even spot a snake or two.
The walking trail is dotted with gorgeous views of the Adyar river and is the perfect length, to introduce even very small children to nature walks and trails. A guide, who is assigned to each group, will take you on the trail. It will take around 40 minutes to complete the trail. Animal artefacts have been erected at various places to educate the visitors. Children can also chase butterflies and walk across the pedestrian bridges over the river. For older children, a trip to the eco-park can serve as an opportunity to sight birds and learn about environment conservation. The entrance has several informative boards and posters about the history of the Adyar river.
Details: You will need to make an advance booking to visit the park. It can be done here. When you visit, you will have to show the online form and pay the entry fee of Rs 20.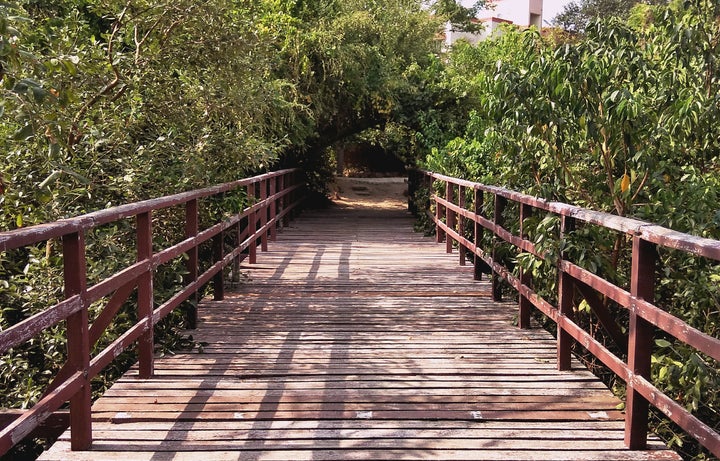 Timings: The park is only open on Tuesdays and Thursdays between 2.30 pm and 4.30 pm and on Saturdays between 10.30 am to 12.30 pm and 2.30 pm to 4.30 pm.
No food or water is sold inside. Wear walking shoes. There are extra charges to carry DSLR cameras, video cameras and for vehicle parking.
Address: Karpagam Avenue, Mandavelipakkam, Raja Annamalai Puram, Chennai, Tamil Nadu
3. ICF Rail Museum, Villivakkam
The rail museum in Chennai is a vibrant place to introduce children to the various facets of the incredible Indian Railways. One can easily spend several hours here with children, exploring the exhibits which include 41 life-size train models, dating from colonial days to the more recent Nilgiri Mountain coaches and some luxury trains as well. The museum also houses some sculptures made by various artistes from railway metal scrap.
Children will love getting on and off the coaches and even get to enjoy a toy train ride. Running around the diameter of the outdoor area in the museum, the toy train ride is complete with a tunnel.
Inside, there are rare photographs documenting the history of the incredible institution that is the Indian Railways. There is also an art gallery featuring mixed media and acrylic works of various painters depicting evocative scenes from stations and train journeys. A mini-theatre, which seats 90 people, shows short films on the Indian Railways at various times through the day.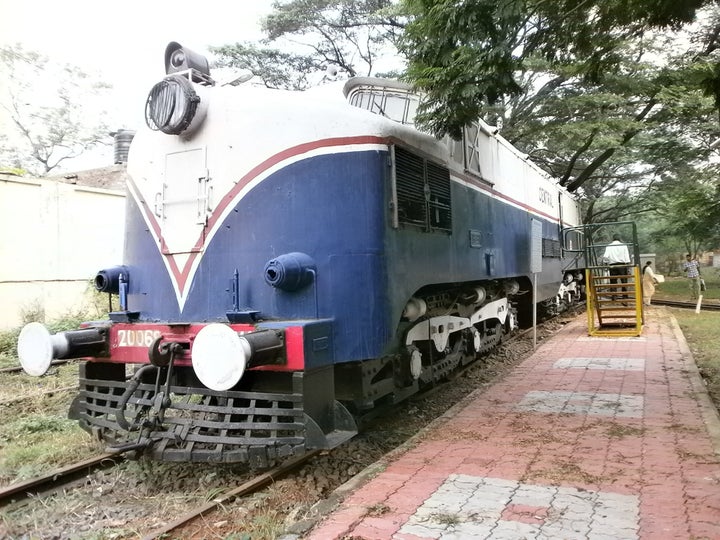 Details: Adult entry fee is Rs 50 and kids entry fees is Rs 25 (both tickets are inclusive of a beverage and one ride in the toy train). There is a food court serving snacks and drinks. There is also a restaurant in an air-conditioned rail coach, serving lunch and dinner.
Timings: The museum is open from 10 am to 6 pm and till 8 pm on Saturdays and Sundays. It is closed on Mondays.
Address: Next to ICF Furnishing Division, New Avadi Road, Villivakkam, Chennai, 600038
4. The Book Store, Gemini Parson Complex
A visit to this second-hand bookshop will make a great excursion for budding bibliophiles. Filled with well-thumbed children's books, mostly from the United Kingdom, in impeccable condition, this small bookshop makes a great site to browse and read for hours. They have picture books, early reader books, chapter books and young adult books by British authors such as Julia Donaldson, Nick Butterworth, Michael Bond among others.
They also have activity, craft and encyclopaedias. Books are weighed and sold by the kilo here and each kilogram of books cost Rs 250. They also have books for adults, popular fiction as well as vintage recipe books. The proprietor is a friendly woman and the neatly arranged section makes for a great browsing experience. They get fresh stock every other month and if you'd like to know when they get a new stock, you can leave your number with the shop. The store is a must-visit to introduce children to rare authors and books.
Address: 1, Nungambakkam High Rd, Gemini Parson Commercial Complex, Nungambakkam, Chennai- 600034
5. The Infinity Park
Inaugurated as recently as December 2018, this inclusive playground in Santhome, built by the Chennai Corporation and conceptualised by NGO Kilikili, seeks to provide a vibrant and stimulating space for all children, including those with physical and intellectual disabilities. The park that spans 1,500 sqm has walls with tactile art, sensory walking areas and play equipments. The equipments include sandbox, swings, slides and merry-go-rounds, specially built to cater to the needs of children with special needs. The park also includes a herb garden. It also has an accessible toilet.
Address: 82, 4th Trust Link St, Mullima Nagar, Santhome, Raja Annamalai Puram, Chennai, Tamil Nadu 600004