This week, Hannah tweeted to say she was struggling with chemotherapy and asked people to send pictures of their animals. The internet responded by delivering immensely cute pet pics and – considering everything that's going on in the news right now – it warmed our hearts completely.
Hannah was grateful too, she tweeted: "I'm literally obsessed with all these photos, thank you sm [so much]."
And now for some more wonderful animal stories to end the week with...
1. Is This Grumpy Cat 2.0?
Following the sad passing of Grumpy Cat earlier this year, I've had a sad-faced, cat-shaped hole in my life. Until, that is, Juno the angry cat came along. Juno has an incredibly miffed off look about him. He looks like most of us do on a Monday morning.
2. Doggo Puts Herself To Bed Like A Boss.
Daisy doesn't need someone else to tuck her in, she's got everything under control. According to owner Charlie, she does this little manoeuvre at least three or four times a day. "She just does it because she loves being comfy," says Charlie. We think she's a cutie.
3. Cat Brings The Sass In Pregnancy Pics.
Gracie knows she's the sh*t.
4. Tiny Tapir Is Born In Chester.
It's a truly devastating reality that half of the world's Malayan tapirs have been lost in the last 40 years, with fewer than 2,500 remaining on the planet. But some good news at least, conservationists at Chester Zoo were thrilled to hear the pitter patter of tiny feet this week after a tapir calf was born.
It's only the second Malayan tapir to ever be born at the zoo, which shared some extremely adorable pics of the baby with proud mum Margery (great name). Weighing just 5kg, keepers already know it's a boy, and now want the public to help give him a name. You can vote to call him either Rony or Thom via a poll on the zoo's social media pages.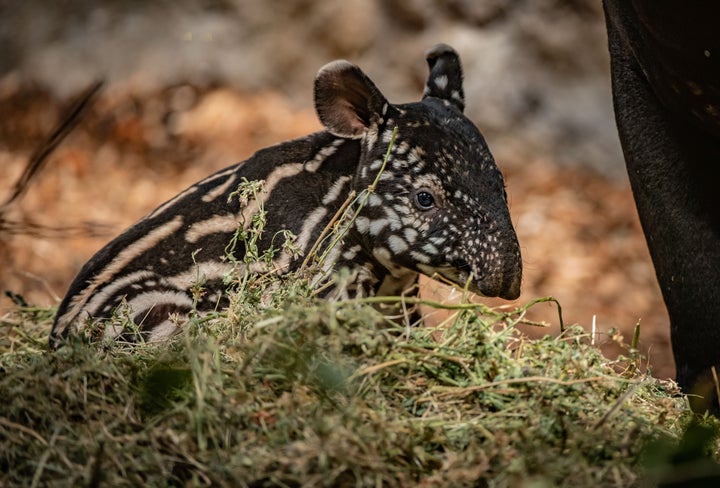 5. More Babies. WE CANNOT.
It's been a baby-filled week as two meerkats named Peek and Boo bravely left their den to explore their enclosure at Blair Drummond Safari Park near Stirling. Cuties.