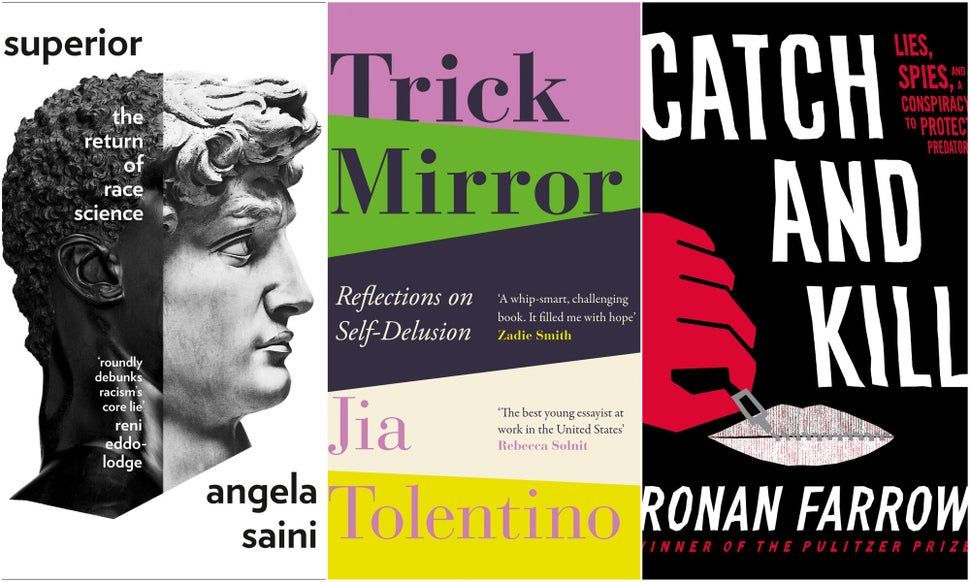 Often, non-fiction gets overlooked among the plentiful, shiny, fiction releases of the year. So readers around the world celebrate 'Non-Fiction November' in an attempt to bring the focus back to the genre. We've listed some tempting reads to tickle your intellectual interests —nature writing, investigative reports, memoirs — and transport you to the Bollywood fan clubs of Peru, prisons of Turkey, floods that wrecked Chennai, and secret spy groups.
1. Cities and Canopies: Trees in Indian Cities
by Harini Nagendra and Seema Mundoli
Lush and thriving, Cities and Canopies, featuring many Indian favourites (banyan, peepul, tamarind, neem, silk cotton), is a nature lover's delight. Filled with riddles, crafts and games revolving around trees, it explores the history (and myths) of native trees and the admission of new varieties (popularized by the Mughals, Britishers and US returnee IT professionals). Very often, it slips into the nostalgia of a long-gone childhood — sticking out jamun-stained purple tongues at one another, manicure with the gulmohar's sepals stuck to fingernails, pachadi cooking and hair oil concoctions. This one makes you long to leave your couch and stroll through 'nature's museums'.
Read an excerpt from the book here.
2. I Will Never See the World Again
by Ahmet Altan, translated from the Turkish by Yasemin Çongar
When the police raided Altan's apartment at 5:42 am to arrest him, he offered them coffee and said, "It is not a bribe, you can drink some," imitating his father who was arrested in a similar manner 45 years ago. Sentenced to life imprisonment under the oppressive regime of Turkey's president, Recep Tayyip Erdogan, Altan laments "I will never open a door again" or "kiss the woman I love" but "like all writers, I have magic". His memoir, written in prison and smuggled out, presumably by his lawyers, is compelling and meditative and offers the quiet wisdom of a man who reveres words. And in a great turn of events, Altan was released this month after three years behind bars.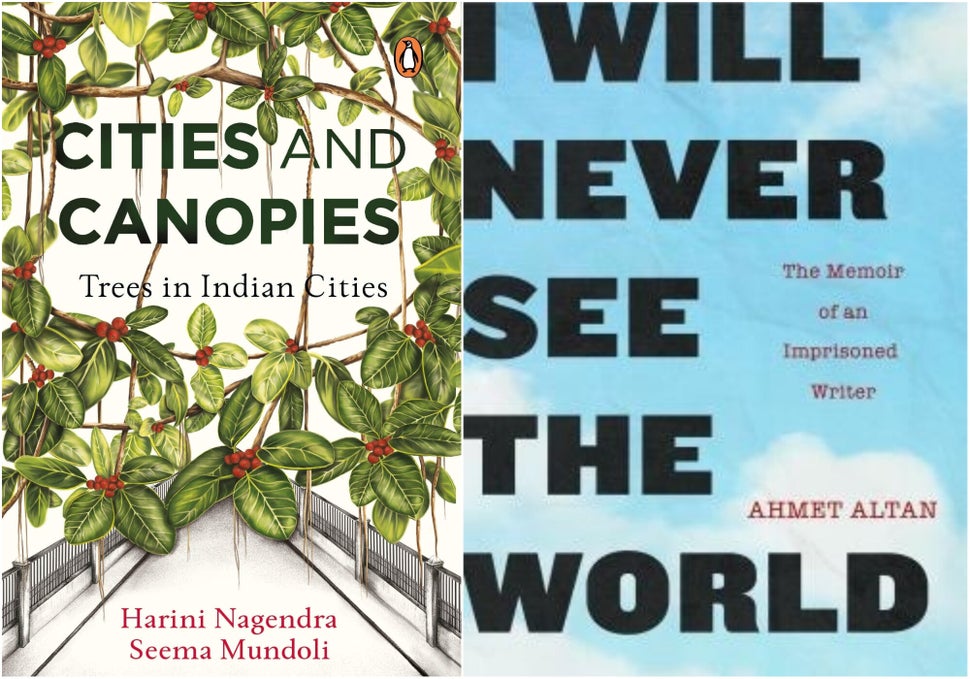 3. Catch and Kill : Lies, Spies, and a Conspiracy to Protect Predators
by Ronan Farrow
I read this without a break, and immediately wanted everyone I knew to read it too. Written in a crisp, suspenseful style speckled with humour (often about closed doors and death threats), this is investigative journalism at its best. This inside story of the Weinstein exposé (it won the New Yorker a shared Pulitzer Prize for public service reporting last year) is rampant with politicians, shoddy media moguls, Hollywood celebrities, Israeli spies, elite lawyers, double-crossing agents, under-the-carpet-sweeps and many predators drunk on power. Pacy and nail-biting, Catch and Kill reads like (and almost is) a spy thriller.
4. Trick Mirror: Reflections of Self Delusion
by Jia Tolentino
Trick Mirror spirals on living in the 'now'. The nine essays—hovering on illusory internet-identities of oneself, performative feminism, millennials, scam culture, literary heroines (one of my most highlighted essays), shapewear, reality shows, wedding mania and the rise of brides as 'momentary celebrities'— reaffirm that Jia Tolentino is indeed writer extraordinaire of the long-form. A staff writer at the New Yorker, Tolentino adds pinches of personal history such as participating in a teen reality show in Puerto Rico and maintaining spreadsheets with her partner to track wedding invites, amply laced with wit, making Trick Mirror an excellent collection of essays.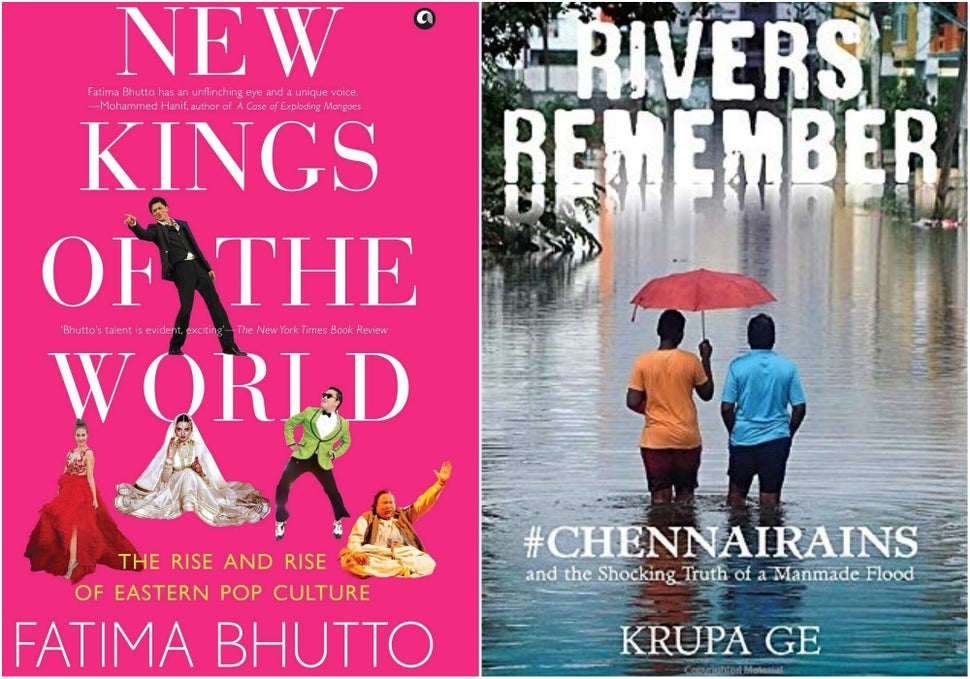 5. New Kings of the World: The Rise and Rise of Eastern Pop Culture
by Fatima Bhutto
New Kings of the World reads like a blockbuster movie — Shah Rukh Khan fan clubs in Peru, Bollywood dancing classes, two-hour-long Turkish TV 'dizi' spanning political and domestic discourse in 'the softest, most romantic version', compulsory clauses in K-pop idol contracts to permit plastic surgery, K-drama remakes in Turkey, and a lack of veiled women in Turkish TV because even conservatives prefer that. Lopsided in scope, the book is mostly centred around Khan, and addresses the historical developments that led to the surge of dizi, but offers only a glimpse at Korean pop culture (which disappointed me, considering the girth and rapid expansion of the industry). Nevertheless, Bhutto's book is a compelling, entertaining read.
6. Rivers Remember: The Shocking Truth of a Manmade Flood
by Krupa Ge
When authorities evaded blame by calling it a 'hundred-year flood', Krupa Ge filed RTIs and chased interviews to get to the bottom of the disastrous Chennai floods of 2015, which, as it turns out, was manmade! The investigative report begins on a personal note (her own childhood house sank in the floods), sprawls onto the geographical, cultural and political history of Tamil Nadu and emerges as cathartic stories told by survivors and volunteers. An overflowing Pandora's box of villains — unruly urban planning (lake beds sold for buildings, Chennai airport runway built on a basin of river Adayar), corruption, and poor disaster management (and no emergency plan) — Rivers Remember is a wake-up siren.
Read Krupa Ge on Chennai's water crisis here.
7. Know My Name
by Chanel Miller
This memoir is exactly what the title suggests — shedding the garb of 'victim of the Brock Turner Stanford rape case' and the pseudo-name, Emily Doe, given to protect her identity, Chanel proclaims her real name to the world. The book shines light on a culture that spares predators (her rapist was glorified as a swimming athlete, and sentenced to a mere six months in jail), a broken justice system, the #MeToo movement, trials against other offenders and the unfairness of living through trauma. Know My Name is brutal and searing; an unapologetic self-portrait, and a timely reminder not to deny survivors their agency.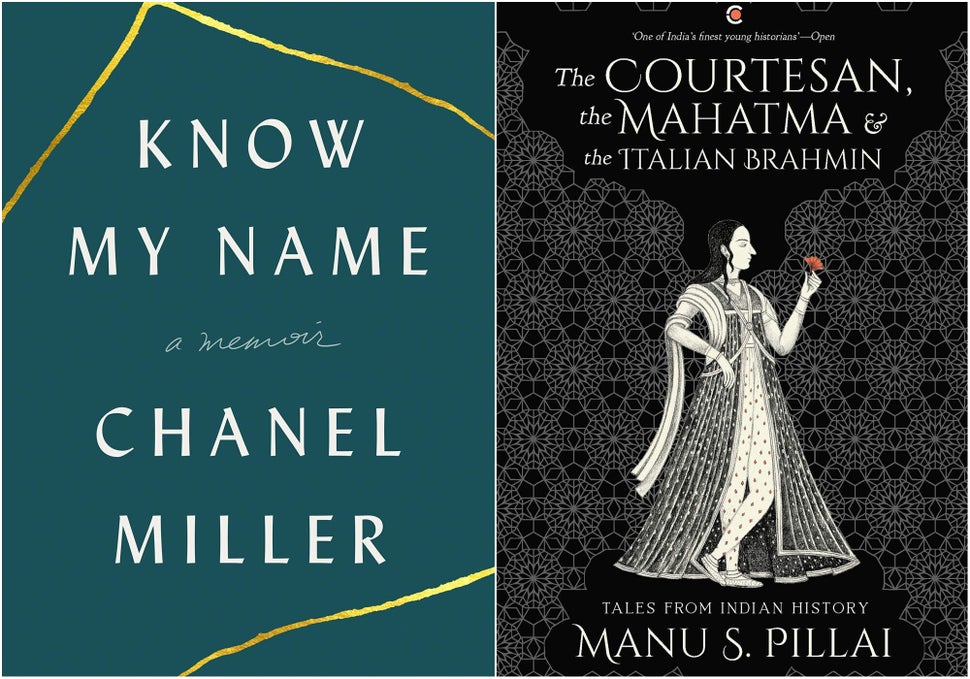 8. The Courtesan, the Mahatma and the Italian Brahmin by Manu S Pillai
These essays, collected from previously published shorter newspaper columns and illustrated by Priya Kurian, are dominated by women (courtesans who ruled, Nangeli who cut off her breasts in protest of the breast tax, warrior princesses and devotees), reveal communal ties (Mappila Ramayana has a Ravana 'sultan', Bhakti saints, a Muslim princess enshrined in a painting/temple) and historical developments (rise of railways, football and educational institutions). Pillai's bite-sized history episodes are best consumed one at a time, in no particular order.
9. Superior: The Return of Race Science
by Angela Saini
Behold human zoos, scientific (unethical?) experiments, dead black slaves used for medical dissections, a hair scale that determined whether you live or die (yes, in 1908, Namibia), laws prohibiting inter-racial marriages, white immigrants driving out Indian immigrants (1907 Bellingham riots) for 'filthy and immodest habits' and cruelty — journalist Angela Saini writes the uncomfortable truth about race through historical inputs, and interviews with researchers. She notes how the impact of privilege, wealth and environment in fostering intellectual talent is ignored in race studies. Superior also dips into the Indian caste system and confirms the prejudices ingrained in the system.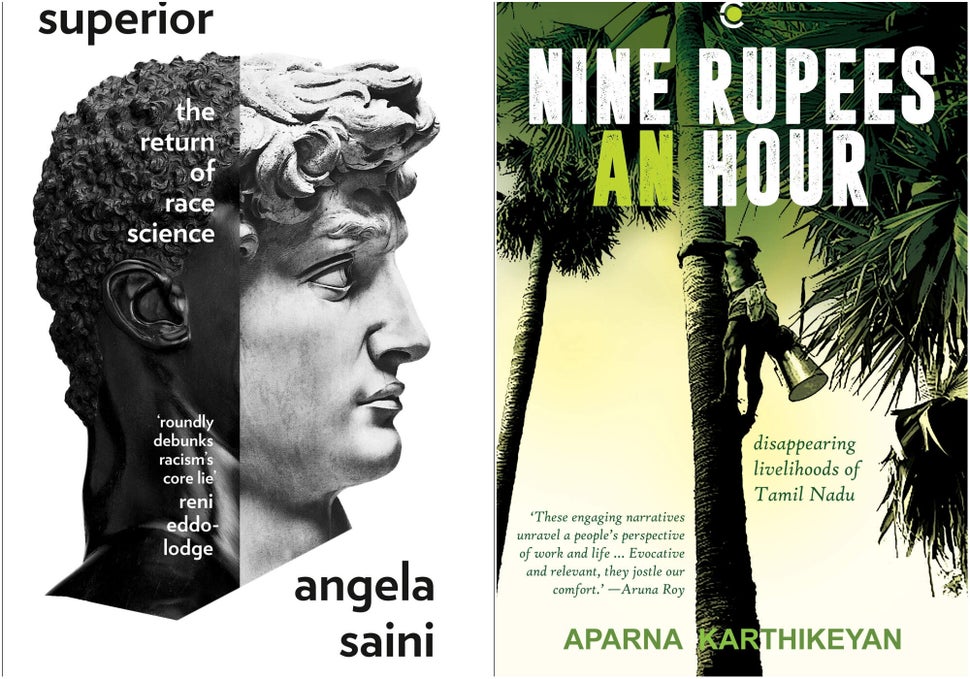 10.
Nine Rupees an Hour: Disappearing Livelihoods of Tamil Nadu
by Aparna Karthikeyan
Mat weavers are paid Rs. 9 per hour, a climber is paid a bit more than Re.1 for every palm tree he climbs—exploring the rural populace, Nine Rupees an Hour introduces us to paddy farmers, bull trainers, dancers, nadaswaram makers, palm workers, folk artists and others in dwindling (and severely underpaid) livelihoods in Tamil Nadu. Women have longer work hours, household work (cooking, fetching water, childbearing and rearing), unpaid behind-the-scenes-work for men's professions and are subjected to unhealthy conditions (such as giving dance performances until the last weeks of pregnancy) and appalling wage gaps. Through interviews and five years of research into the economic conditions and life of these artisans, Karthikeyan makes us squirm in shame for being an exploitative society.