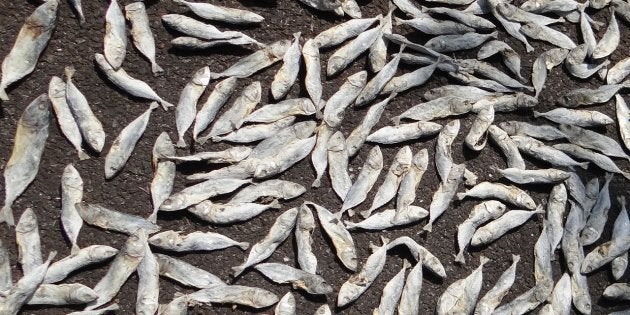 One of the earliest memories I have of my grandmother is her buying fish from the fisherwoman who used to come to their doorstep practically every day (she even cleaned the fish as a special favour to my grandmother). Both my grandparents loved their fish, and my grandfather could never quite figure out why I hated it. Fortunately for them, they had no idea what else they were eating along with their beloved fish.
In 2009, the Times of India published an article about a study carried out by the Indian Institute of Environmental Medicine, which found that Mackerel and Pomfret from the Versova docks in Mumbai contained an unsafe amount of mercury. However, the study did note that fish from other docks in and around Mumbai were found to be safe to eat. Another study, conducted in 2014, found that while there was heavy metal contamination in fish caught in Mumbai Harbour, it was below the permissible limits, and the fish was safe for human consumption.
Toxins like heavy metals and PCBs build up in the body over decades, and are associated with a number of serious side effects.
Unfortunately, fish consumed in other parts of the country may not be as safe. A study conducted in 2015, which tested commercial fish species sourced from three reservoirs in the Cauvery Delta, found unsafe levels of iron, zinc, lead and chromium, among other metals, in the fish. It noted that the concentration of metals in many samples exceeded the Food & Agriculture Organisation (FAO) standards. The study concludedthat the concentration of metals in the fish suggested a risk for humans. Another study found that shrimp collected from the Subarnarekha River, which flows through Jharkhand, West Bengal, and Odisha, contained heavy metals in concentrations sufficient to be a health hazard.
Heavy metals aren't the only toxic contaminants people might be ingesting along with their fish. A 2016 study on fish collected in Hyderabad found that the fish were contaminated with polychlorinated biphenyls (PCBs). The study found that the concentration of PCBs in the fish was high enough to pose a lifetime cancer risk.
Because of the length of the coastline, fish is a dietary staple in a large part of the country. This makes contamination of fish a huge food safety risk. Also, toxins like heavy metals and PCBs build up in the body over decades, and are associated with a number of serious side effects.
Sadly, there isn't much that can be done to get rid of the toxins in fish because fish contamination is a result of water bodies being polluted. Unless we stop dumping untreated waste in the water, we will keep consuming contaminated fish. This means that the Government must take action to ensure that all waste released into water bodies is properly treated or else, the entire coastal population will continue getting poisoned.
The opinions expressed in this post are the personal views of the author. They do not necessarily reflect the views of HuffPost India. Any omissions or errors are the author's and HuffPost India does not assume any liability or responsibility for them.