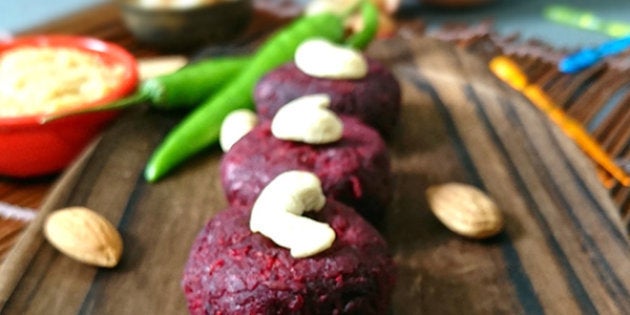 If you're looking for an easy-to-make, healthy and colourful snack, you're in the right place. These guilt-free mini tikkis are prepared from grated beetroot and sweet potato (which are rich in iron, fibre and vitamins A and C), with nuts adding some much-needed crunch and, of course, yet another dollop of healthfulness.
If you or someone in your family does not like the taste of beetroot, we would suggest you start with half a beetroot and add two-three sweet potatoes in this recipe. Kids especially can this way develop a taste for this healthy vegetable and eventually enjoy other beet dishes too. Boiled or cooked beetroot, added to any dish, makes the dish colourful and healthy.
You can use these tikkis as burger fillings or simply serve them as an appetiser or teatime snack along with green chutney.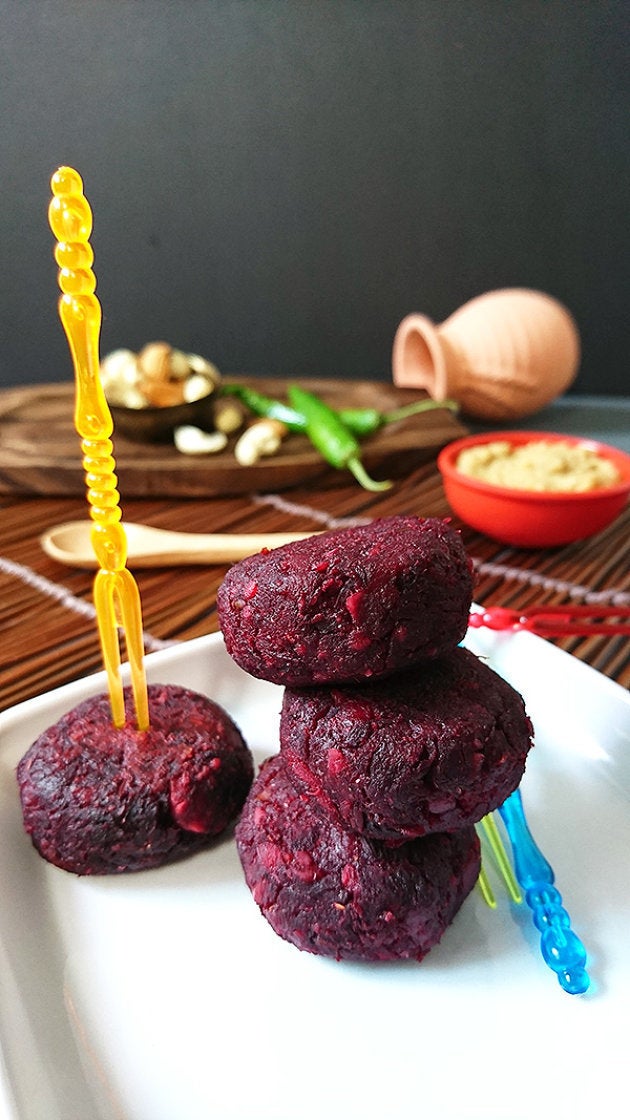 Ingredients
1 beetroot, peeled and grated
1 sweet potato, boiled, peeled and mashed
1 teaspoon oil
½ teaspoon cumin seeds/jeera
1 green chilli, finely chopped
1-inch piece of ginger, grated
½ teaspoon coriander/dhania powder
½ teaspoon jeera/cumin powder
¼ teaspoon garam masala powder
¼ teaspoon chaat masala
8-10 cashews
8-10 almonds
8-10 raisins
salt to taste
Instructions
In a mixer/grinder, combine cashews and almonds and coarsely crush them.
Heat oil in a non-stick pan and add cumin seeds.
Once it splutters, add green chillies and grated beetroot. Mix well and cook for 2-3 minutes. You may add more green chillies, depending on your taste.
Now add grated ginger and all the spice powders—coriander powder, cumin powder, garam masala powder, chaat masala and salt and sauté for about a minute.
Then add mashed sweet potato and mix everything well.
In the end add coarsely crushed nuts and raisins. Mix well.
Remove the mixture from flame and leave it to cool.
Pre-heat oven at 180 degrees.
Divide the mixture into equal portions and shape into small tikkis.
Arrange in a baking tray.
Bake in a preheated oven for 10-15 minutes until the tikkis turn crisp.
Notes
Instead of adding nuts and raisins to the tikki mixture, you may also stuff the tikkis with them.
We have baked these tikkis, but you can also shallow fry them using a little oil.