The world we see is moulded by our perceptions. The third edition of India's only biennale is all about these multiple understandings of the world. At a time of political upheaval and glaring inequities, artistic platforms such as the Kochi-Muziris Biennale challenge the "popular" cultural and political narratives in the established republics of this time.
A visit to the historic quarters of Fort Kochi exposed me to multiple realities of life, and where three installations in particular forced me to evaluate and question the structures of authoritarianism and power and of life itself.
The Pyramid of Exiled Poets, Aleš Šteger
Beautifully pitched, and infused with an awareness of history and fascism that goes beyond the boundaries of language, countries and period, The Pyramid of Exiled Poets is a simple yet exceptional installation that chronicles the condition of being in exile as the voices and spirits of the past ask you to go back. This powerful yet disturbing artwork of Slovenian litterateur Aleš Šteger is built on the lines of the Great Pyramid of Giza with wood, matting, mud, and dung. The 10-minute walk through the pyramid installation took me to a world populated by the disembodied voices of hopelessness.
In Šteger's words, the pyramid is a tomb for poets who have been exiled from republics and nations for centuries. This is their ultimate residence. It's an encounter with the exiled poets and the darkness around them. The vocal remains of Ovid, Dante Alighieri, Bertolt Brecht, Czesław Miłosz, Mahmoud Darwish, Yang Lian, Joseph Brodsky, Ivan Blatný, and César Vallejo continue to haunt us in the coming ages of fascism.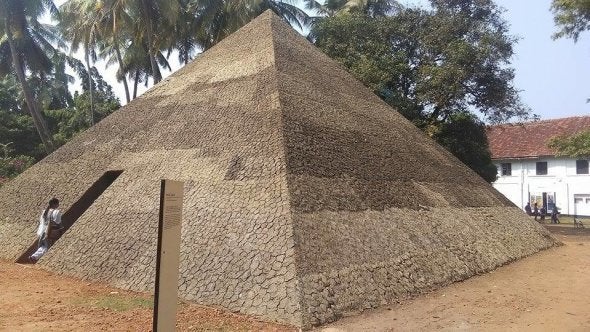 The Sea of Pain, Raúl Zurita
Wading through a stretch of seawater may force you to question the fundamentals of this democratic world where we have drastically failed to protect the lives of minorities, refugees and immigrants. Chilean poet Raúl Zurita explores the meaning of meaninglessness through his installation The Sea of Pain. The immersive installation is dedicated Galip Kurdi, the five-year-old brother of Alan Kurdi (who became an icon of the Syrian crisis after photographs of his lifeless body were shared around the world, spurring humanists into action). Take your shoes off and immerse them in the seawater to admit our collective failure for living in a system that is inhuman and incapable of saving people such as the Kurdis.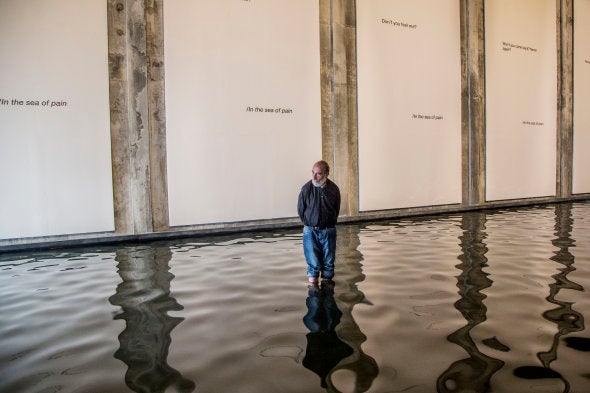 Dance of Death, Yardena Kurulkar
An alumna of Sir J J School of Art, Mumbai, Yardena Elhanan Kurulkar creates a point of confrontation between life and death by mixing media with light bulbs. In Kurulkar's vision, the bulbs mark the date the artist's body came into being. For me Dance of Death is all about the universality of death. It's the point where ultimate uncertainty becomes certainty and the absolute becomes nothingness.