Kolkata is one of those places that are identified more by its taste than by its architecture, location, climate or people. I mean, mention the name of the city to a non-Bengali and they will immediately go "O Kolkata... roshogolla", or "O Kolkata... phuchka", or "O Kolkata... macher jhol." They will hardly ever say, "O Kolkata... Howrah Bridge" or "O Kolkata...Victoria Memorial." Anyway, you get the idea. It is the individuality and character of Kolkata's food that defines the city. It's what gives you a genuine feel of the city whether you are a guest or a Calcuttan. The reputation of our food precedes everything else.
One of my favourite places to eat in Kolkata is Golbari, specifically its kosha mangsho. This old, historic, but unassuming place, situated at the five-point crossing of Shyambazaar hardly offers a place to sit.
Frequent experiments with my dad in our kitchen yielded something that is very close to the Golbari kosha mangsho, but a lot less unhealthy...
What I love and remember most about it is how they'd pack this mutton dish in clay pots covered with news papers that were then tightly secured with coconut ropes. They have now, lamentably, upgraded to plastic packages, so I carry my own stainless steel containers every time I visit this place. Eating here is not easy, because the preparation is so rich and spicy that it can disagree even with the most Bengali of stomachs—but stomach this delicacy you must at least once in your life time.
A few tastes of this preparation during my last visit to Kolkata, and frequent experiments with my dad in our kitchen to recreate this gem of a recipe, yielded something that is very close to the Golbari kosha mangsho, but a lot less unhealthy than the eatery's version.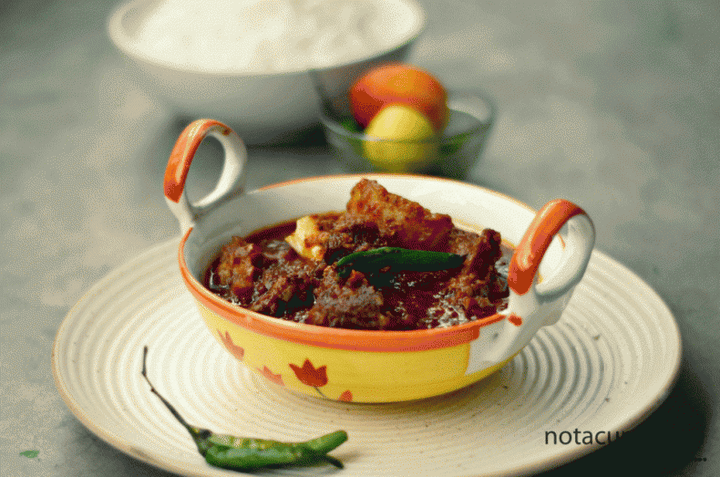 BENGALI MUTTON KOSHA RECIPE
Serves 6; prep time: 12 hrs; cook time: 3 hrs
Ingredients
1 kg goat meat cut into chunky pieces
3 medium potatoes, peeled and halved
1/2 cup of hung yogurt or Greek yogurt
1 tsp garam masala powder
500gm of onions made into a paste
3 medium tomatoes, pureed
1 tsp garam masala powder
Instructions
Mix all the marinating ingredients in a bowl and add the mutton pieces to it. Mix well and let it marinate in the refrigerator for at least 12 hours. Do not add salt to the marinade.
When the mutton has marinated for long enough, take a pressure cooker and heat the remaining mustard oil in it.
Temper the oil with the whole spices (about 30 seconds) and add the onion paste.
When the onion turns slightly brown add the ginger and garlic paste.
Sauté over medium heat for 4-5 minutes and then add the tomato puree. Cook until the tomato has turned a darker red.
Add the cumin and coriander powder and cook for 2 more minutes.
Now add potatoes and the mutton pieces with the marinade.
Mix well before adding the water.
When it comes to a boil, cover with the lid and pressure cook until the meat is soft (takes about 20-35 minutes depending on the cooker).
When the steam has escaped, open the lid and let the meat slow cook for at least 90 minutes, stirring occasionally. You may want to take out the potatoes to prevent over cooking.
Sprinkle the garam masala powder just before turning off the heat.
Serve with steamed rice or roti.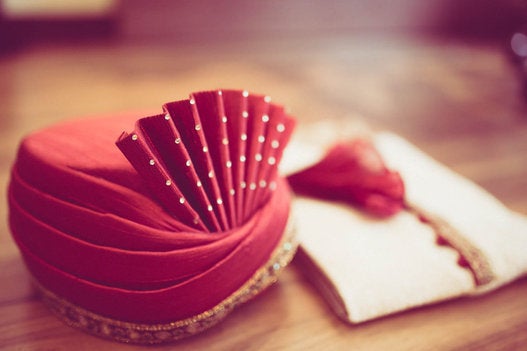 Couple Celebrates First Anniversary With Indian-Style Wedding In Front Of Taj Mahal