Bloomberg via Getty Images
The new minister, Suresh Prabhu, has decided to spend Rs. 8.5 lakh crores as capital spending in the darling of the Indian travel industry, the railways, over the next four years. They'll speed up trains, increase rail track coverage, increase passenger counts, make stations better, make trains clean, make travel safer and so on. All very good, if you're a passenger.
We have no idea how he plans to fund this expenditure, because that's more than 2 lakh crore rupees per year. (Only four more years to go to 2019) That's $30 billion dollars a year. That is more money than the Railways makes, in revenues from passengers and freight, per year.
In the coming year, the total investment planned is just Rs100,000 cr. (50% higher than the current year) because that's about all they could figure out how to raise.
And why is this scary? Because none of it comes from the area the Railways loses the most money--passenger travel. Retail prices have not been increased. Trains get upgrades, better toilets, go faster, and will be better, but fares, where the Railways loses money, won't be hiked. This is strange, and with a very hazy idea where the investment money's going to come from, leaves us incredulous. At the very least, prices for such facilities should have been increased.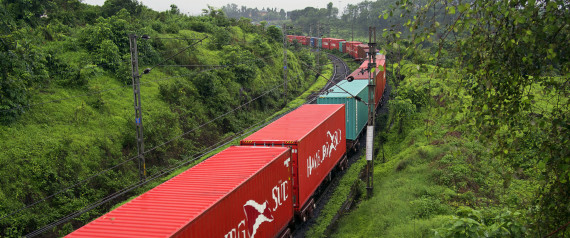 Freight rates are up, between 4% and 10%. Unless freight volumes will go up substantially, this increase isn't going to help that much. And growth in freight earnings are pegged at 1.21 trillion rupees, a 15% jump from this year.
The ministry has requested corporates, religious institutions and MPs (with their MPLADs funds) to invest into passenger amenities at railways stations. Perhaps there is some hope if temples would sell the gold they have in order to buy comfortable chairs at railway stations! But essentially, this is a concept that relies on charity and goodwill, and in India that's very good on paper but not so much otherwise.
We will see the central government fund 40% of the Rs100,000 crore. required this year, which by itself is higher than the Rs25,000 crore they have put in this year. And then, of the remaining, they'll go to the market to borrow Rs17,000 crore. (Up about 50% from the Rs11,700 crore they borrowed this year). Another Rs17,000 crore will come from borrowings through Institutional finance. And the rest, through other internal accruals and partnerships.
This is where it gets complicated.
We have an assumption that markets would be happy to pour in Rs23,000 crore into the Railways this year. While the Railways wants to work with pension funds and insurance companies, this amount is fairly large and only expected to get larger next year. The appetite for putting in that much money into the Railways is extremely low. There needs to be much more work in allowing foreign participation in such financing (which will be quasi-government, because let's face it, they will not let the Railways default), or something dramatic like a tax-sop for buying into such projects. And that would hurt the central government's budgetary figures.
But the good part is that the Railways wants to be self-sufficient. Not by hiking fares, but through components still unexplored: GDP growth, which means railways will see more money, market borrowings by IRFC or Railways-owned PSUs, Public Private Participation (PPP) on a project basis, and with equity from state governments. These are grey areas--we don't know if they will happen, and if they do happen, how much they'll help.
Till then we'll just say this is a huge budget. It isn't in the regular "populist" vein of introducing new trains while totally depending on the central government to fund it. It's a new way of saying we'll still need the central government for funds that are controlled by arms of the central government (insurers, pension funds etc.) to fund big plans, which is more sophisticated because in railway stations, you will have Wi-Fi.