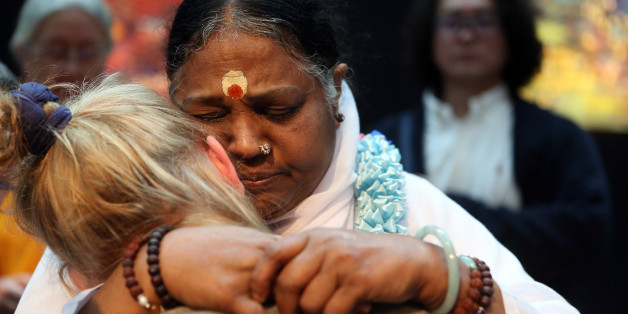 Adam Berry via Getty Images
Yoga is India's true gift to the world. Tens if not hundreds of millions have practised yoga worldwide. It is chosen by many who seek spiritual food -- those who are unimpressed by religious dogma based on heaven-and-hell scenarios and fear of God. We're just not buying that any more.
Spirituality and God to many of us simply mean real experience of peace, love and happiness. We want to feel and experience this unconditional love and union with the divine now -- not intellectually through scripture study but through our hearts and in our lives.
So why India? India's original name in Sanskrit is Bharata. Bha means divine light. Rata means engrossed. In spite of religious conflict during its long history, great gurus have emerged from the dust time and time again.
India has produced a constant stream of enlightened masters immemorial -- gurus that embrace the essence of all religions -- Sri Aurobindo, Nisargadatta, Ramana Maharshi and Sri Anandamayi Ma are among the more well known. Others have come to the West -- notably Paramahamsa Yogananda, Swami Vivekananda and Amma, known as the hugging mother.
"Yoga is not just about bending the body. Authentic yoga practised with love and humility is a practical path to bring calmness -- to experience more of our innate divinity."
They teach us the true purpose of yoga -- how to tap into the living essence of the great Vedas or Bhagavad Gita --that the secret to contentment comes from inside -- the exact opposite of the traditional Western indoctrination that happiness comes from external activities and material wealth. In contrast, these gurus show us how to be calm, positive and joyful through japa, prayer, meditation and contemplation; to be mindful in all that we do; to fight our negatives and not others; to be successful, kind and loving.
Yoga is not just about bending the body. Authentic yoga practised with love and humility is a practical path to bring calmness -- to experience more of our innate divinity -- even if too often it's dressed up as a spiritual keep-fit class!
There's a yogic philosophy to suit all of us: from advaita (union) to jnani (path of wisdom and knowledge) to Bhakti (devotion) to karma yoga (mindfulness in all that we do).
Yoga is not just limited to spirituality. American author William James pointed out, "From the Vedas (sacred texts from which yoga derived) we learn a practical art of surgery, medicine, music, house building under which mechanized art is included. They are an encyclopedia of every aspect of life, culture, religion, science, ethics, law, cosmology and meteorology."
Gurus also encourage hard work and show us that spiritual growth is possible for all of us regardless of our job or circumstances. They do not promote the traditional Western philosophy of ambition and success at any cost. As some of us have discovered, earning more and owning more doesn't make us happier. It's a short term fix at best and at worse we are trapped forever.
So many of us buy what we can't ever afford to repay. Even Christmas has been manipulated from being a time of great spiritual meaning and celebration to a sales opportunity for cash hungry shops leading to sales days that bring out our worst human qualities -- fighting over TV's and other sale items.
Our experience shows that happiness from external pleasures just doesn't last. So how can we be more happy and for longer?
One way is to merge Western know-how with Eastern wisdom, the latter being based more on the all round treatment of mind, body and spirit together. The merging of Western medicine -- largely focused on cure -- and Eastern knowledge of the body and mind -- promoting prevention -- is slowly becoming more commonplace.
Western scientists have already seen how yoga benefits people many types of afflictions, especially depression.
David Green is a Kriya Yoga practitioner who has integrated this ancient yoga practice and philosophy into his busy life over the last 16 years.
Like Us On Facebook |

Follow Us On Twitter |

Contact HuffPost India