Craig Boehman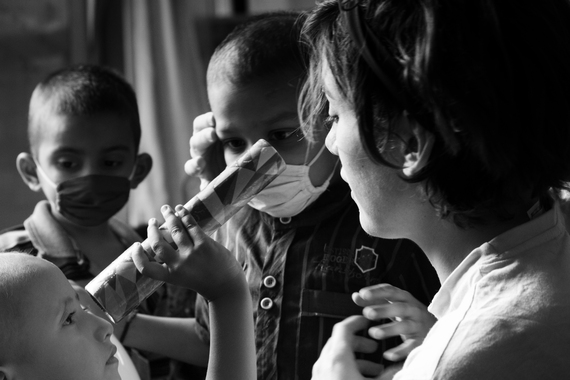 BeRevolution is a multi-faceted project and adventure of cousins Andrea (27) and Luca (31) Bonventre, comprising a road trip from Italy to Japan. They hope to raise funds for Forma, a non-profit organization based out of the paediatric centre of Regina Margherita hospital in Turin, Italy. Forma gave the Italians contacts for other organisations that help out children and the Bonventres have already visited several of them as they passed through Europe and the Middle East. Now, they will visit as many as they can as they traverse Asia on their epic road trip, including organisations based in Mumbai and throughout India.
I was meeting them at the beginning of their Indian leg of the trip as part of an assignment to interview travellers running into trouble while doing extraordinary things in India.
As luck would have it, it didn't start off too well for the Bonventres. They arrived by flight in Mumbai in mid-November 2015 and learned that their car had been impounded by the Mumbai port authorities after it was off-loaded from an Emirates freighter. After a 10-day wait, they finally retrieved their primary mode of transportation, a vintage Fiat 500, and set off to visit organisations for children in Mumbai.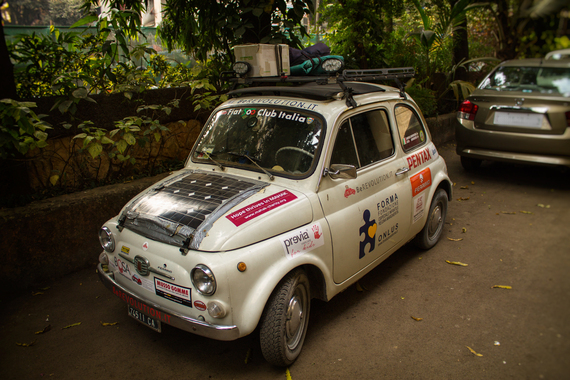 The BeRevolution project started off as a bit of a joke. Andrea and Luca wondered just how far they could drive this little old car, a 1965 Fiat 500 (the 500 series was launched in 1957 and was in production until 1975), before it conked out. Tokyo -- at the far end of the world, seemed as farfetched as any dream. But now, their dream is to reach Japan. And they want to do some good along the way.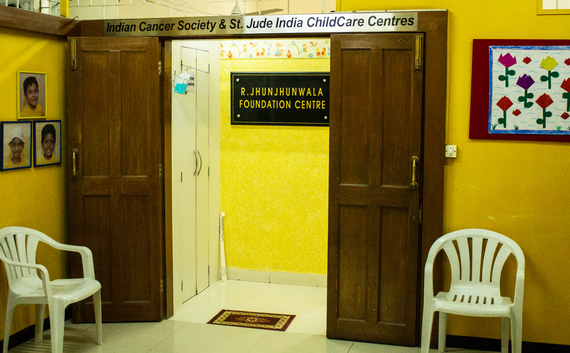 St. Jude provides medical treatment and support for rural families travelling with their children to the cities for cancer treatment. They have multiple centres and facilities in five Indian cities and have admitted more than 6500 children to date.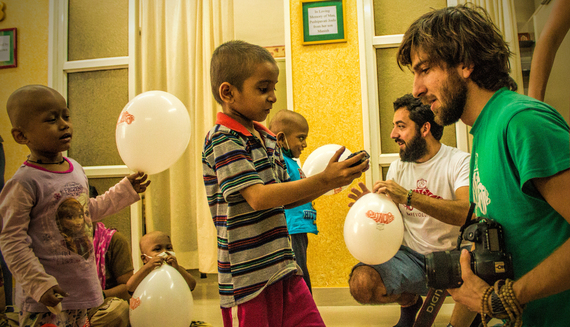 Andrea (foreground) and Luca Bonventre playing with children in the St. Jude cancer ward. They hope that their journey will raise awareness and donations for Forma and the children's organisations they visit.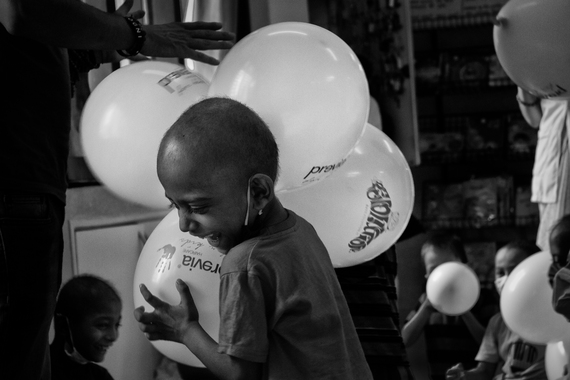 The children enjoying balloons they were given as part of the activities of the three-hour visit.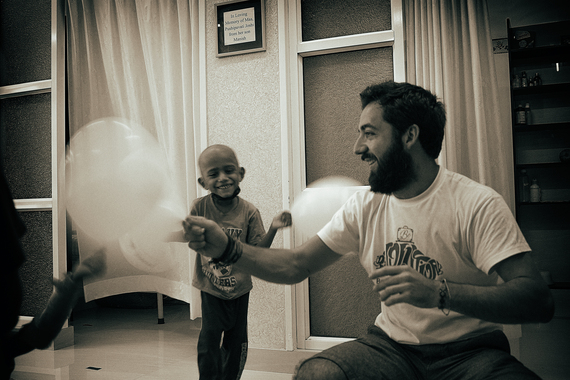 Luca balloon-sparring with the children.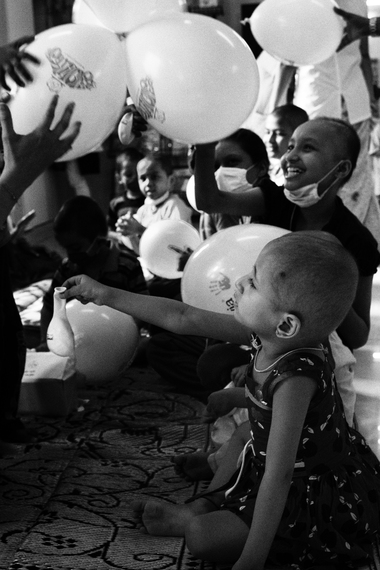 Little girl handing over her balloon to be inflated.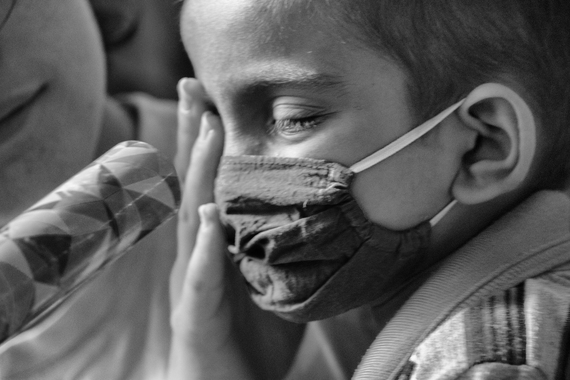 Boy looking through a kaleidoscope.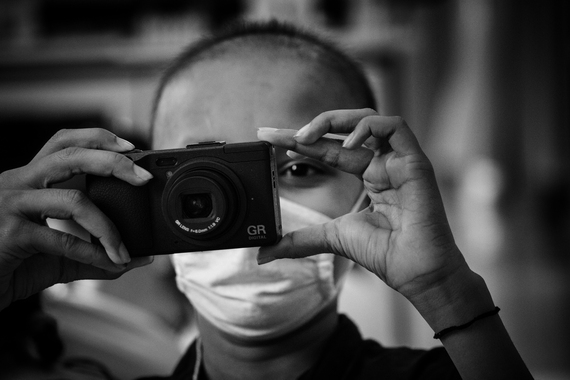 The cousins passed a camera around for the children to use. With a little instruction, they began to enthusiastically snap photos of other children and their Italian guests.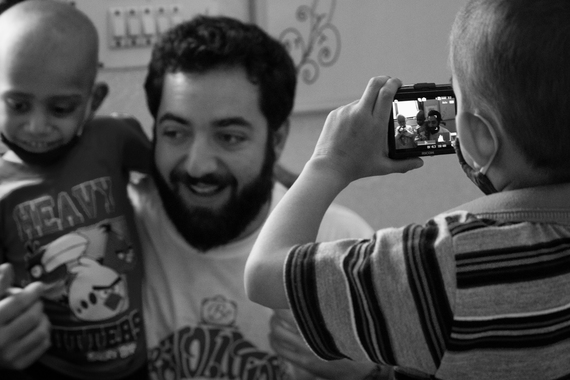 A young photographer lining up his subjects in the viewfinder.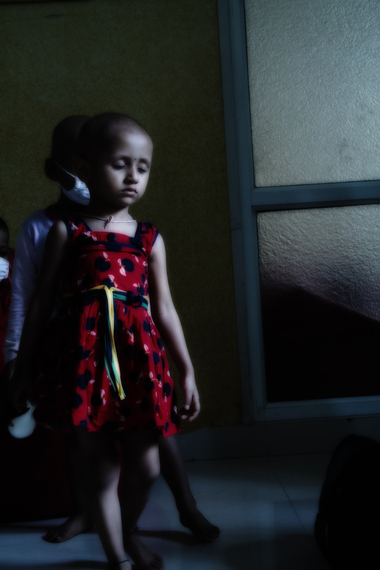 I framed this little girl as she leaned to her left, resulting in a beautifully slanted image of her in the natural light streaming in from the window.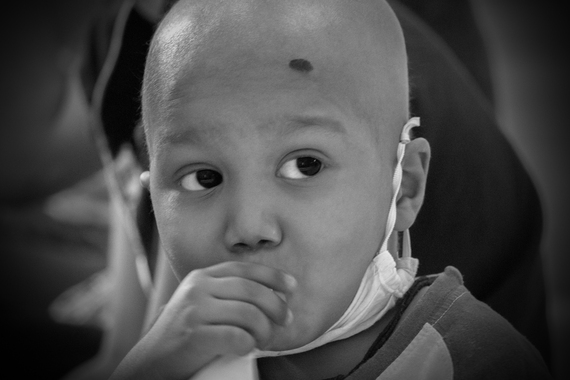 Individual treatment at St. Jude may last as long as two years. The children are not hospitalised during this time.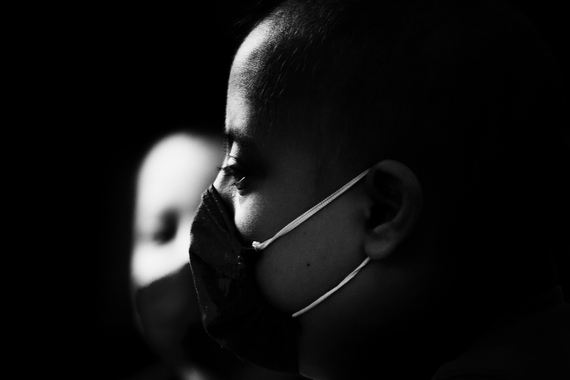 The importance of having clean accommodations cannot be overstated. Children risk secondary infections if they return to their villages or temporary shelters during cancer treatment. The staff at St. Jude care for them until they are cleared for release.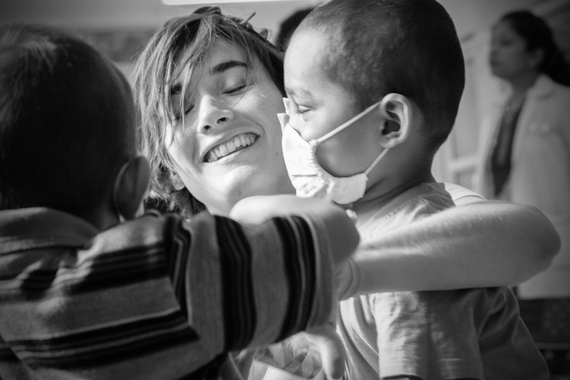 Hugs from an appreciative visitor.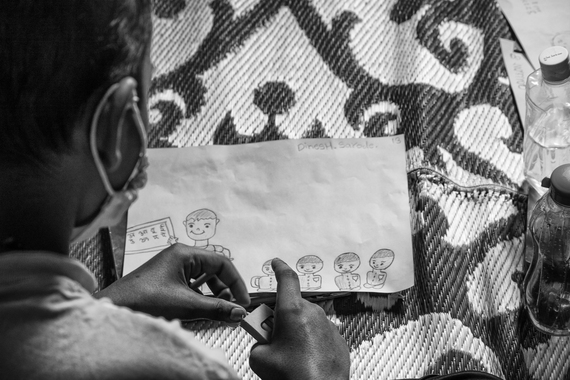 Dinesh Sarode, age 13, drew a picture of a teacher and his students. An integral part of Andrea and Luca's BeRevolution project is asking the children to draw their dreams.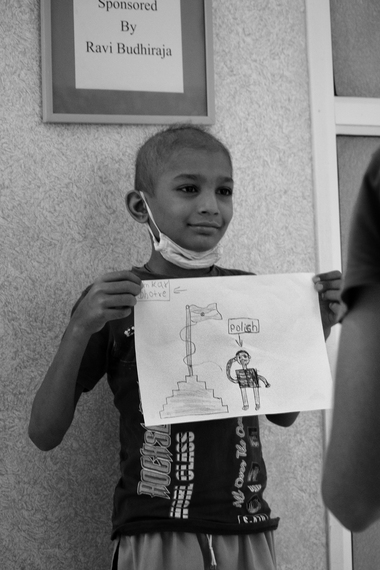 Omkar Dhotre, age 11, drew a picture of a policeman and the Indian flag. His dream will be uploaded to Andrea and Luca's website where it will be shared along with all the children's dreams recorded on their journey to Japan.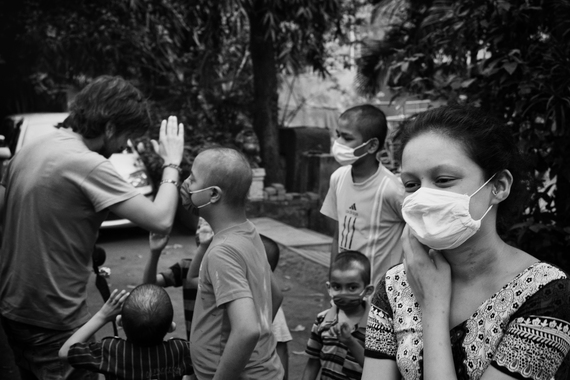 Andrea giving high fives to the boys in the parking lot outside of St. Jude Childcare Centre.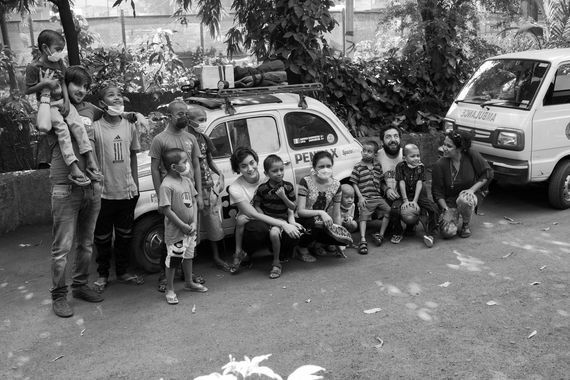 Group shot as Andrea and Luca wrap up their visit at St. Jude.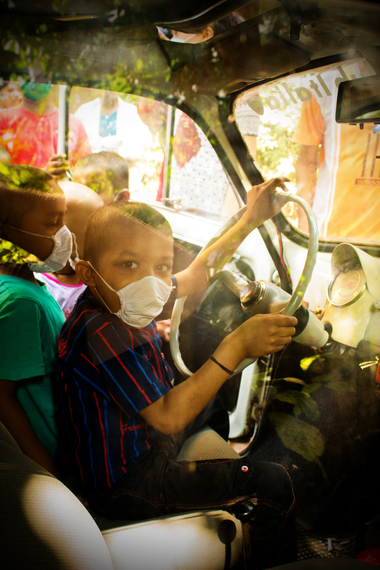 In the driver's seat. Boys getting a taste of what it's like to be behind the wheel of a classic Fiat 500.
To learn more about Mumbai's St. Jude Childcare Centre or to make a donation, visit www.stjudechild.org.
Follow Andrea and Luca on their journey from Italy to Japan at berevolution.it/en.
To see more photos of my visit to St. Jude, go here.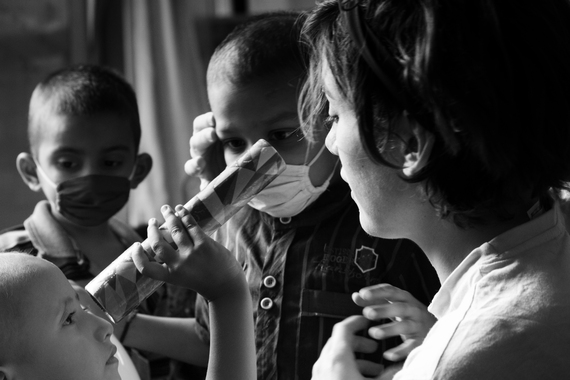 Like Us On Facebook |

Follow Us On Twitter |

Contact HuffPost India

Also see on HuffPost: