Craig Boehman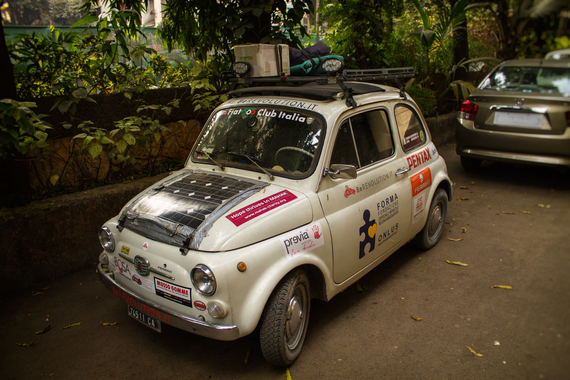 1965 Fiat 500. St. Jude Childcare Centre, Mumbai
Out of such a small car, one would expect a band of clowns to file out, one-by-one, like a comedy sketch from the yesteryear of cinema. The Fiat 500 inspires such thoughts. An antique in its own right, the 500 series was once cherished as one of the primary modes of transportation by everyday Italians. These days, it's considered a 'classic', and is sought after by collectors and automotive sentimentalists alike. Or in Andrea and Luca Bonventre's peculiar but spectacular case, it accommodates transcontinental voyagers on an epic road trip from Italy to Japan.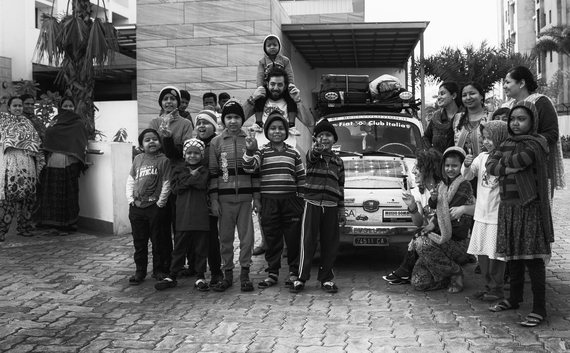 Group shot (minus Andrea) at St. Jude Childcare Centre, Kolkata
I wrote about the intrepid Italian cousins last year when I first met them in Mumbai's St. Jude Childcare Centre. Their initial idea for their pending adventure was whimsically based on the question, "How far can we drive the 1964 Fiat 500 before it conks out?"
But like any well-planned adventure, especially when the reality of financing entered the picture, their strategy and goals changed based on the logistics of their long and difficult undertaking.
Was adventure alone worthy enough of this once-in-a-lifetime experience? Was their dream of driving thousands of kilometres -- like a modern-day band of Marco Polos -- to be theirs alone, one recounted by pics, vids, and selfies, as our world of social media dictates, faithfully cataloguing the food eaten, people encountered, obstacles overcome? Instead, Andrea and Luca went the extra mile, so to speak, and decided to lend support to FORMA Onlus, a Torino children's organization focused on making the hospital environment where they're headquartered suitable to the needs of the children undergoing medical treatment. Additionally, Andrea and Luca would set out to visit contacts they were given of other children organizations along the way. In these visits, they would have the children draw their dreams. These drawings would then uploaded to their BeRevolution website to be shared with the world.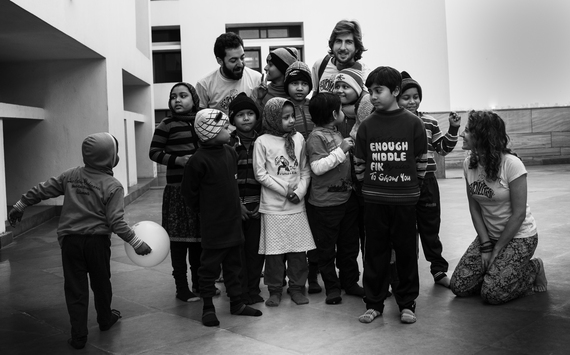 Group shot at St. Jude's in Kolkata
This story really deserves to be told twice, once from the perspective of the Italians and their epic journey, and the other narrative focused on the children and the staff of St. Jude India, where I visited on their stops in Mumbai and Kolkata. I'll let Andrea and Luca continue to tell their stories, and you can track their progress from their website and Facebook page too. As of this writing, they're smack-dab in the middle of Myanmar after completing the India leg of their journey a few weeks back. They've still got a long way to go to reach Tokyo, several months in their estimation. Andrea has been capturing many amazing moments on his Canon, and Luca's mechanical expertise has been keeping the car running over unfriendly small-call terrains Fiat 500 engineers would have likely not recommended for their drivers.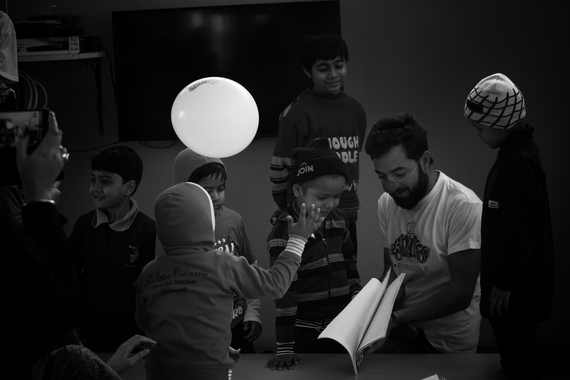 Luca entertaining with magic book
St. Jude Childcare Centre, Kolkata
The children were industriously drawing when we arrived. They were concentrating with more determination than I thought possible for a group of roughly a dozen young ones ranging from ages five and six up to 10 or so. They were almost too quiet. But that was about to change when Andrea and Luca took over the watch for a couple hours. The planned activities included balloons, magic, camera time, and ended with the children putting their dreams on paper.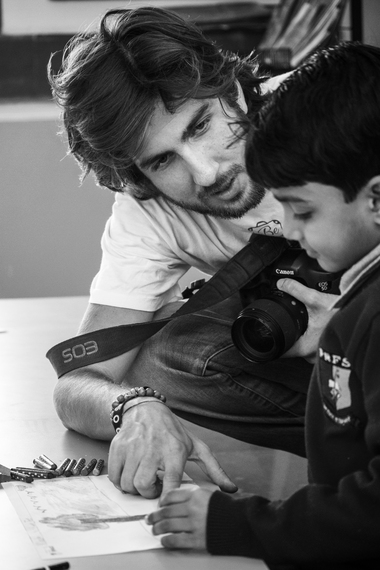 Andrea asking about a boy's drawing
Staff from Kolkata St. Jude's informed us that many of the children's parents sold off their livelihoods and land just to make the journey from the hinterlands and small villages of rural India to one of the St .Jude locations in order for their children to receive cancer treatment in a safe and sterile environment. They could have never received treatment otherwise as the sanitary conditions of where the children came from put their immune systems at risk of secondary infection, a potentially life-threatening scenario.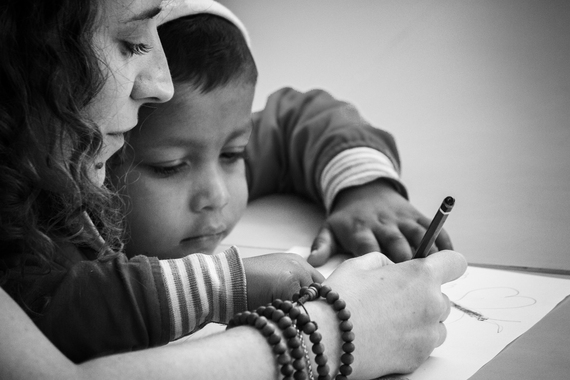 Luca's girlfriend, Luisa, joined in the adventure for a large part of the Indian leg of the trip
The most popular dreams shared by children tended to be that of becoming engineers or teachers. But doctors and policemen were also popular.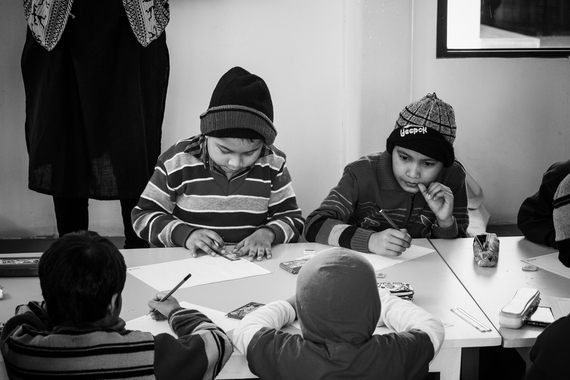 Drawing their dreams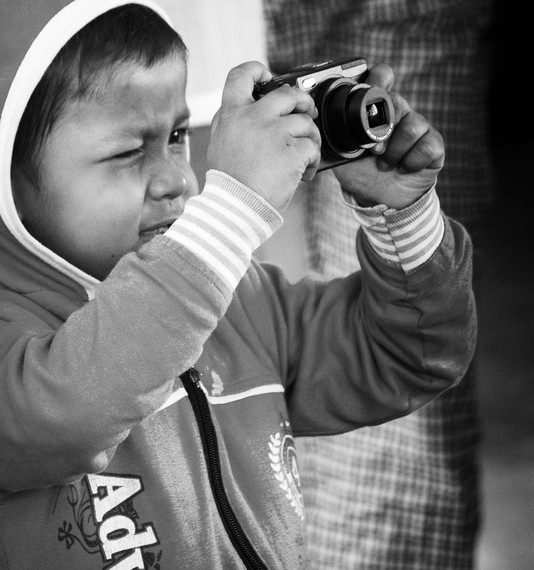 A young photographer takes his first shots
When the kids got the chance to play with a camera, one could sense a profound change coming over them. Some of the children took it very seriously (above) while others enjoyed the spontaneity and the opportunity to snap their friends.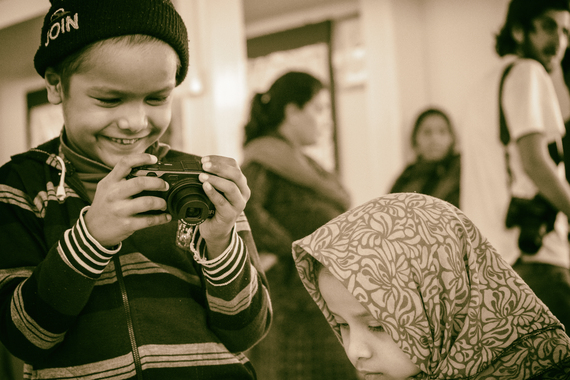 Checking his shot
In my next visit to St. Jude's in Mumbai, I hope to teach a photography workshop in order to give the children a chance to use a camera as a way to explore their creativity. I will share those pictures with you later this year. Until then, please enjoy some of the portraits I took at the St. Jude Kolkata centre. I hope these pictures will inspire others to visit the St. Jude locations in India and share their expertise, life experiences and time with some very wonderful and deserving kids.
Portraits of the Children of St. Jude Kolkata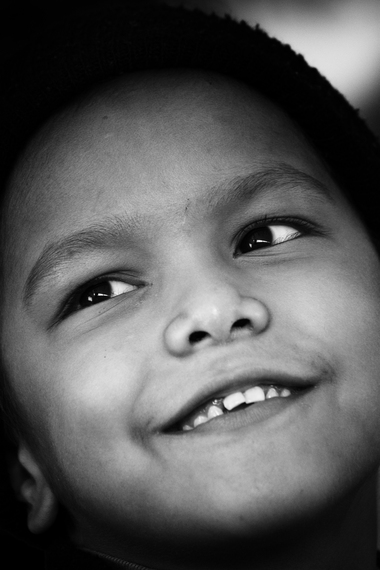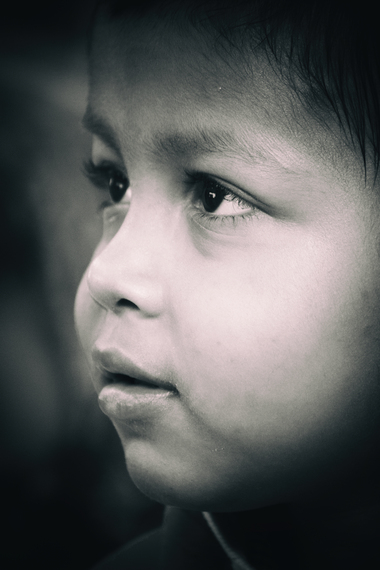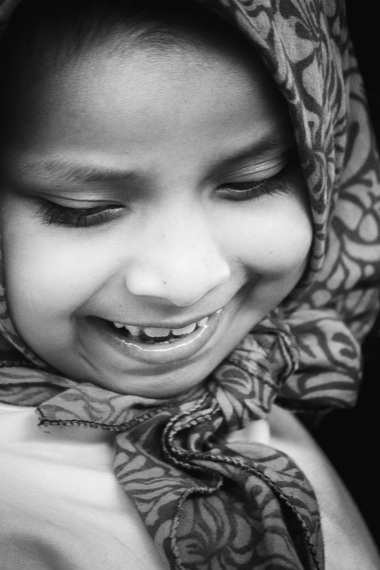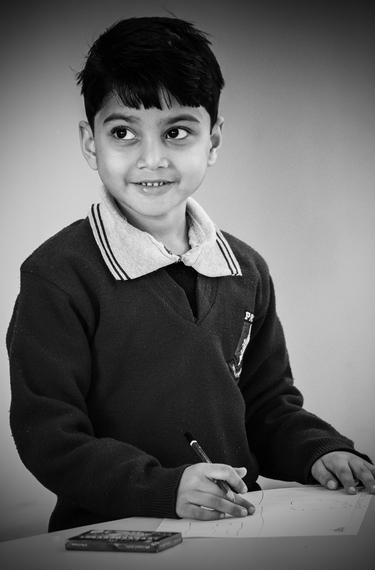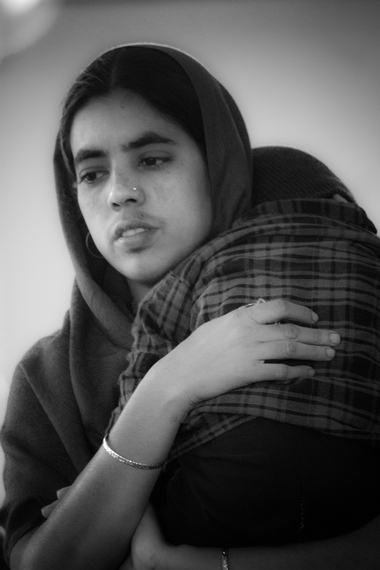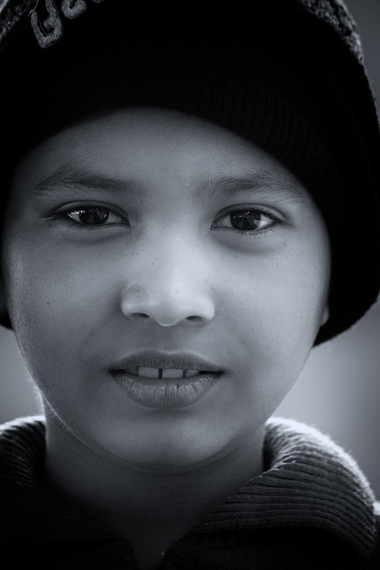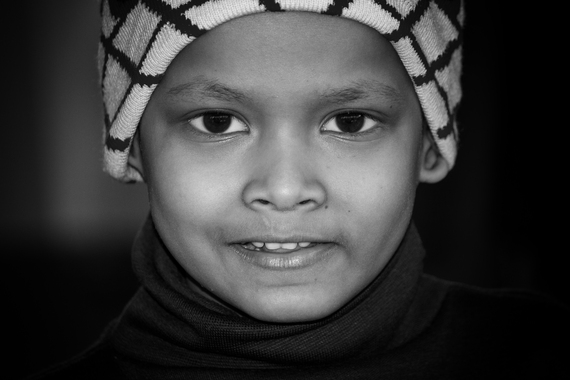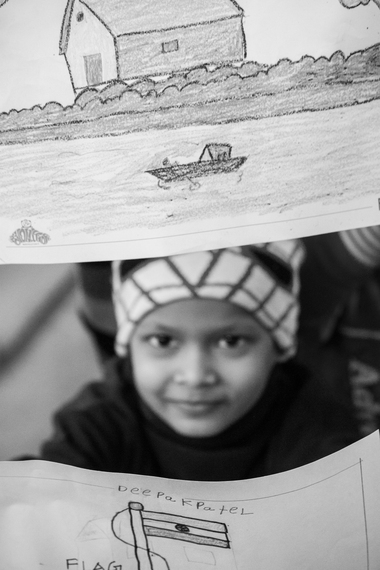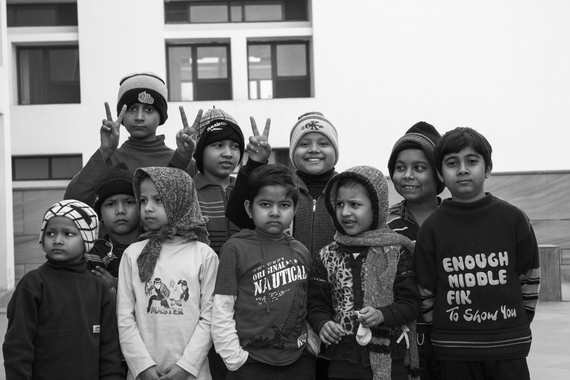 All images by Craig Boehman
Visit my website for more photography at Streettog.org
Or follow me on Facebook & Twitter
Like Us On Facebook |

Follow Us On Twitter |

Contact HuffPost India

Also see on HuffPost: