Facebook page of author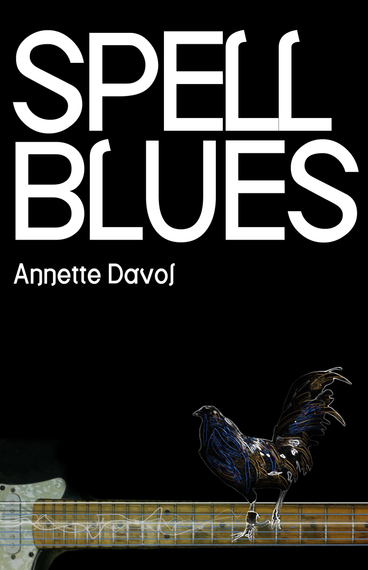 Annette Davol's debut novel Spell Blues was released in hardback in the autumn of 2015. She is also at work on a nonfiction tribute to William S Burroughs, in collaboration with the Ginsberg Library and Louisiana saxophonist/photographer Richard "Dickie" Landry, as well as the prequel to Spell Blues, and feature film projects of her books.
About Spell Blues
Piratical guitar ace Nicky Tree has the shadow of a big double X looming on his back. His swamp blues mentor Court Barrineau just died for the second time, friends are dropping like flies, a hurricane's brewing, and he can't shake an underage stripper known as Angel Love out of his hair or his bed. Finding C.B.'s hexed guitar might quell the storm and give Nicky's band a hit record, but to make it happen, he's got to kidnap vintage swamp rock on an electric highway across South Louisiana and cook up a Spell Blues.
***
Why did you write Spell Blues?
Around 2005, I had an idea to write something about the Angel of Death and a dancer. I'd been investigating various spiritual paths of mysticism and all of these paths teach different theories of reincarnation and karma and what the afterlife is like. These theories could get pretty bizarre, which fascinated me. I was also travelling to Louisiana a lot during this time. The place, the people, and the music moved me, changed me, and I wanted to write about that too.
I've heard it said that people don't really like allegory. That comment challenged me to create a raw, contemporary, comedic fable that would engage the reader...
In addition, I had a deep desire to write an entertaining piece of literary fiction that would cross genres and play with conventions: the convention of the mystery novel, the convention of the musical, the convention of Southern Gothic, etc. And I wanted to do all this while keeping the setting, the emotional reality of the characters, the music and the magic, grounded and evocative. I've heard it said that people don't really like allegory. That comment challenged me to create a raw, contemporary, comedic fable that would engage the reader while they are being entertained. Since the scope of the project was so stretched out and wild, Spell Blues gave me a platform to write about a lot of things I've always wanted to write about. This includes one of my passions -- music and sound. I ended up creating the Louisiana music mythology that I wanted to hear, which included a new aesthetic for commercial mystery fiction, as well as an anthem, a "spell blues" for world harmony. Sure I had something I wanted to say, something to get across, but I really think I wrote Spell Blues to see if a novel could break the sound barrier.
You had mentioned to me just after I'd finished reading Spell Blues, that you wrote one draft of the story from Sky's perspective. That's a huge rewrite. What was the importance of seeing the story through Nick's eyes?
A gargantuan rewrite.
Nicky Tree is an outsider, a transplant from Texas to Louisiana. Seeing the story through Nicky's pragmatic eyes, the reader can better experience how Louisiana changes him, and they can better experience the mystery. If I had stuck with Sky's POV, I'd be giving too much of the mystery away. From start to finish, Nicky is running around on little sleep, too much caffeine and alcohol, too much everything, driving all over the state of Louisiana, scavenging and mystery busting, in various classic cars, none of which he actually owns. The psychedelic whirlwind of Nicky's life with its barrage of clues enhances the mystery and the fun. His lexicon bumps it all up to the "Dixie 45 power" as Nicky would say. Nicky has a sharp intellect, a caustic wit, a high learning curve, and a natural degree of sensory perception foiled by suspicion. Most importantly, he is flawed and he is relentless about pursuing what moves him. When I switched POVs, I saw at once how unusual and compelling a down-and-out guitarist-turned-detective would be. I also saw that I was fully in my strength writing from Nicky's perspective. His voice gave me tremendous freedom.
Nick and several characters appear to live lives informed and inspired by music alone. Talk about the music and lyrics referenced in Spell Blues
Music is definitely the "Holy, Holy, Holy!" of the book. Nicky and his band mates never "felt holiness" until they heard C.B. play and C.B. himself maintains that "people need the music in these crazy fucking times." Spell Blues is about that "need." It is a musical-mystery set in Louisiana and the fictional music mythology that I created coexists right alongside the genuine article. The reader can have some fun distinguishing between the fictional songs and musicians and the real deal. The book is populated with some of the best Louisiana musicians, bands and producers -- both past and present -- and many of the great songs they composed. Dancing cheek to cheek with this real music history, are the fictional albums and songs which I created especially for the characters of C.B. and his band the Elite Warriors, and for Nicky Tree and his band Angels des Marais.
I really think I wrote Spell Blues to see if a novel could break the sound barrier.
I didn't consider myself to be a lyricist; I wrote the first song lyric in the book just to get myself out of a narrative problem I had early on! That was "Whitetail Blues." But it worked so well and I enjoyed it so much, that I kept incorporating songs into the book to support the characters and their musical world. At that point, Spell Blues became a rocket and its unique music mythology became my fuel. There were days when the fictional music became so real to me, I had to stop myself from picking up an AdM or Elite Warrior CD that wasn't on the shelf.
Michael Juan Nunez is doing the narration for your audio book. How did you two meet, and what does he bring to the character of Nicky Tree apart from the accent?
I met Juan via mutual friends at the Battle of New Orleans gig at Tipitina's in 2010 or 11. He's a stand up guy and one of the most generous artists I know. He makes a couple of semi-occult appearances in the book -- which I won't spoil -- and his black Strat graces the cover.
Juan will bring something special to the audio book narration not just because he is a guitar player from Louisiana, but because he is genuine and gives everything he's got every moment that he's doing it. Like the character of Nicky Tree, he lives that life every day and is driven to pursue what moves him. Like Nicky, his guitar work moans the past while pounding us into the future. Although they are completely different people, Juan's heart and creativity mirrors Nicky's. The motor behind his raw, passionate musical exploits and the experience behind his evocative voice that we hear in the preview is what's special. It's not a New York actor reading the book into a microphone. It's a real musician telling us the story. I wouldn't be a bit surprised if this project brings the level of what an audio book can be up a few big notches.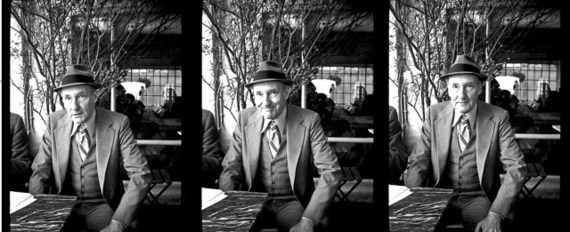 "One Smile" ©Richard Landry
Talk about William S. Burroughs and your past association with him. Has he influenced your writing? And who else out there (if anyone) have served as literary guides or inspiration for Spell Blues?
Two of my biggest inspirers are Isadora Duncan and William Burroughs. Duncan was a total and revolutionary visionary artist. Despite her being consistently hijacked in a multitude of art forms (even in her own lifetime), I see her work and impact remaining largely underrated and unfathomed.
Specifically for Spell Blues, the flawless structuring and comedic timing of playwriting team Kaufman and Hart, and the treatment of mystery/detective elements by Dorothy L. Sayers and Gladys Mitchell, were big influences.
[William Burroughs] taught me about sacrifice, about what it really takes to be a writer, about navigating the playground of a total open house aesthetic...
Burroughs I came to read when I was 19 or so and I was dazzled. At the time he struck me as an absolute maverick. He was operating out there completely on the edge of everything known, traversing and trampling, as Nicky says, "all time and space and so-called 'proper' sensibilities." After I'd written my first play, we met at a week-long writer's conference in Boulder. By then I was 22 and he was 71. We sat close to each other. Bill couldn't hear everything, so I relayed Q&A. I was taping and captured hilarious moments between him, Allen [Ginsberg] and Gregory [Corso]. Even funnier, were Bill's reactions to the lame questions people asked him. I don't read "William" anymore and haven't read him in years. I don't need to because I digested his work so thoroughly and my appetite for his brand of subject matter was of a particular time. Now he comes to me only in dreams.
Yes, he was a huge influence on my work. Daddy Bill taught me about sacrifice, about what it really takes to be a writer, about navigating the playground of a total open house aesthetic, and about sharp narrative skill. He could cover so much ground, so much physical plot action within one sentence -- one small phrase from Bill could ping-pong you from event to event or catapult you through space and time. He showed me that creativity is consciousness in action. He was a prime example of that, and any artist -- whether they're into Burroughs or not -- can learn from it. He also gave me the best advice I have ever received about writing -- paraphrasing Sinclair Lewis on this point, which he liked to do. "If you've written something and you are dying to show it to someone -- you just can't wait for someone to read it -- tear it up." That helped me trust the natural reticence I have about my work. It's my secret lover that I don't want to share right away. I know when I feel that, the work is on level and to keep going.
[My work is] my secret lover that I don't want to share right away. I know when I feel that, the work is on level and to keep going.
Do you have anything you'd like to add?
Everything I wanted to relate, at present, is in Spell Blues. The sequel, Witch's Tea (which is really part prequel), if and when written, will take the story farther out and further up! Response so far shows that readers immediately feel the visual/cinematic and musical pulse of the book; artists are inspired to extend the creativity. Andria Mikkola and I are planning an art exhibition and book signing featuring paintings from Spell Blues by Vardo Rey. I love collaborating with other artists, so that's a wonderful thing. The beat is that Spell Blues should be made into a feature film. That's been my vision from the start. I believe the right talent, the right people for this project will come together and it will happen.
Given the state of our planet, it's time for C.B's "Spell Blues" to be heard.
***
About Annette Davol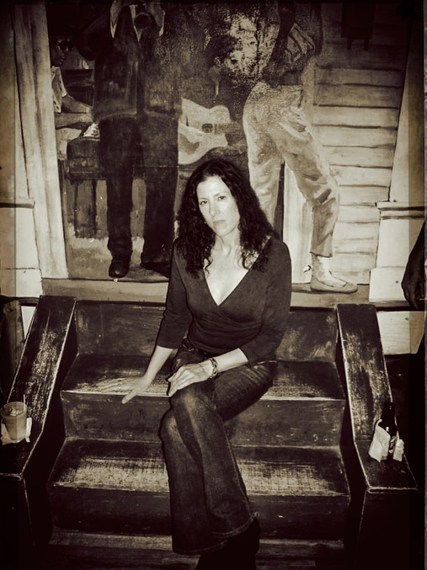 Annette Davol. Original photo by Patty McGehee.
Originally from America's Midwest, Davol obtained her BA in Theatre Arts from the University of the Incarnate Word in San Antonio, an Honors BFA in Film & Video from York University in Toronto, and an MA in English from the University of Texas at Tyler. She studied and trained with Irish theatrical luminaries Ronald Ibbs and Maureen Halligan, as well as film men Michael Jacot, David Roebuck, Antonin Lhotsky, and R. Bruce Elder. While exploring North America and Europe, Davol wrote and directed indie stage plays and films, investigated idiomatic music, natural sound phenomenon and a plethora of cultures and belief systems, hung out with Beat writers William S. Burroughs, Allen Ginsberg, and Gregory Corso, and worked at various times as a model, actress, and dancer. To date, Davol's best known works include the multi-media theatrical production The Room, which she adapted from the short story by Jean-Paul Sartre, and the Canadian cult art-film On Stage, filmed on location at the Samuel Beckett Theatre in Toronto.
Visit Annette Davol's website to order Spell Blues.