Pondicherry (or Puducherry) is the perfect weekend getaway from Chennai, clocking in at a three-hour drive from the South Indian city. And it's lined with pleasant prospects: a drive down the East Coast Road offers glimpses of the Bay of Bengal, strips of pine forests and wooded villages, and even a small stretch of salt pans bleached white in the summer.
The small Indo-European city in itself is a cross-cultural melange of the traditional and cosmopolitan, nature and luxury, revelry and spirituality. It's a great place for writers (or indeed, anyone) to slow down and think, instead of getting caught up in the frenzy of consuming information at the rate of several sights per day. So what can you do after you've basked in the tropical beach rays? There are plenty of wonderful lesser known places you can discover.
Drift into the right café... And you stand a good chance of coming away with thoughts and words that will stick.
And you don't need plump pockets to take a perspective-changing bike ride down Ville Blanche (White Town) and Ville Noir (Black Town) lined with French colonial and old-style Tamil houses. A little known fact: Pondicherry was divided into two racially segregated sections by the Dutch who controlled it for about five years in the late 1600s, even though it was the French who occupied it for more than two centuries.
But most of all, Pondicherry has an art-steeped culture. People reading or writing in public are often regarded as a part of the scene and left blissfully alone. So if you're in a mellow mood, you can also settle down for hours in one of its charming cafes, book in hand. And remember, early mornings and evenings are the best times to stay outdoors in the summer.
In that vein, here are five courtyard cafes that are perfect to push pause and unwind for your next trip.
Domus
When:10am to 6.30pm (open all days)
Picture this. An ochre facade with a white door opens invitingly into the cool recesses of a colonial French house. The passageway is lined with rooms that have been converted into a boutique—not uncommon in the French Quarters of White Town where food and commerce go hand in hand. The collections on sale have been curated from all over India by French proprietor and interior designer Claude Dalmais.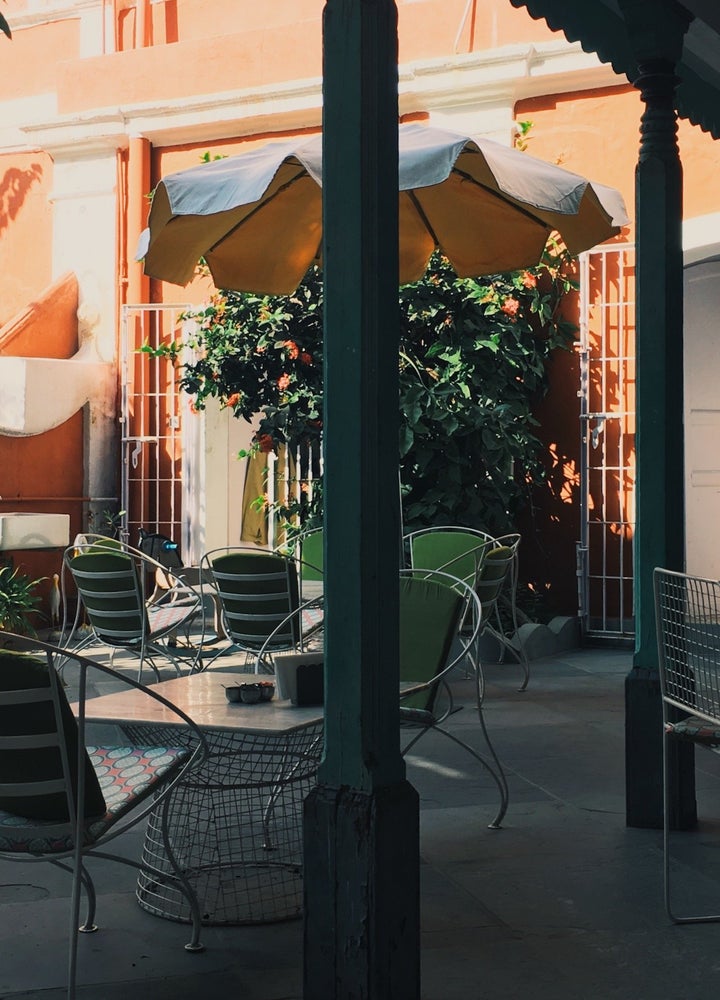 The hallway ends in an open courtyard at the back where white, wrought iron tables and chairs with green cushions are arranged under a mango tree. The fare is healthy and organic; the iced tea excellent when it gets humid. We also found the service friendly.
Domus (Latin for house) is the quintessential, quaint courtyard cafe. An inner sanctum of colour and calm. A blend of vintage and contemporary. If you're of a romantic bent of mind, it is a lovely place to stretch your legs and simply be.
Artika Café Gallery
Where: 1, Labourdonnais Street
When: 8.30am to 7pm (closed on Wednesdays)
A sign on the side of the road, planted in a bed of crotons says, "Artika Café Gallery | food. fashion. art."
Step through the door next to the sign and you'll find yourself in a walkway covered by a canopy of trees, leading to an open courtyard. The whitewashed walls are covered with graffiti and art. Artika also has a fashion boutique, Indigenous Industries.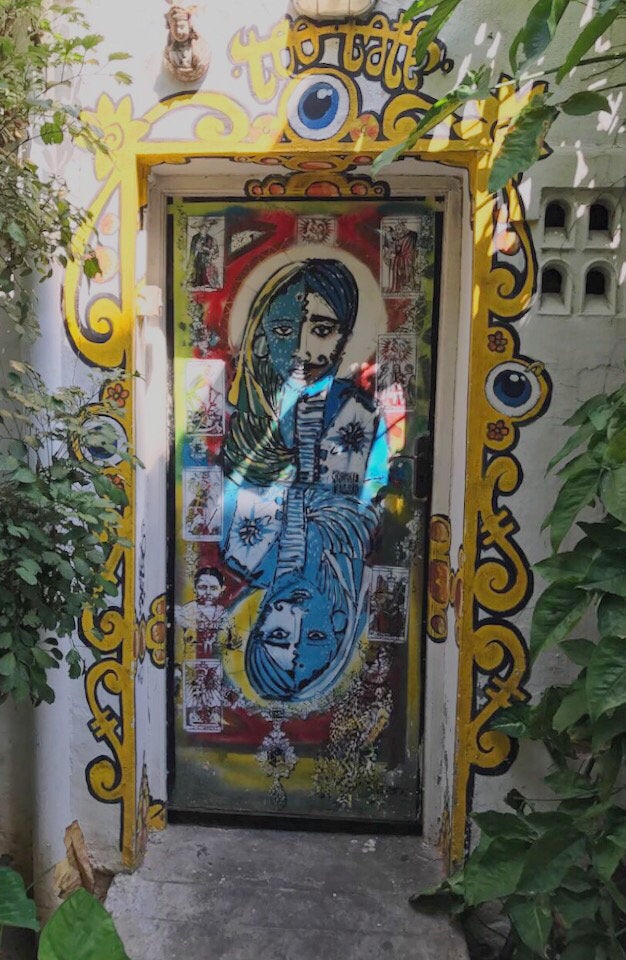 The art on the walls is a combination of bold colours and monochrome, realism and abstract. A green-eyed, red-nosed tiger in shades of grey dispassionately surveys the scene. A door is painted with a playing card-like mirror image, half man and half woman, in bright shades of red, blue and yellow. It's an eclectic collection of imagery, reflecting the culture-tinted, bohemian spirit of the cafe.
Altogether, Artika Café Gallery has an attractive worn-at-the-edges appeal, exuding verdant comfort. Perfect for whiling away a couple of hours in peace and plenty.
Promenade
Where: 23, Goubert Avenue
When: 11am to 11pm (restaurant is open all day)
Hidesign's Promenade is one of Pondicherry's better known sea-facing hotels. Its restaurant is open 24 hours, but you can also order from the bar in the courtyard porch till 11pm. It offers a pleasant outdoor ambience and two wonderful views.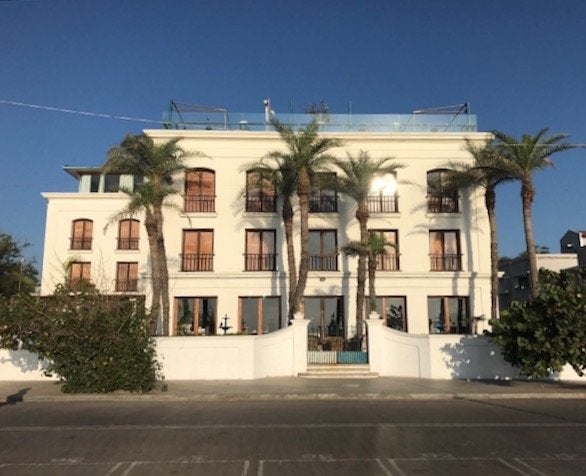 The first is the bustle of the beach promenade contrasting with the still calm of the ocean. You'll find diverse groups of people there on any given day, both locals and foreigners. And several scenes will unfold if you spend a placid hour surveying the goings-on. As an added incentive, vehicles are barred from the beach from 5.30pm till early morning which keeps the sights and sounds down to the natural and human.
The second is the old lighthouse on Goubert Avenue, built around 1836. Although it's no longer open to visitors, the 29m tall piece of history lends an air of idyllic fancy and old-world charm to the experience, also acting as a foil to the nouveau settings of the boutique hotel.
For me, visiting Promenade has become somewhat of a ritual through the years and no trip feels complete without it. The courtyard seating area is open to the salty sea air, and is best enjoyed during the milder times of the day.
Café Des Arts
Where: 10, Suffren Street
When: 8.30am to 7pm (Closed on Tuesdays)
Another lovely French house renovated to create a cafe, this one is more direct about its intentions towards the bookish: it has a small library. The cafe mixes old colonial style with desi kitsch. While the colours, the architecture and the wooden furniture are all reminiscent of its French origins, the vibrant cycle rickshaw on the lawn, the pop-culture pictures and the two shops within, Nirvana and Cottonwood, are all Bollywood and India.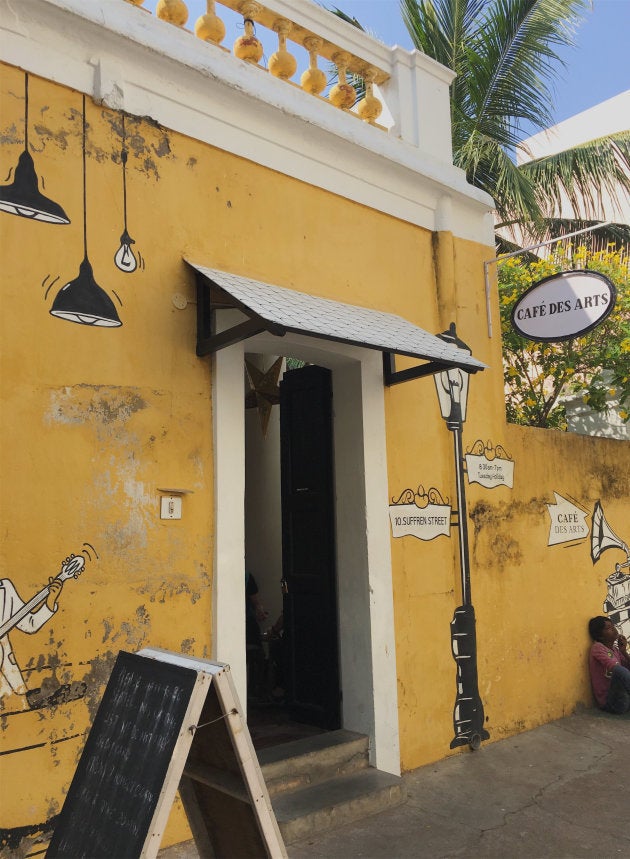 The only downside is that it gets rather busy at times. We weren't able to get seats when we visited around lunch, so prepare yourself for a wait if it's tea or meal time.
The yellow walls of the garden sport flying elephants, monkeys on bicycles and musicians in teacups. As you enter, you'll take a small path leading to a colonial house flanked by white pillars. The food is French — from croques to crepes to tartines — and there are the usual teas, coffees and milkshakes to sip as you ponder.
Café Des Arts is pleasant, cosy, inviting and quirky. Go for the decor and architecture to get that uniquely Pondicherry feeling of straddling two worlds, stay for the books and food.
Café Carte Blanche
Where: 17, Rue Romain Rolland
When: 7:30—10:30am, noon—3pm, 7—9:30pm
A part of the faithfully colonial Hotel De L'Orient, Carte Blanche is an outdoor cafe set in the central courtyard of the hotel. One of my all-time favourites, it has a soothing green and white, well-ordered atmosphere with old, framed maps on the walls. It offers both the intimate sophistication of candle-lit dinners, and calm breakfasts and tea.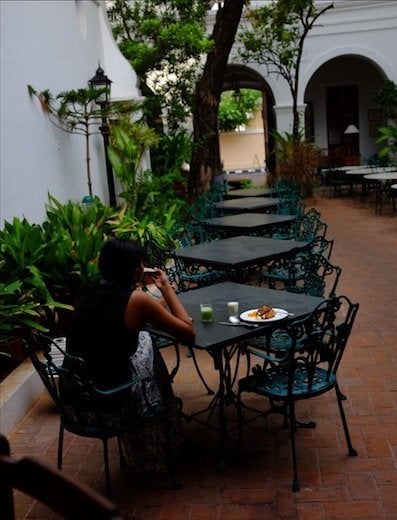 Unlike the other cafes, Carte Blanche is more cut off from the world and will take you back a few decades or even a few centuries, depending on what you're looking at within its walls. It's a heritage hotel dating back to the 1760s and specialises in French, Creole and Tamil cuisines. It will fit old souls and history buffs like a glove.
Of course, these aren't the only cafes worth visiting in Pondicherry. There are other gorgeous places (another day, another story), but I chose these five for their distinctive courtyard-style spaces and writer-friendly ambience. All of them are situated at walkable distances from the beach too.
I must also add a mild caveat at this point: I don't believe that any particular place provides better literary results than another. As Booker Prize-winning novelist Richard Flanagan says:
"...the landscape, the wonder, exists in the words you put down on the page. And slowly, and more and more, it's that world that a writer lives in."
But I do believe that a place can put you in a frame of mind that leads you to your inner worlds. Drift into the right cafe when the light is golden, the stomach begins to rumble and the mind insists on blanking out pleasantly. And you stand a good chance of coming away with thoughts and words that will stick.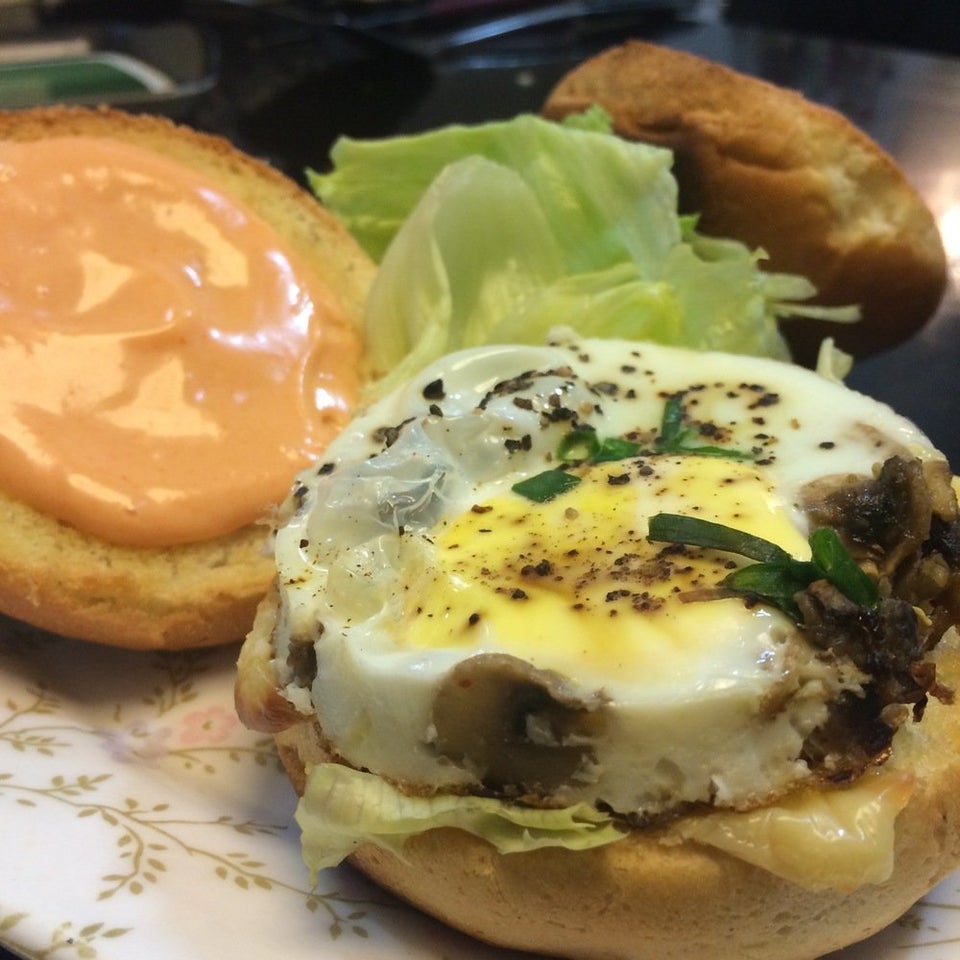 10 Cooking Tips For Indian Bachelors By Saransh Goila