Briann January
Persistence, Resistance and Courage - I have spent most of my life charging towards a distant goal with these three pillars. One would assume that now that I am in the WNBA, I couldn't want anything more. But ask a professional player how he/she feels once his struggles of achieving a place in a professional league feels? They will say it's the best and the worst. The best because you can finally play with your role models, peers and for a team that has already made a niche for itself in the hearts of the fans. The worst because it is tougher than ever before, it is extremely competitive and it is challenging to maintain a level head and be true to yourself with all the overnight fame and popularity. Oh! And let's not forget sustenance. It is literally everything.
[T]here is a huge future for basketball in this country. I believe there is real talent here.
The adrenaline of getting on court with all your fans watching, wishing you do your best every day would beat anything for me in this world. Basketball is not just a physical game. There is so much mental strength you need; the ability to understand your opponent and the spontaneity to think on your feet - everything matters. You could work out all day every day but the real world is out there on the court.
This is a game that has given me so much love and respect that I will be ever grateful for the opportunity. I have travelled to a lot of places around the world to communicate the impact basketball can make in one's life.
So when I was asked if I would be interested in travelling to India, my first thought was that Sim Bhullar and Satnam Singh have really made a mark for the NBA in India and I wondered how much the game has grown. I was excited and eager to know what India would have in store with respect to the talent and how I can influence young minds to continue playing basketball, now that new avenues were opening up with the ACG NBA Jump - a pathway program to give one's best youth the opportunity of a try-out for the NBA Development League.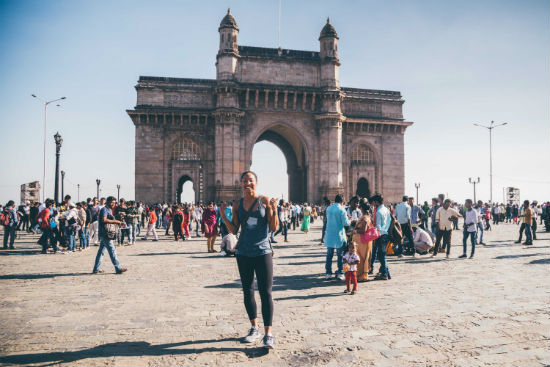 I knew the days in India were going to be full of learning and excitement. The flights were booked, my bags were packed and I was ready. My childlike glee to visit India took flight.
As soon as we landed in Mumbai and got into the car to head to the hotel, I noticed just how much there was going on in this place. There were so many people chatting, so many things taking place simultaneously - it was overwhelming in a great way. I saw restless drivers honking, vendors selling their products everywhere and also that some of the drivers maneuver smartly through the traffic, all rushing somewhere. I already decided that I liked this place and it was like nowhere else I had been before.
[B]asketball is growing and that is seen through the growing participation in the programs conducted by NBA India
While we were checking into the hotel, there was a wedding taking place that totally stunned me. There was live music - artists with drums and horns, people dressed in really colourful clothes dancing up and down, everybody looked really happy. And they were all very warm and inviting.
I only had time to shower and put on clean clothes as we had to head to the ACG NBA Jump happening in Mumbai. The participants were enthusiastic, hardworking and had the ability to listen and execute. They asked me for advice and all I said was that if you love this game, are willing to put in enough work and push yourself through, you will do good! Basketball really has a lot to offer.
I also realised that there is a huge future for basketball in this country. I believe there is real talent here. With the additional push from NBA India, organising the programs like Reliance Foundation Jr. NBA, ACG NBA Jump, to make basketball more popular and get more people involved, the level of basketball will surely improve. I went back to my hotel room satisfied knowing that the game is being well received here and looking forward to having more Indian players in the future playing for the NBA.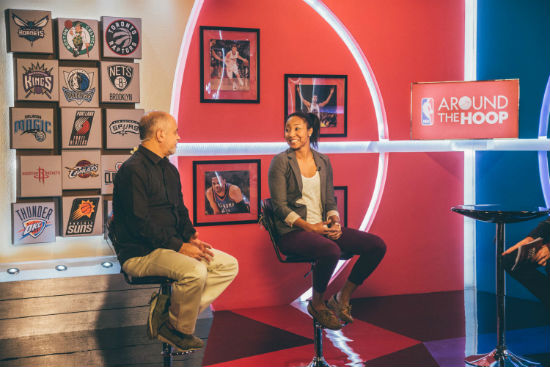 In our free time, we went for a city tour and as I mentioned, it was crowded with happy people. Mumbai is chaotic, but it is also home to many wonderful people and the city of dreams for Indians. Next morning, I was also the special guest on Around the Hoop on Sony SIX where we checked out the highlights of the best games and got talking about basketball. Following that I got ready to visit New Delhi, India's capital.
We first went for the city tour as my participation for Reliance Foundation Jr. NBA - NBA's grassroots program to induce and teach the game of basketball in children at an early age - was scheduled for the next day.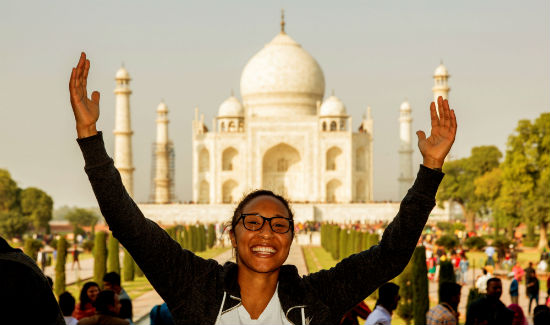 We went to the Taj Mahal, one of the Seven Wonders of the World, and it was absolutely magnificent. People pouring in like waves, that place was buzzing with wide-eyed tourists like me.
Amidst all the touring, I have to mention the lip-smacking food that India has - it is as colourful as its people. I was warned about spices and its repercussions, but I was in India and there was no way I was going to miss out on tasting the food. Turned out I did have the stomach for Indian food, in abundance.
Next day I went to the Jr. NBA program where I showed some tricks and moves to aspiring children and it made me very happy to see how receptive they were. There is a huge talent pool and the NBA is doing a fabulous job in inducing the game. Post the event, there were a couple of media interactions after which I retired for the night.
My closing thoughts from the India visit are that Sim Bhullar and Satnam Singh were hugely impactful for basketball in India; basketball is growing and that is seen through the growing participation in the programs conducted by NBA India and I hope that I was able to inspire or influence some kids who will consider taking the path to becoming the next big player in the NBA.
Namaste, India, until we meet again.
Like Us On Facebook |

Follow Us On Twitter |

Contact HuffPost India

Also see on HuffPost: