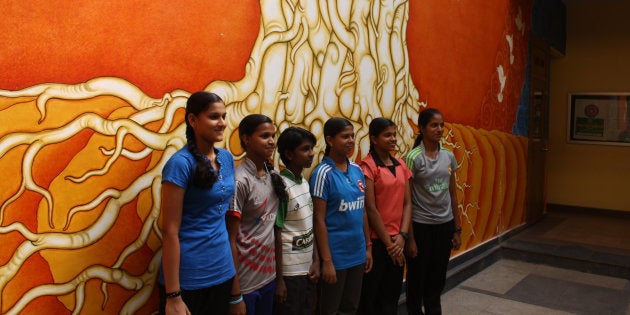 Although this essay has been generally despondent, Kerala, let me assure you, is not in any bad shape. It is not dysfunctional. In fact, it is the one state where systems are in place — no government hospital anywhere in the country works as efficiently as in Kerala. True, the populace is restless and keeps voting out governments, but there are true stories that inspire and stand out as shining examples of how the state has grown rapidly and against all odds.
First is the Government Vocational Higher Secondary School for Girls, Nadakkavu in Kozhikode, which is now the most talked about government school in the country. It is a story of what one MLA's vision can do. And I decided to visit the school to find out for myself.
It was 4 o'clock in the evening on a blazing Malabar afternoon, and the gates of the school were open, even during vacation. In batches of three or four, girls in track suits and backpacks walked past the school gates to the various sports grounds, one hockey AstroTurf ground and one indoor court for volleyball and basketball, to start the evening practise. The coaches were to arrive soon and the girls had started warming up. In one hall on the ground floor, teachers were being lectured by experts on the finer aspects of teaching, in a seminar organized by the IIM, Kozhikode. Most of the children trooping in that day, wearing track suits and a broad smile, were children of fishermen.
Not too long back in Kozhikode, Nadakkavu, situated within the city limits, was infamous. It was used by frustrated parents to threaten students with eternal damnation: 'If you don't improve, you will be sent to Nadakkavu school' was the common threat held out. The school was over hundred years old and for long was wearing the wrinkles of time. Back then, Nadakkavu girls' secondary school was a byname for everything that had gone wrong. The school was the pits and there was no salvation.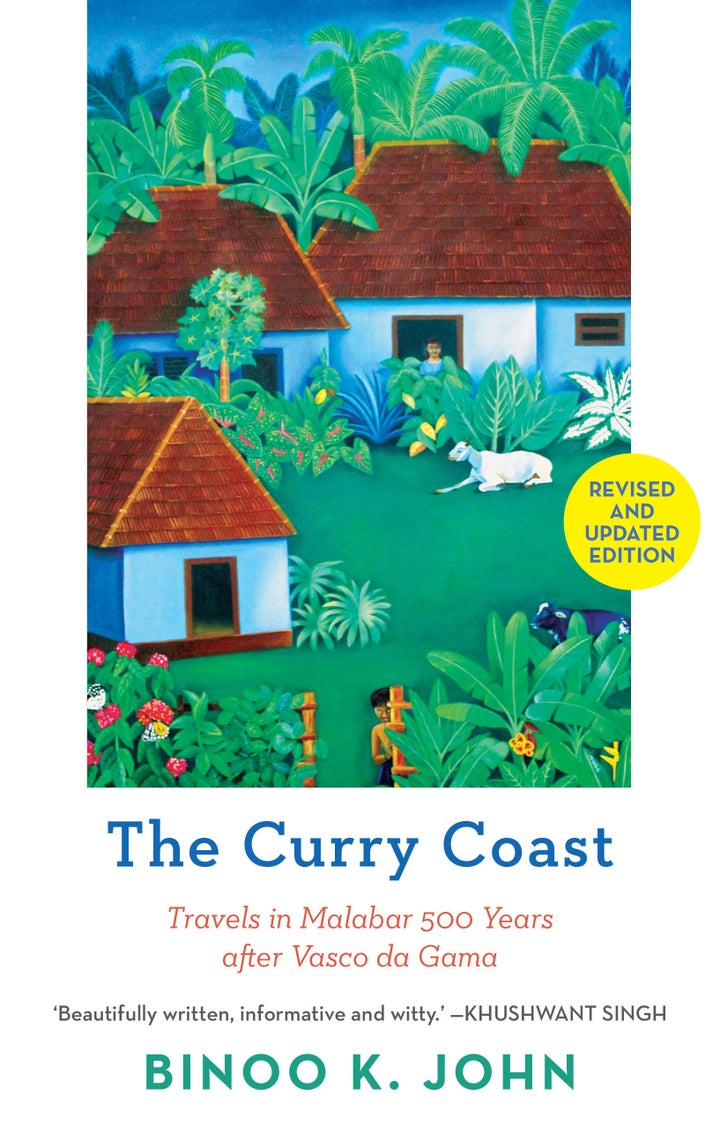 Now it is a paradise for underprivileged children. In a government-backed transformation driven by the local CPM MLA Pradeep Kumar — who has just won another term — Nadakkavu government secondary school has transformed into a symbol of high-tech modern education. It is an example of what sheer will and vision of one man, in this case, Pradeep Kumar, can accomplish against odds, even in government schools.
Today the school is supported by a private-state sector programme called PRISM (Promoting Regional Schools to International Standards through Multiple Intervention). It is funded mostly by the Dubai-based Faizal and Shabana Foundation, which has already poured in Rs 16 crore to upgrade the school infrastructure, enhance the skills of the teachers and help in overall development of the students. State government funding over the last five years has also been around Rs 5 crore. The IIM-Kozhikode is the brain behind conceptualizing various schemes for students and teachers.
Roshan John, who is the coordinator of the PRISM scheme, explained in detail how the scheme works. She has an office in the school and coordinated the government-public sector effort. The scheme is now being extended to other schools including the Model School in Trivandrum.
The second story is of a lady in Kochi, named Rajani, who is the mother of two grown-up sons. She earns a living as a coconut-tree climber, a male bastion until recently, considering the dangers of climbing the tree and also the strength required.
When Rajani climbs a coconut tree sometimes dreadful thoughts cross her mind as she surveys the world around her from atop a 40-foot palm. She tells herself that if at all she slips and falls, she should die and not suffer for a lifetime as a cripple, unable to fight any more battles.
All Rajani can remember is fighting battles and talking on the odds day in and day out after her husband left her and her two sons. Now she is equipped for anything. She has completed a karate course, a computer course, and a fashion designing course. Apart from this, she also has completed a one-week coconut palm climbing course from the government institute which has given her her livelihood: climbing coconut palms with a stepper contraption that helps her with the grip and the climb.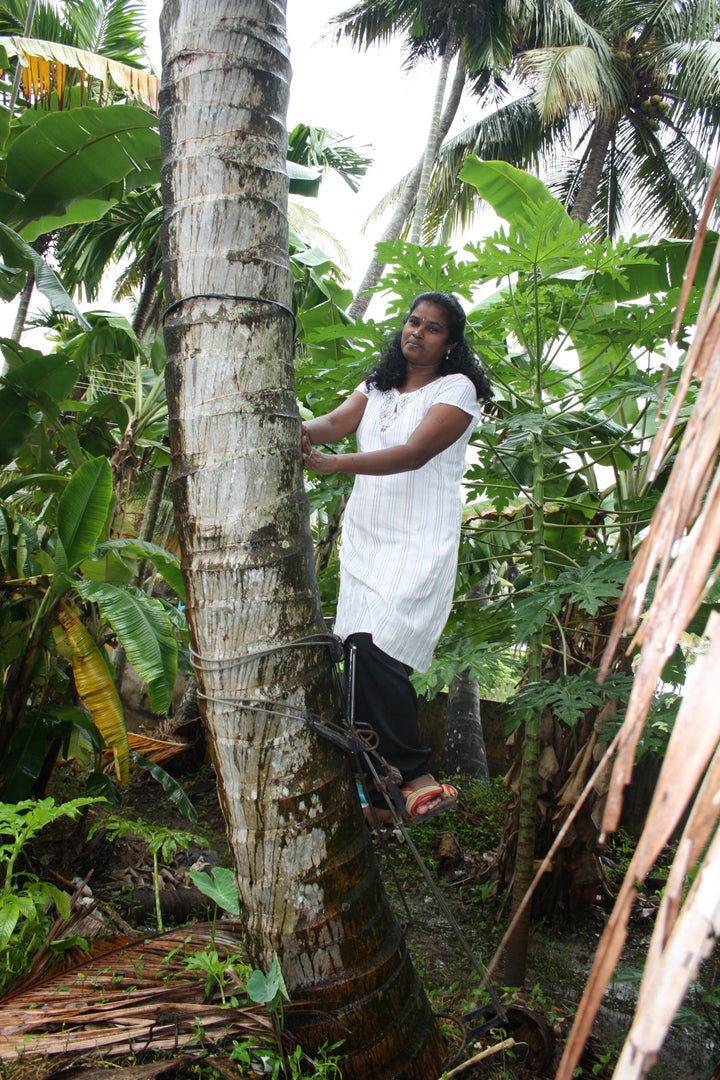 Rajani gets Rs 50 per tree and on a good day climbs over fifty trees, starting from seven in the morning. She is in demand since few traditional male coconut climbers are willing to do the job anymore.
Rajani takes pride in her job and loves the coconut trees dearly: 'When the householder tells me that he is going to cut the palms in his garden due to falling yields and the hassle of getting labourers, I become sad. When I am at the top of the tree I talk to the tree softly. I tell the palm tree that the yield has to increase. In most instances the palm offers more coconuts the next month, forcing the farmer to change his mind. That is how I work.'
That is how Kerala should actually work. There are hundreds of Rajanis trying to make sense and meaning out of their lives. Most of them feel grateful that they are in Kerala, where they can learn anything, do anything and where the possibilities are endless. For all of them Kerala is home, factory and paradise.
(Excerpted from the new introduction to the republished The Curry Coast: Travels in Malabar 500 Years After Vasco da Gama)