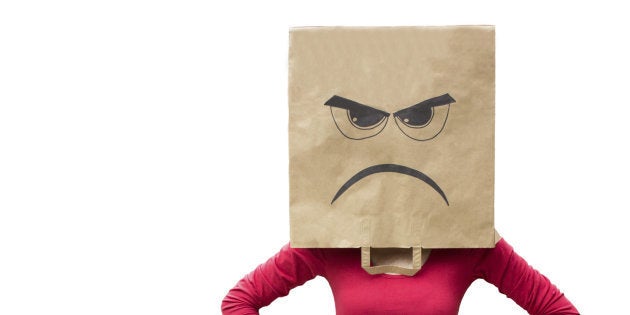 My special friend is allergic to potatoes. As appealing as he finds the taste, his body revolts violently to even a teeny-weeny morsel of the starchy vegetable. I often tease him: "If things ever come to that, you will make the worst part-Odia ever!"
Being Odia, I am used to potatoes being a sizeable part of my daily diet, three times a day. Every bhaja (stir-fried vegetable), tarakari (anything with a gravy base), santula (semi-dry mixed vegetable) or dalma (lentil-based mixed vegetable gravy) contains the spud in generous proportions. Yet, special friend being special friend, we dine in and dine out often, sans potatoes.
Recounting my tale of woe to a colleague in the office cafeteria, I let out in despair, "It's such a shame he can't eat potatoes yaar... back where I come from it's as much a staple as fish curry and rice."
"Dude, I am Odia, not Bong," I said. "Yeah yeah, same difference. Language bhi toh same hi hai."
"Haan," she observed, "tum Bangali log toh festival time me bhi fish khate ho na (Yes, you Bengalis gorge on fish all the time, even on festivals)?"
"Dude, I am Odia, not Bong."
"Yeah yeah, same difference. Language bhi toh same hi hai."
Temporarily disoriented, I recovered fast and started explaining to my disinterested colleague that the oft-interlinked states have a distinctly separate culture, language and cuisine. I tried to elaborate on subtleties such as how Odia is a classical language and Bengali is not; how Odisha is where the rasagulla has its roots and not in Bengal (the matter is still sub-judice as I pen this piece) are lost on her.
In the meantime, two others joined our table with freshly brewed tea. Catching the drift of the conversation, one of them remarked, "Yes but it is the same state na? Udhissa is in Bengal. Or perhaps in the South..."
I forcefully restrained myself from physically assaulting him. The other one, thankfully, said, "No no. Alag hai dono. Barabati stadium is in Udhissa. Arrey, they have those international cricket matches there. Once they had to halt the match as the crowd got out of hand." He looked at me triumphantly, as if possession of this bit of information was the key to unlock Narnia. Deep inside, I was silently thanking the nation's obsession with cricket for this piece of information. Aghast at the motley threesome in front of me, I was suddenly at a loss for words. No my dear post-graduates, I wanted to tell them, the fact that they are separate states is supposed to be an established piece of information. It is a basic geography fact!
Okay. This is not the first time that I've encountered such an unapologetic dearth of knowledge about Odisha. (It is O-D-I-S-H-A by the way, not Udhissa. Seriously, O and U are poles apart!) Some people look so bewildered when I tell them that I originally belong to Cuttack that I genuinely feel sorry for them. They ask, "Accha, woh kaha padta hai (Where is that)?" Some others react as if I said Winterfell, and yet others, fearing my wrath, retort behind my back, "Bengal's poor cousin!" So, yes, suffice it to say that I have serious reservations about the literacy rate projected in the 2011 Census.
Sample conversation 1
"So what is Odisha known for?"
To those who seem more closely acquainted with geography and general knowledge, I expound on the ancient Buddhist relics scattered across the state, the Sun Temple at Konark, the pristine beaches along the coast, the humungous Hirakud Dam, the ancient Jagannath Temple in Puri, the migratory birds at the Chilika Lake (one of the biggest coastal lagoons in the world), the Odissi dance, the dolphins at Satpada, the Olive Ridley turtles, the unbridled natural beauty, the delicious mutton and fish preparations, the variety of sweets, the many, Many, MANY architecturally relevant temples in Bhubaneswar and near-about...
"Oh ok, nice! Hey, don't you people eat a lot of rice?"
Sample Conversation 2
(Casual banter with new people.)
"No, it's Bidisha, with a B. B for Bombay."
"Oh ok. Bangali then! Babu Moshai, mishti khabo!" Raucous laughter ensues.
Sample Conversation 3
(Casual banter with Bengali people.)
"Accha, Satpathy? Tumi Odia then (You must be Odia)."
(In Bengali) "Bishon cyclone hoche Odisha te, newspaper ae podlam (I read about the cyclone ravaging Odisha)."
"Why are you talking in Bengali?"
"Oh ok, I figured you know Bengali. Aren't Odia people taught Bengali?"
Sample Conversation 4
"So, I told so-and-so the first time we saw you jogging here that you are Bengali for sure. You have those wide Bengali eyes." She nudges so-and-so and both of them smile at me approvingly, nodding in unison.
I glare at them, my pupils dilated.
"Dekh dekh dekh," she says to so-and-so, pointing at me. "I told you na. Look at her Bengali eyes!"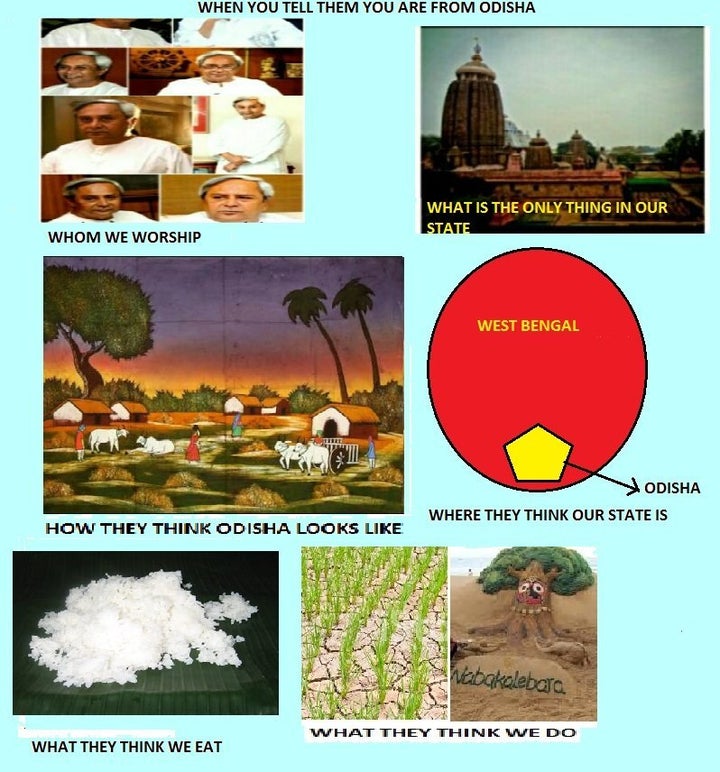 As far as the national dailies are concerned, just once a year, a colourful Rath Yatra image with the tiniest of explanations finds a mention in one of the pages (glad to note that this year, most newspapers carried it on the front page). The KBK fiasco is immediately recalled when even a positive report about Odisha surfaces. Did you know despite Bhubaneswar being accorded the numero uno status for the Smart Cities Mission, most people imagine it to be an obscure location with a handful huts, farm animals and a few shops.
Still, there is more awareness now than there was 15 years ago. I remember that my classmates in Ahmadabad were excited to have a tribal student joining them for the new school year. Apparently, the teacher had informed everyone that Orissa is synonymous with tribal people and culture, and nothing else. The entire first week, I was observed with curiosity like a zoo animal by all the eight sections of Class V.
My dear India, a little bit of awareness about your own components would be great.
And to all the Odias out there, let's show 'em!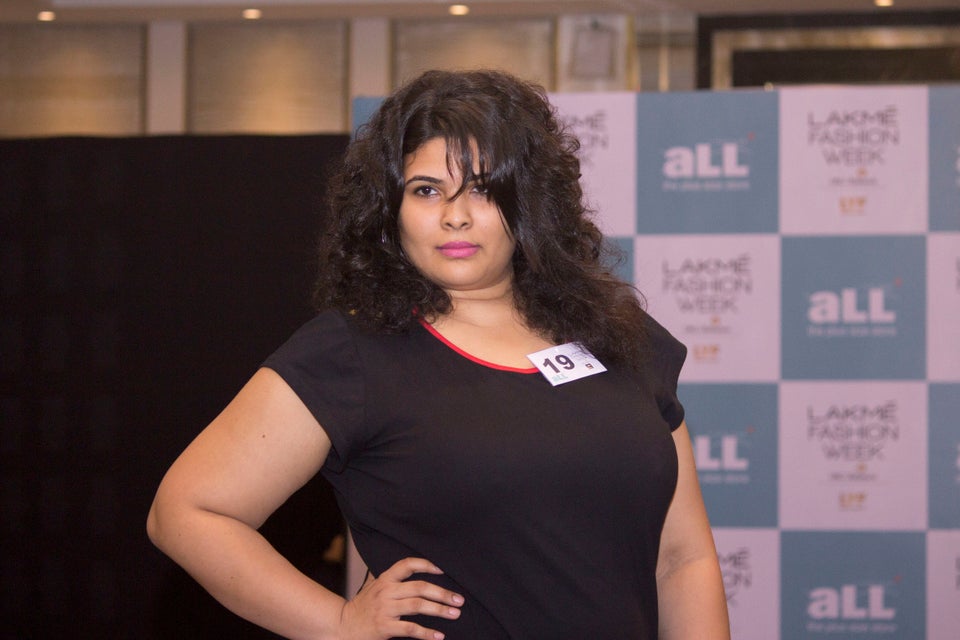 Lakme's First Plus Size Model Audition