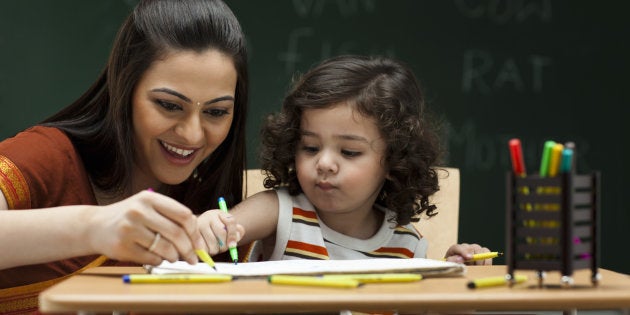 For nearly two years, starting from when she was four, I was told that my child could not colour between the lines. And that she had poor handwriting. She couldn't take instructions, you see.
So what did I do? Did I sit with her practicing formations and colouring within the dotted lines?
If you are getting similar feedback about your kid, my advice would be this: don't spend hours trying to make her fall in line. Instead, explore what she is inclined towards. And you'll be surprised (and probably mighty proud) of what you find. Did you know that the sea horse is the only male animal/fish to actually give birth? And that the only sound a giraffe makes is a hum. I learnt this from my child who is fascinated with animals.
Good handwriting and colouring never created a masterpiece. Being unique and a willingness to explore new things did.
It could be blocks, reading, animals... the possibilities are endless because a four-year-old child doesn't know the lines to bind her. It's been fed into our heads that we are good at this or that. She doesn't have those constraints... at least not yet.
Unbridled she will blossom. Good handwriting and colouring never created a masterpiece. Being unique and a willingness to explore new things did.
What do you want to be known for? Impeccable handwriting? Ok, maybe if you are aiming to become a calligrapher. But who says a good handwriting is important for success in life? Communication is important, not the writing. It is merely for the reader's convenience.
A fellow mom was one day hastily summoned to the school and told that her five-year-old child was not following the traditional/teachers' way of writing the alphabets. She had apparently devised a shortcut to the formations. The poor mom was at her wits end figuring out how to overcome this disaster.
I told her to book a table and celebrate with her husband. Her small child had done what we at 40 struggle to do. Reinventing!
So the next time you are told that your child has poor handwriting, thank the person, leave the room, hug your kids and be happy. You have a unique kid. Don't force the kids to follow. Be brave to see and nurture their uniqueness. It's an admirable quality.
Be your child's first, last and best ally. Tell her she is unique and polish her sparkle. She will meet too many people willing to tell her otherwise.
PS: I have been told I suck at parenting. So please exercise discretion after reading this. You see I am just trying to raise individuals. Not mini-mes. And by the way, after two years, my child did colour within the lines. But can make a mean dinosaur too.
"Imagination is more important than knowledge. Knowledge is limited. Imagination encircles the world."— Albert Einstein