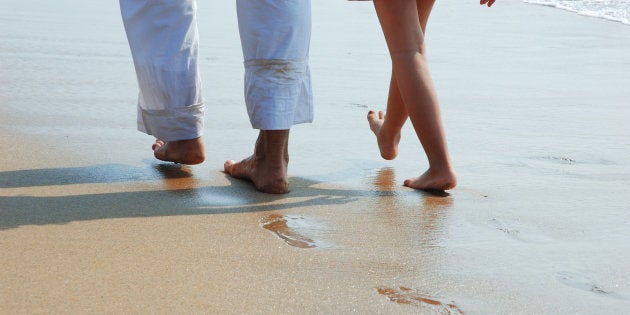 Remember the time N, S and I won that quiz competition back in school? Our hands ached from holding all those prizes! When we went home and impatiently ripped the wrappers apart, remember how the three of us squealed on seeing the watch gift boxes? And then how our faces fell when we opened them to see big-dialled, golden-chained men's watches glistening in front of us? We were 14-year-old middle schoolers who had just started fancying boys, watches and eyeliners.
I don't know if you're a feminist but I know a man who stopped holding on to the cycle and watched me fall.
I remember you telling us that you were very proud; that we were able to prove wrong everyone who thought only boys won quizzes.
I never wore that watch; we didn't even have the chain cut short to fit my wrist. It just always stood by our bedside in its plastic gift box.
Baba, do you remember not letting me grow my hair? Because you thought I'd look grown-up and you hated that idea? Remember what the first thing I did when I moved to Delhi was? I grew my hair.
Remember the time when we woke up really early and you'd teach me how to cycle around the park? You didn't get me those tiny balance wheels; you'd hold my weight with the cycle's and run. I'd pedal cautiously and you'd run with me. You'd keep asking me to focus and hold the bar straight, and ask me to never push the brakes without slowing down the pedalling. I'd just keep asking you to not let go.
Then one day, you let go and I looked back. I saw you becoming smaller in the horizon and forgot to pedal. I fell on my face.
The morning after, I carried the cycle down the stairs myself and rode on till I fell from fatigue. With you holding on, I had never learnt to brake. Years on, I've learnt to both brake and live with the scars of the numerous injuries cycling gave me.
Till today, I have difficulty deciding if you're a feminist or a patriarchal foot soldier, Baba. I don't know if you're a feminist but I know a man who stopped holding on to the cycle and watched me fall. I know a man who still insists I don't shout when I talk to people, even when I am right.
I have known a man of contradictions who may not have raised a feminist daughter but didn't do anything to stop her from becoming one.
I wasn't an ace cyclist or anything, so this comparison is probably a little far-fetched.
I watched Dangal while the world grappled with the dilemma of whether Mahavir Singh Phogat as a feminist or a patriarchal stooge.
I don't know, to be honest.
I don't know if the fact that he did it to fulfil his own dream undercuts the fact that he is a man from Haryana who cooked chicken in his vegetarian kitchen to make his daughters stronger wrestlers. In a state which records the highest rates of female infanticide, I wonder if it makes Phogat a feminist to make his daughters wear shorts just so they can run faster.
Like so many women like me, I have known a father who is full of contradictions; who is neither a feminist nor patriarchal and, sometimes, a bit of both.
I don't know if a father is a feminist or patronising when he says, "Go fight on behalf of all the girls who are just considered good enough to cook and clean." I don't know if it's a win for feminism or patriarchy when a father teaches his daughter the techniques to fight, and she uses them to win even when he isn't around.
I don't know if it makes me a bad feminist to say that I spout half the things I spout, because you have let me say the same things at home, without stopping me.
Yes, you have put curfews on me each time I have gone out, you still think getting my eyebrows done is a waste of time. But you have also picked me up after an essay competition after working two night shifts and then taken me to a Chinese restaurant for lunch.
Like so many women like me, I have known a father who is full of contradictions; who is neither a feminist nor patriarchal and, sometimes, a bit of both.
In varying degrees, we've known what growing up under Mahavir Singh Phogat feels like—of course, discounting Bollywood's usual hyperbole.
For teaching me about the golden mean, the middle ground. For teaching me that there is a space between the white of feminism and the black of patriarchy; a little grey ground we often dismiss in our hurry to tick boxes. A ground of allyship, however flawed, however lacking, that consists of people who are not always easy to tag.
Thank you for teaching me to stop and see humanity instead of jumping to conclusions.
Phogat is human the way fathers are, the way gurus are.
Remember when I came home with swollen feet after my guru made me stand in Chauka for 40 minutes just so I got it right? Then, is perfecting an art or a skill a feminist pursuit to excel as a woman, or is it an inherently patriarchal means of aligning one's self with the established norm and rules?
These are not easy answers, Baba and neither should they be. But I know they are meant to mulled upon and not dismissed when we don't know them for sure.
Thank you for teaching me things, Baba.
Sometimes in easy ways and sometimes in tougher ways.
And thank you, Ma for allowing us this space to constantly learn from each other.