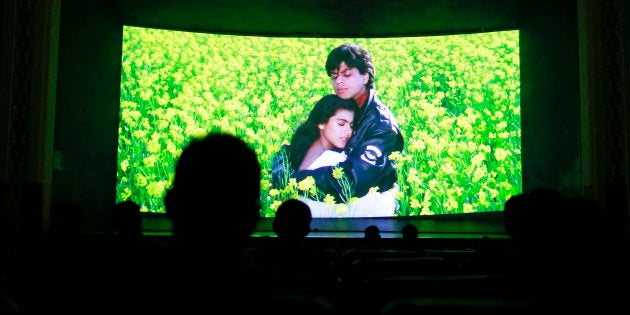 I loved visiting my grandmother's house when I was growing up. Apart from the fact that it always meant a daytrip with no books and homework to worry about, it also meant maintaining the ritual of watching a film on a VCP from a tape that my uncle would rent. After dinner, the elders would expect me to go sleep while they got ready for their movie night. For someone who would literally be falling asleep on the dinner table, I would instantly perk up and refuse to leave my cousin's side. I remember watching Baazigar on that VCP, not understanding Hindi much and definitely aghast at how the hero's eyes changed colour. I was four and wasn't sure how contact lenses worked.
The violent lover who respected no limits and stalked his girlfriend becomes the lover who knows the limits he is not allowed to cross.
Two years later, I was in Delhi visiting my cousins when I again cried and whined till I was allowed to sit in on a movie night. The man in the film started off not being a nice man— he lied, harassed women, failed school but then fell in love, fed pigeons and became a hero. My cousins booed him constantly but the six-year-old me was unmoved as I watched him on screen. I had known love.
Love was seeing this man saying there are two ways to attain what you want. The fast, easy and wrong way, and the long, arduous and right way. Love was the faith in always taking this right path— strewn with hurdles, flooded with tears and pained with heartbreaks. He fought, bled and left without the love of his life, all in pursuit of that right path.
Twenty-two years later, this man appeared in a film and said it isn't necessary to always take the difficult path to prove to ourselves that we're worth it. He was speaking to a generation of millennials who have been gaslit into thinking they have easy lives, that they really have to kill themselves working towards something for it to be a "real" achievement. This man, who I have consistently loved for 23 years, sat on a chair and said that sometimes we should take to take the easy path just because it's easier; especially when we don't know how to deal with the ardour of the longer one.
The man who clenched his teeth, wrestled and writhed around in mud playing kabaddi with men to protect a woman's honour started playing the game with the sea; at peace with the way it always moved and always changed.
He no longer thinks that one has to run after trains to find love, no longer says that since we live once and die once, we only have one chance to fall in love. Instead, here is now a man who has loved and lost, and armed with that loss, says that finding love is like shopping for chairs; you have to try ones where your bum doesn't fit, ones that creak, ones that are too hard before finally sitting on the perfect chair. The man who wrote naïve plays about love but didn't know what love really was, finally stands by the sea and says that love lies in several "The One"s— the one we drink coffee with, the one we discuss books with, the one we get drunk with, and so on.
The violent lover who respected no limits and stalked his girlfriend becomes the lover who knows the limits he is not allowed to cross.
Twenty-two years on, the man grew up.